Much of the cast you know and love from the first two Barbershop films are back in Barbershop: The Next Cut. This time around, screenwriters Tracy Oliver, Kenya Barris, and Mark Brown place their characters within a thought-provoking narrative, delivering a worthy addition to the already successful franchise.
The South Side of Chicago is caught in the middle of the ever-present violence escalating on the Chicago streets. The employees of Calvin's barbershop decide to do something about it, holding a weekend-long ceasefire, offering free haircuts, and actively doing their part to promote a safer community. (JEP: 3.5/5)
Review by Contributing Editor Jessica E. Perry
Faced with hard economic times, the Calvin's Barbershop we know from the franchise's first two films, has merged with a beauty salon, male and female employees and clientele alike all now inhabiting the same space. The "man cave" that was once the barbershop is no more, but "Calvin" (Ice Cube) is determined to make it work—no matter the contrasting personalities and opinions he now has to deal with in the workplace.
Calvin is a family man, and will do anything to keep his wife and son safe. Located on the South Side of Chicago, Calvin fears his barbershop will soon be caught in the crosshairs of the escalating violence on the streets. Chicago is growing more and more violent each day. Women and children are no longer safe from the gang related violence, and Calvin fears that if things don't change, one day the violence will affect his own family.
So Calvin and his wife "Jennifer" (Jazsmin Lewis) consider moving the shop to the North Side of Chicago, but keep their intentions from the rest of the shop employees. When their son "Jalen" (Michael Rainey Jr.) starts getting into trouble at school, Calvin and Jennifer fear that he may be associating with the wrong people. Calvin is concerned that his employee "Rashad's" (Common) son, "Kenny" (Diallo Thompson), is the reason for Jalen's recent behavior, the insinuation causing tension between the two men. But Rashad and his wife "Terri" (Eve) have their own familial concerns, including their coworker "Draya" (Nicki Minaj), whose advances on Rashad begin to threaten their marriage.
Through it all, the violence on the Chicago streets continues to be a looming threat to the neighborhood that everyone at the barbershop calls home. When things continue to escalate, the employees decide to do something about it, arranging a ceasefire between the gangs for one weekend. During the ceasefire, the barbershop will offer free haircuts to anyone who comes by, hoping to promote a healthy and safe community. Calvin continues to debate relocating for his family's sake, but one thing is for sure, everyone, including Calvin, has always and will always call Chicago home.
Boasting a hysterical ensemble cast including returning members Cedric the Entertainer and Anthony Anderson, as well as new cast members Common, J.B. Smoove, Deon Cole, and Regina Hall—as Calvin's business partner and owner of the beauty shop. But for me, the best addition to the cast is Lamorne Morris (New Girl) who provides some serious comic relief as "Jerrod," no matter the situation.
With his past credits, there is no doubt that Ice Cube excels in the father/family-man role, and this case is no different. Among the large ensemble cast, there were standout performances, but unfortunately, there were also performances that didn't live up to the others. Nicki Minaj is great at playing herself, but any real emotion is simply too much to ask. Halfway through the movie Minaj's character Draya just stops wearing shirts. So for the last hour of the film, bras doubled as shirts, and no one had anything to say about it. But I'll hand that one over to wardrobe.
Although a little heavy handed, Barbershop: The Next Cut boasts successfully tackling a serious subject while delivering a whole lot of laughs along the way. Director Malcolm D. Lee allows the film to run on a little too long, but screenwriters Tracy Oliver, Kenya Barris, and Mark Brown deliver a thought-provoking narrative, allowing Barbershop: The Next Cut to live up to, and perhaps even surpass, its predecessors.
© Jessica E. Perry FF2 Media (4/19/16)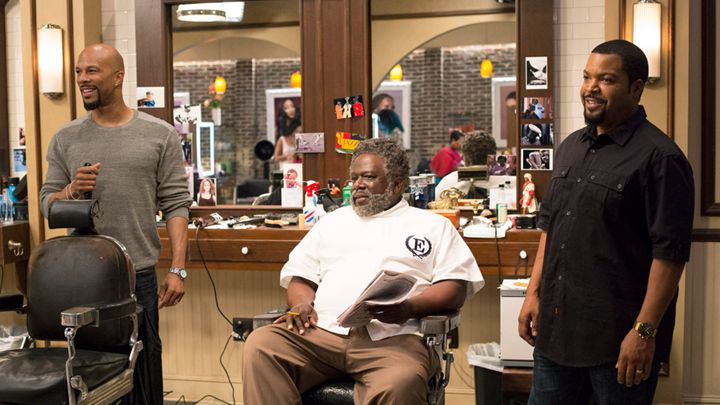 Top Photo: "Angie" (Regina Hall) tending to a customer.
Middle Photo: "Jerrod" (Lamorne Morris) and fellow employee "Bree" (Margot Bingham) dance together, celebrating the ceasefire.
Bottom Photo: "Rashad" (Common), "Eddie" (Cedric the Entertainer), and "Calvin" (Ice Cube) during a normal day at the shop.
Photo Credits: Jace Downs
Q: Does Barbershop: The Next Cut pass the Bechdel-Wallace Test?
No.
While the film has a significant female cast, their discussion revolves largely around men. Every time a conversation begins to pass the test, it ends up circling back around to a man.