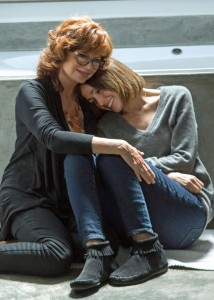 A widow sheltered from reality for decades by a indulgent but old fashioned husband must learn to start life anew in Lorene Scafaria's lovely new film The Meddler. Much like her first feature Seeking a Friend for the End of the World, The Meddler takes its time introducing offbeat characters who seem all wrong but turn out to be totally right.
Susan Sarandon, starring as Jersey girl "Marnie Minervini," is in every single scene, but she never wears out her welcome (even though the actress herself has been a bit–ahem–over-exposed in the DNC's 2016 presidential primary campaign). But so what? Who cares? And that says volumes about the professional quality of everyone behind the camera as well as in front of it. Brava, Susan! Brava, Lorene! (JLH: 4.5/5)
Top Photo: Susan Sarandon as "Marnie Minervini" with her daughter "Lori" (Rose Byrne).
Bottom Photo: Marnie with her new friend "Zipper" (J.K. Simmons)
Photo Credits: Sony Pictures Classics
Q: Does The Meddler pass the Bechdel-Wallace Test?
Absolutely!
Although Marnie does meddle a bit in her daughter's relationship with her ex, very few of their actual conversations revolve around him. And Marnie has numerous relationships with other women that have nothing to do with men whatsoever.
In fact, one of Marnie's most moving relationships is with an old woman (Jo Jordan) who can't talk at all, but somehow she still manages to communicate nonetheless.