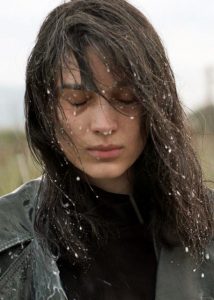 Viktoria is a stunning film from Bulgaria which begins as a political parody and ends as a feminist parable. Kudos to filmmaker Maya Vitkova for her extraordinary vision and execution. (JLH: 5/5)
Review by FF2 Managing Editor Jan Lisa Huttner
The year is 1979 and "Boryana" (Irmena Chichikova) is deeply unhappy. Her mother "Dima" (Mariana Krumova) is a party functionary and her husband "Ivan" (Dimo Dimov) is a doctor, so all things considered Boryana lives a relatively privileged life. But the endless constraints of Bulgaria's Communist regime are strangling her, and she is desperate to flee. Locking herself in the bathroom (the only place that offers any semblance of privacy), Boryana fondles a Statue of Liberty cigarette lighter and plans her escape to the West.
And then Boryana gets pregnant… Nine months later, she gives birth to a daughter with an extraordinary anomaly. The baby is named "Viktoria" and showered with privileges by dictator "Todor Zhivkov" (Georgi Spasov) who proclaims her "Baby of the Decade."
Dima (her grandmother) and Ivan (her father) are forced to the sidelines as Zhivkov turns Viktoria into a spoiled monster. For Boryana, Viktoria embodies everything she hates about her country. But her body has betrayed her. There is no escape for the mother of the "Baby of the Decade." 
Suddenly it is 1989 and the Communist world is in upheaval. Zhivkov's regime is toppled. Viktoria has no more connections. Boryana has no more constraints. Unmoored. Unshackled. How will this family cope?  How will this country cope?
Maya Vitkova both wrote and directed Viktoria and it is her first full length feature film. Every scene is filled with metaphor and nuance.  Irmena Chichikova gives a superlative performance as Boryana. Her behavior often goes beyond self-centered to the edge of brutal destruction, and yet as much as she may attack others (especially her mother), the person Boryana clearly hates most is herself.
Mariana Krumova matches Chichikova scene-by-scene as Dima. Unable by fate and temperament to mother her own daughter, Dima turns all her love on her granddaughter. Abandoned by Zhivkov (who has nothing more to give her even if he wanted to), Viktoria turns into a moody adolescent. What a consolation for both of them, then, when it turns out that Dima has been banking tender emotions for decades.
One baby (who could be any baby) and two young actresses play Viktoria. Daria Vitkova plays Viktoria as a girl and Kalina Vitkova plays Viktoria as a young woman. They are both terrific.
I note the names. I assume they are related, but I don't know. Either the name "Vitkova" is as common in Bulgaria as "Smith" is in America or these three–the filmmaker and her two young actresses–are all related. But in the end, it really doesn't matter. However Maya Vitkova found them, Daria Vitkova and Kalina Vitkova are a perfect fit!
This is a long film (155 minutes) that feels very short. Filled with historical details and cultural references, in the end it is an extremely personal story of three women and the complex intertwining of their hearts and minds over time. Nature is expressed through their genes. Nurture is expressed through their era. But these three women are also conscious, autonomous beings who make individual decisions with collective implications.
I can't wait to see what Maya Vitkova does next!
© Jan Lisa Huttner (5/5/16) FF2 Media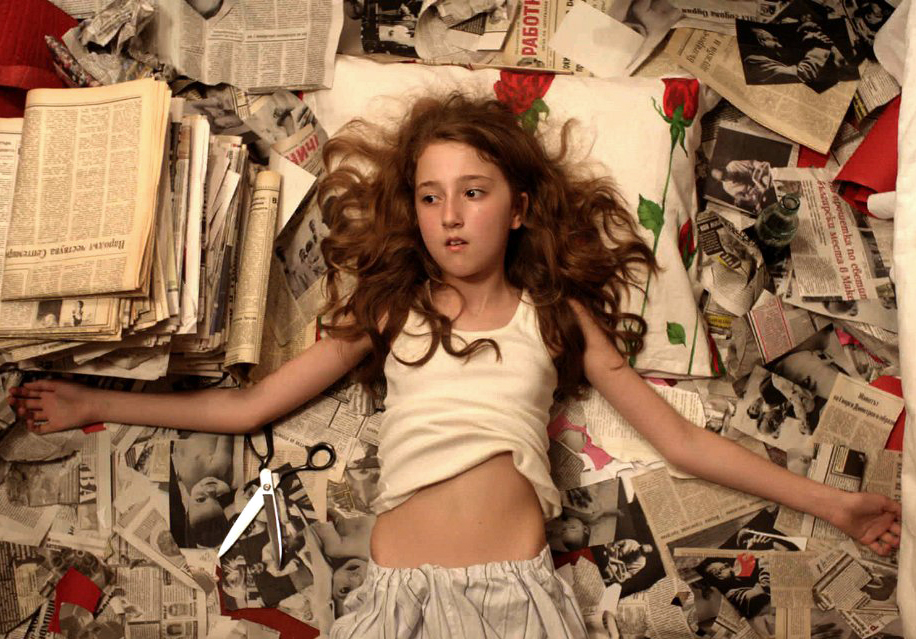 Top Photo: Boryana (Irmena Chichikova) comes to terms with her life in Bulgaria.
Middle Photo: Georgi Spasov as dictator "Todor Zhivkov" examines his "Baby of the Decade."
Bottom Photo: Viktoria (Daria Vitkova) in her tween years, the spoiled pet of a corrupt dictatorship.
Photo Credits: Viktoria Films http://viktoriafilms.jimdo.com/
Q: Does Viktoria pass the Bechdel-Wallace Test?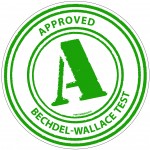 Absolutely!
I can't think of any conversations of significance in Viktoria that are "about a man" and since the film is approximately 2.5 hours long, that's really saying something!