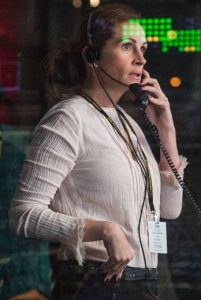 "Lee Gates" (George Clooney) aka "The Wizard of Wall Street" is the host of the successful financial television program called Money Monster. Lee is famous for telling his viewers how and when to invest, but when a bad call loses people millions, enraged investor "Kyle Budwell" (Jack O'Connell) takes it upon himself to get answers.
Director Jodie Foster brings us a gripping thriller following a high-stakes, real-time hostage situation, as Budwell storms the set of Money Monster with a bomb and a gun, and Gates and his producer "Patty Fenn" (Julia Roberts) do everything they can to unearth the conspiracy surrounding them. (JEP: 4/5)
Review by Contributing Editor Jessica E. Perry
Host of financial television program Money Monster, "Lee Gates" (George Clooney) encourages his viewers to take risks. He coaches them on when to buy and when to sell, all in his tell-it-like-it-is way and backed by scantily clad dancers. Gates' show is comical, relying on gimmicks and props, but it's honest, and so people watch.
During one live broadcast, producer "Patty Fenn" (Julia Roberts), from her position in the control booth, notices a man lurking backstage on one of the monitors. Suddenly the man, "Kyle Budwell" (Jack O'Connell), reveals himself. The enraged investor storms the set, gun in hand, demanding answers.
Patty cuts the feed, but Budwell demands every second of this hostage situation be televised live. Budwell straps a bomb to Gates' chest and puts his finger on the detonator, effectively heightening the already perilous stakes, as he states his demands. Budwell came for answers, and he intends to get them. Not just for himself, but for all the people who listened to Gates' advice and lost millions as a result.
Director Jodie Foster thrusts her audience into a high stakes situation, only raising the stakes as the plot unfolds. When Gates and Budwell take to the streets, followed by a swarm of armed officers, there seems to be no way out. But the unlikely pair, at first on opposite sides of the game, find common ground in their search for answers.
Oscar winners Julia Roberts and George Clooney are evenly matched by a gripping performance from Jack O'Connell. Although the three lead actors' talent and strong performances cannot be denied, for me, the standout performance in Money Monster was that of Kyle's girlfriend "Molly" (Emily Meade), brought in by officials to calm the gun-wielding Budwell, and instead, does anything but. Money Monster will have you on the edge of your seat, and although a few plot holes do exist, the masterfully crafted dramatic thriller doesn't give you time to question them.
© Jessica E. Perry FF2 Media (6/3/16)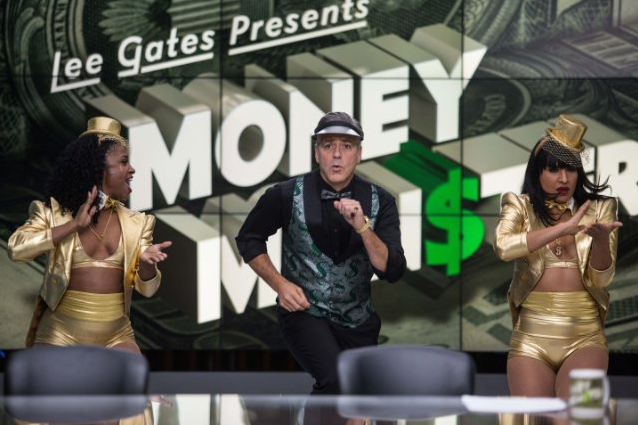 Top Photo: Patty assesses the tense situation from the control room.
Bottom Photo: Lee Gates, the comical host of Money Monster, dances his way into a new segment.
Photo Credits: Atsushi Nishijima
Q: Does Money Monster pass the Bechdel-Wallace Test?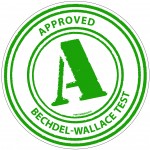 Yes.
Patty and "Diane Lester" (Caitriona Balfe) work together during the hostage situation to uncover the truth.