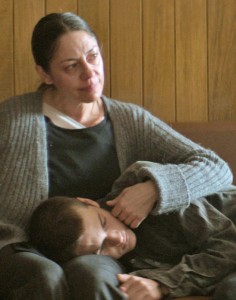 Writer Laura Santullo has teamed with director Rodrigo Plá to create a superlative adaptation of her novel Un Monstruo de Mil Cabezas. Since it hasn't been translated into English (yet), I am going to guess that the novel has interior monologues that get into the heads of her characters.
Onscreen, however, Santullo and Plá go straight for the jugular, filming a woman from the outside-in as she desperately fights against the clock to move a monstrous bureaucracy.
A Monster with a Thousand Heads is not only brilliant in itself, but a riveting metaphor for our times. (JLH: 4.5/5)
Review by FF2 Media Managing Editor Jan Lisa Huttner
"Sonia Bonet" (Jana Raluy) is awakened one night by the sound of soft moaning. Her husband is in pain, and she is instantly alert. Bright lights sting her eyes and chase away sleep as she calls for help, but when the paramedics arrive, there is little they can do for him.
The next day, one woman walks towards one desk on one floor of a huge modern office complex. She is ready to begin her daily routine, but this is no ordinary day. Sonia has summoned all of her courage–and a mountain of paperwork–to plead for relief, and this woman is the unwitting gatekeeper.
At first, Sonia is polite but determined. She has been waiting for hours. One receptionist has already come and gone. Sonia has been told the doctor is in. The clueless new receptionist confirms that he is, and, with some exasperation, she gives Sonia a mini-lecture on patience. But when the doctor, determined to stonewall Sonia, tries to sneak out of the building, Sonia snaps.
The screenplay is based on Laura Santullo novel Un Monstruo de Mil Cabezas, which I have not read. (As far as I know, it is not available in English.) Perhaps Santullo has provided a backstory in print–telling us more about exactly what is wrong with Sonia's husband and what she has already done to try to get their insurance carrier to provide better care–but if so, Santullo and director Rodrigo Plá have excised all of that from their film. From the moment Sonia decides to chase the doctor down to the parking lot, A Monster with a Thousand Heads–which is only 74 minutes long–lunges forward with relentless speed and intense narrative drive. 
The POV is deliberately third-person. People are always watching as Sonia and her son "Dario" (Sebastián Aguirre) work their way link-by-link up the chain of command of a heartless insurance company  A woman is interrupted in the middle of preparing a meal. She goes to her door, looks at the screen on her security system, and buzzes Sonia in. Why should she fear Sonia? How is she to know that Sonia has been following her husband–the doctor–from where he works to where he lives?
But the only thing the doctor can do for Sonia is tell her where to find his boss. And so it goes, each person pointing to the next as Sonia becomes increasingly frustrated and Dario becomes ever more unhinged. We see Sonia and Dario pass in front of a window as it is being washed. We see Sonia and Dario through the eyes of someone working in a convenience store who then sees their images in his TV screen.
Voices break through the heavy curtain of ambient sound and begin describing their movements, but who is speaking? Finally it become clear that Sonia is now on trial, and these are the people–mostly nameless and often faceless–who are testifying against her.
A Monster with a Thousand Heads is a brilliant title for our time. Although Sonia's "monster" is an insurance company, who among us has not faced a bureaucratic impasse at one time or another? Sonia is a member of the middle class. What is she to do when the company she trusted denies her husband's undoubtedly expensive treatment? Isn't that why she has dutifully paid her premiums for decades? Isn't that their part of the bargain now that he is ill?
Jana Raluy's taut performance dominates the screen. She is in every scene, and the audience needs no any backstory to know what she is thinking at every moment. It is a masterful performance that has already received acclaim at numerous international film festivals. Brava!
© Jan Lisa Huttner FF2 Media (5/13/16)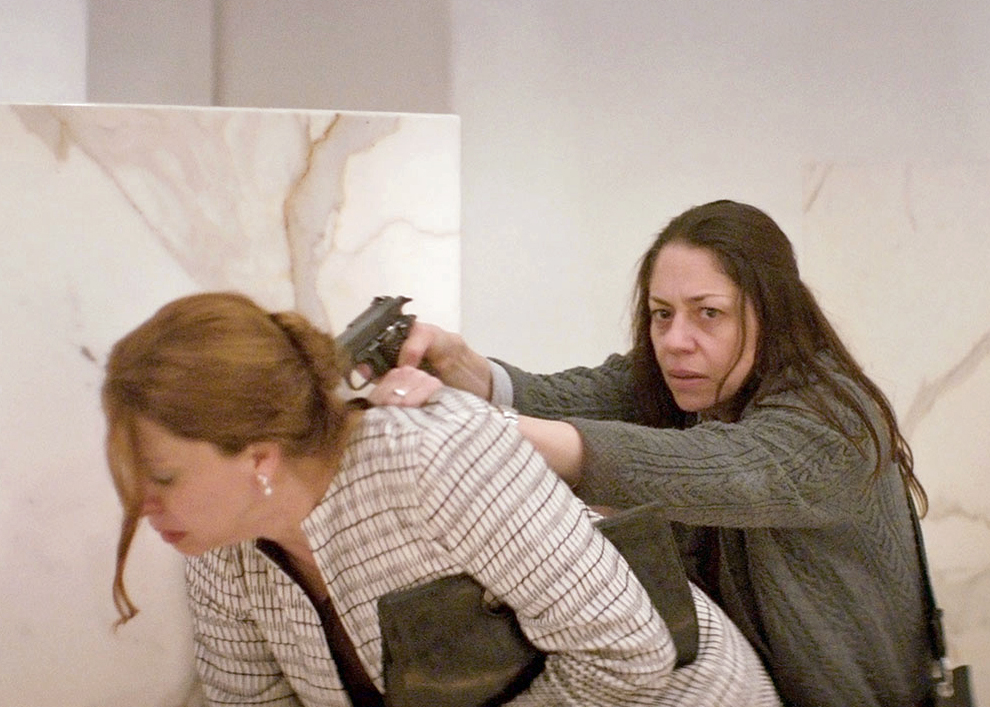 Top Photo: Jana Raluy as "Sonia Bonet," with Sebastián Aguirre as her son "Dario."
Middle Photo: As the police close in on them, Dario takes a call from his aunt.
Bottom Photo: Veronica Falcon as one of the insurance company's shareholders. Sonia has been offered one too many excuses, and her patience is exhausted.
Photo Credits: Music Box Films
Q1: Does A Monster with a Thousand Heads pass the Bechdel-Wallace Test?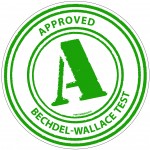 Yes!
From the receptionist to the doctor's wife to the insurance company shareholder, Sonia interacts with several women as she ascends towards the top of the hierarchy. And it is the women–rarely the men–who seem to have some appreciation for her plight and do what they can to help her (if only to get her to move on).
When Sonia arrives at the doctor's home, for example, the doctor's wife buzzes her in and calls up to her husband, asking him to come downstairs. Sonia is a middle class woman, clearly not as wealthy as she is, but certainly respectable. She lets Sonia into her home because she fully expects her husband to do something to help. She clearly has no idea that her husband has a history with Sonia (let's call it a "pre-existing condition"), and she has no reason to suspect that her husband is actively trying to avoid Sonia.
The doctor, however, acts guilty, and also a bit pig-headed. So it is not clear if his macho pride would have allowed him to tell Sonia where to find his boss, even at gun point. His wife, however, provides the information Sonia needs, and Sonia leaves immediately, taking Dario with her to the sports club.
Q2: Where is A Monster with a Thousand Heads set? 
I assume the answer is Mexico, although I don't remember if a location was ever specified. However, even though Sonia and Dario move around by car quite a bit, I frankly don't know enough about Mexico to identify any of the local landmarks. So if anyone knows the location for sure, please add your insights in the comments section.
But I honestly don't think it matters, I think A Monster with a Thousand Heads could be set in any large city in the Hispanophone world. This film is not about poverty, pervasive income inequality, or rampant corruption. This film is about throwing oneself against the ramparts of the highly bureaucratized world in which most people in the industrialized world–call us "the lucky ones"–actually live.
According to Wikipedia, Laura Santullo and Rodrigo Plá are both from Uruguay, although they now live in Mexico. Wikipedia also says Santullo and Plá are not just a creative team, but also life partners as well. This is their second film together (the first one is called The Zone), and they are also the parents of two children. Just sayin'
Update: Alkimia4 on IMDb confirms Mexico and suggests that the Bonet Family lives in Narvarte (a neighborhood in the southern part of Mexico City). Thanks so much for this helpful information 🙂