Jillian Elizabeth and Neil Dalal's documentary enters the world of a spiritual Indian ashram (or monastery, in other cultures) as they capture day-to-day life in Arsha Vidya Gurukalam. While enlightening and informative, watching a lengthy film on meditation may lull you into a peaceful, deep sleep. (BKP: 3/5)
Review by Associate Editor Brigid K. Presecky
The enlightened human doesn't exist… as though there is a problem and then it got solved suddenly. There was never a problem to get solved. – Dayananda Saraswati
Located in a Tamil Nadu forest, this ashram is the farthest thing from the hustle and bustle of everyday American life. Rather than respond to emails and check their social media apps, these people live without technology, without excessiveness. In a way, viewers may be envious of this world and want to retreat into a culture free of material obsessiveness.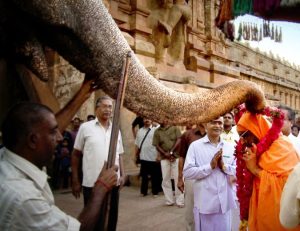 The leader, preacher and teacher of the ashram, the late Swami Dayananda Saraswati, is the focus, often shown sitting cross-legged and reflecting with his students. They question the meaning of life rooted in ancient text and spend their days reflecting (similar to yoga) in their traditional place of study.
Gurukalam sheds a light on Hindu philosophies, full of aphorisms and quotable lessons on life. Yet, without talking heads or narration (which, granted, is a typical and overused format for documentaries) the film can almost hypnotize the viewer into a relaxing slumber.
Director of Photography J.P. Sniadecki follows this community, capturing the essence of this simple, understated place in India. The beauty of this documentary (and hopefully all documentaries and film in general) is to take viewers to a place they might not ever go. They immerse the viewer in unfamiliar world to teach, to inspire and to inform. Here, the filmmakers do just that, in a very subtle and quiet way as editor Mary Lampson ties the pieces together footage of life in Arsha Vidya Gurukalam.
The serenity of this indie art house film is a welcome change a media culture obsessed with explosions, special effects and violence. For those jittery or anxious moviegoers seeking an onslaught of information and action, Gurukalam may not be the film they are looking for.
© Brigid K. Presecky FF2 Media (6/3/16)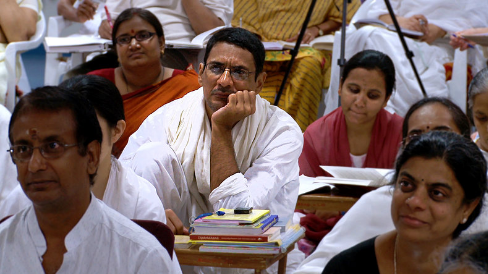 Top Photo: The late Swami Dayananda Saraswati who died in 2015 at the age of 85
Middle Photo: Village near Tamil Nadu forest
Bottom Photo: Students of the Arsha Vidya Gurukalam listen to Swami Dayananda Saraswati
Photo Credits: Matson Films
Q: Does Gurukalam pass the Bechdel-Wallace Test?
No.