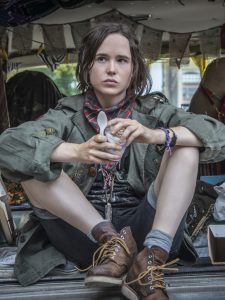 Lu and her boyfriend Nico are living out of their van enjoying the thrills of life without attachments. But Lu's life takes a drastic turn when Nico disappears, and she kidnaps a wealthy housewife's toddler. Loosely based on writer/director Sîan Heder's own experiences, Tallulah is the quirky tale of an independent vagabond who learns the miracles of motherhood…even though she isn't exactly the mother. Funny and sweet, this new film is about learning to let go, dealing with abandonment, and discovering self worth. LMB: (3.5/5)
Review by FF2 Associate Lindsy M. Bissonnette
"Tallulah" or "Lu" (Ellen Page) and her boyfriend "Nico" (Evan Jonigkeit) have had a thrilling two years on the road together. But then Nico expresses that he has begun to miss NYC and his mother. That night Lu has a strange and disturbing nightmare: she's locked outside the van. She taps on the door but Nico doesn't wake up, and gravity begins to stop working as she floats upward, only barely hanging on by the back door handle which still wont budge. This unsettling scene is the beginning of our understanding of Lu's fear of abandonment.
When Lu wakes up Nico is gone, and she drives to NYC to find Nico's mom "Margo" (Allison Janney). Lu is hoping Margo will have information about his whereabouts, or at least some cash, but Margo immediately dismisses her. Margo is too busy with her own struggles as her social and professional lives begin to crumble as her divorce with "Stephen" (John Benjamin Hickey) drags on.
Stephen has left her for a man, moving out of their shared home to build a new one with his new love. Margo, on the other hand, still lives in faculty housing, a courtesy of Stephen's job, and is doing everything she can to keep their not-yet-complete divorce quiet. Why? Because she'll be kicked out of the apartment if they realize Stephen doesn't live there, and her main source of income is a book on marriage. I'd be keeping my divorce quiet, too!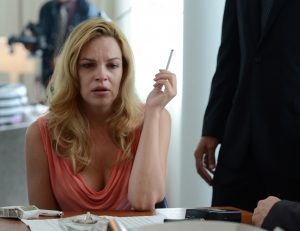 After Lu leaves Margo's apartment, she sneaks into a hotel and begins eating scraps of food left on room service plates. "Carolyn Ford" (Tammy Blanchard), the epitome of a Beverly Hill's housewife, mistakes Lu for housekeeping. Eager to leave, she pays Lu to babysit her naked toddler "Madison" (Liliana & Evangeline Ellis). Mrs. Ford is going out (and yes I did say MRS. Ford) but not with her husband…she's been feeling neglected and abandoned, and we see that her marriage isn't exactly emotionally healthy (maybe they should be reading Margo's book!).
To Lu's surprise she bonds with the baby, and when Carolyn comes home belligerent and immediately passes out on the bed, Lu starts to leave, but the moment she puts Madison down, the child begins to wail. We see Lu look between innocent Madison and incapable Carolyn, and in a moment of impulse, she takes the baby, goes to Margo's apartment, and claims that the baby is hers and Nico's. Calamity ensues as Margo bonds with her "granddaughter," and Lu does everything she can to hide the truth about who she is and what she's done.
The imagery of losing ones sense of gravity (both literally and figuratively) continues throughout the movie, starting with Lu's nightmare, and ending with a sequence with Margo (which I wont give away!). At times contrived, this imagery shows the delicate balance between knowing where you stand, and how far to push the boundaries of "right" and "wrong". But I'll be honest, the blatant repetition takes away from the film and diminishes the beautiful performances. But! If you can forgive these few and brief moments, I promise that it's worth it. Touching, and charming Tallulah is worth the watch, especially since it's easily accessible on Netflix.
©Lindsy M. Bissonnette FF2 Media (8/2/16)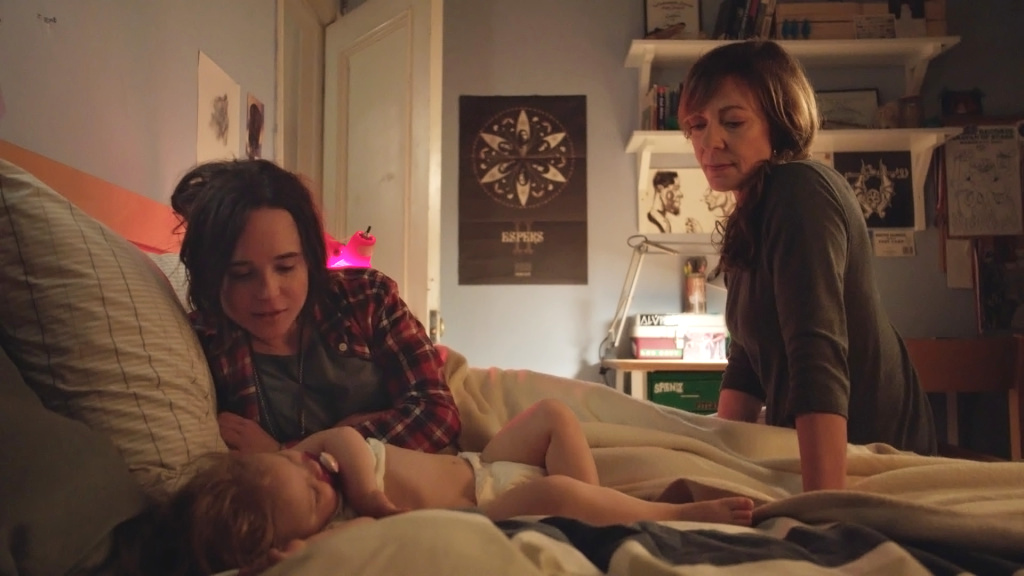 Top Photo: Tallulah in the back of her van.
Middle Photo: A distressed Carolyn Ford speaks with the police about her missing daughter.
Bottom Photo: Lu and Margo watch baby Madison sleep.
Photo Credits: Nicole Rivelli
Q: Does Tallulah pass the Bechdel Test?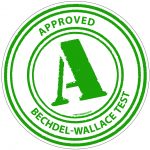 YES!
This film is filled with awesome female leads. The majority of the film consists of scenes between Lu and Margo where they discuss everything from Lu's failing attempts at motherhood, terrible art, the baby, Lu's past, and more. This film is filled with "mother"-"daughter" scenes in the way Margo learns to care about Lu, and Lu learns that accepting help from those who love you is not a sign of weakness, but a sign of strength.