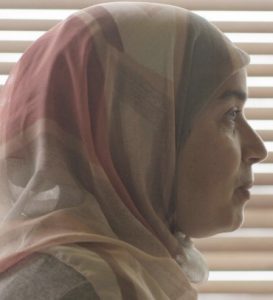 Fatima is a perfect little film. French director Philippe Faucon and an entourage of script consultants (Yasmina Nini-Faucon, Mustapha Kharmoudi, and Aziza Boudjellal) take their time to chisel Fatima bit by bit from a debris of mundanity till she emerges, exuberant with life and full of heart. In fact, it is impossible to finish the film not loving this divorced immigrant Muslim woman who relentlessly supports her two girls by cleaning other people's houses. The lucky few who catch the showings of this 2016 César Award winning film won't miss the chance to marvel at this wonder of a film and probably will take some respite from their bustling life to think about their own mothers. (PS: 5/5)
REVIEW BY FF2 INTERN PEIER SHEN
Fatima (Soria Zeroual), a North African woman, struggles to raise her two teenage daughters in Lyon, France. After her divorce, she seems to bear the sole financial burden with her ex-husband occasionally buying shoes and changing gas for the girls. With her oldest going to college, she sells her jewels and picks up more shifts cleaning other people's houses to support her daughter. The frustration she feels as an uneducated, lower-class immigrant aggravates till she reaches her breaking point.
Her two daughters also beam with vivacity; each demonstrates a unique experience as a second-generation immigrant. The oldest, Nesrine (Zita Hanrot), is a first-year medical student. The pride of the family, frugal and focused, studies fervently and refuses to indulge in any inessentials. And as many sibling dynamics go, the other sister will be different. So the younger, Souad (Kenza-Noah Aïche), a rebellious high school teen, curses, skips classes, chats up boys, and fights with her mother.
Mr. Faucon's aesthetics strive for simplicity. Visually, he has favored static shots throughout the film. The dominantly somber color schemes, preferring washed out greens and yelbows, give the film an earnest look with no attempt to fabricate or to embellish. And what this lack of visual flourish ultimately accomplishes is that it allows the characters to breathe and to inhabit a believable space.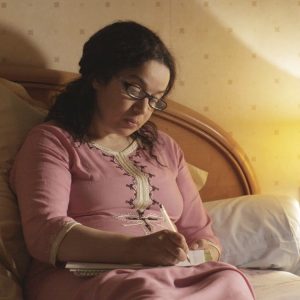 So instead, Mr. Faucon opts for long takes and allows his characters to take necessary pauses and stares into space doing nothing. But these moments are fascinating as they are believable.
Anyone can feel the panic of Nesrine, in her party dress, sitting on her bed in the dark and reciting her lessons over and over again. And the pride of a woman and the love of a mother have never become so relatable as Fatima carefully selecting her jewelries and trying them on before pawning them.
Mr. Faucon's visual simplicity perhaps also mirrors Fatima's silence. As a lower-class immigrant who can't speak much French, Fatima vexes over her muteness. She has trouble communicating with Souad's teacher and the younger daughter often confronts Fatima over her "uselessness." But Fatima places worth on her actions.
And so does a long take. Facing a fixed frame, our eyes are naturally led to the character's movements – her cleaning, her washing, and her cooking. Through Ms. Zeroual's elegant portrayal of Fatima's quotidian tasks, her sorrows and wishes find their expressions.
However, how does Mr. Faucon present the passage of time could be controversial. Noticeable time jumps take place after Fatima falling from the stairs. These ellipses can be interpreted as either clumsy or poetic. Some will be in favor of the former, seeing the unresolved conflicts as problematic, namely the fight between Fatima and Souad and the romance between Nesrine and the boy on the bus.
But others will dismiss it as an artistic choice. Those story lines are simply not as important as Fatima realizing her own worth and her experience as a first-generation immigrant. She is more at conflict with herself and her heritage. And a sense of looseness simply mimics life itself with many of its own threads untied.
Fatima is petit and is content and beautiful in its smallness. There is no anxiety over assuming more than what it is. But as the viewers, we will naturally develop a long list of questions: How does religion affect the activities of French women? What impedes immigrants from sharing the wealth and freedom? And how can the second generation immigrants understand their origins and cultures?
With restrain and sensibility, the filmmakers gently point at these topics, believing that a hint will do. It is the three beautiful immigrant women that the filmmakers want to portray and it is these women's dreams and hopes that the audience will remember.
©Peier Shen FF2 Media (8/30/16)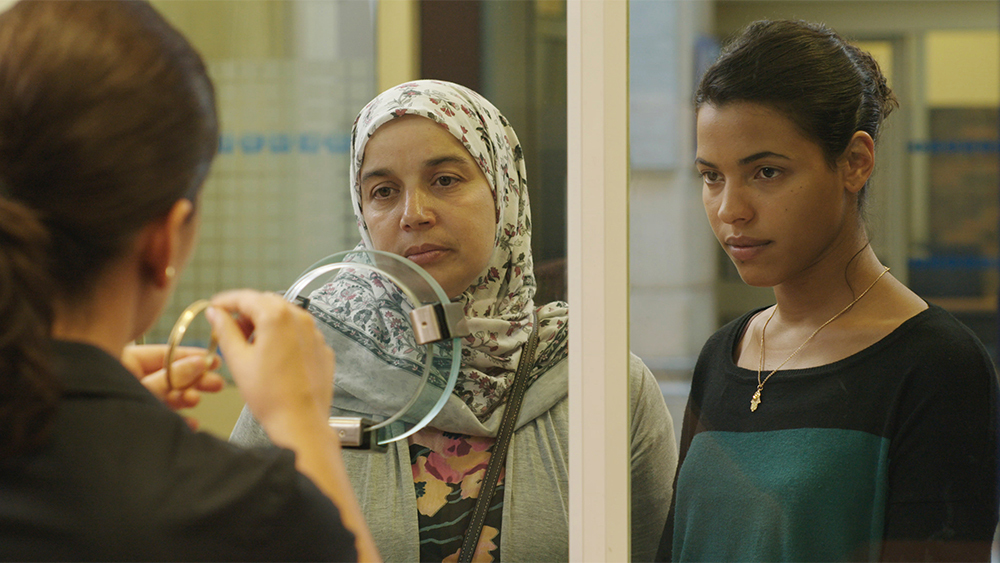 Top Photo: Fatima (Soria Zeroual)
Middle Photo: Fatima writing her diary
Bottom Photo: Fatima and Nearring (Zita Hanrot) pawning jewelries
Photo Credits: Laurent Guerin
Q1: Does Fatima pass the Bechdel-Wallace Test?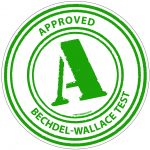 Absolutely!
Fatima presents an utterly female experience, revolving around the immigrant mother and her two daughters. The filmmakers make sure that they are full-fledged characters; they are not always good or always kind but they are human beings that the viewers won't have a hard time to identify with. Together, they provide insights into modern experiences such as globalization, religious conflicts, and class rebellions.
Note: The script is based on Prière à la lune and Enfin, je peux marcher seule by Fatima Elayoubi.
Q2: Who wrote the Fatima screenplay?
Even though Philippe Faucon is listed as the main screenwriter on IMDb, three writers (Yasmina Nini-Faucon, Mustapha Kharmoudi, and Aziza Boudjellal) helped him to hone the comedic dialogue. This was particularly tricky since a huge amount of Fatima's speech is in Arabic.
Two of these writers are indeed women – Yasmina Nini-Faucon and Aziza Boudjellal. Ms. Boudjellal is an actress/screenwriter. In fact, she had collaborated with Mr. Faucon before as an actress in The Disintegration. And Ms.Faucon, having started a production company (Istiqlal Films) with Mr. Faucon, is a producer/writer who has worked as Mr.Faucon's producer for The Disintegration as well as Fatima.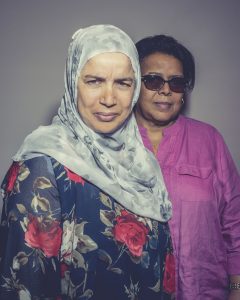 But how about Fatima Elayoubi herself? In 1983, the prolific writer that inspired this film left her home in Rabat (Morocco) as a 32 year-old woman. She moved to a small apartment in Paris with her silent husband and they grew estranged.
She ended her marriage of 16 years, as recorded in her book Prière à la lune (Prayers to the Moon). In a loose poetic style–much resembling that of a diary–she writes about quitting school as a young kid, raising two daughters, and leaving a husband she had ultimately lost respect and love for.
Fatima Elayoubi has been praised for her literary style, owing to her early developed interest in literature by auteurs such as Nagib Mahfouz, Khalil Gibran, and Mustapha Manfalouti. 

Photo: Ms. Soria Zeroual (left) and Ms. Fatima Elayoubi (right).
Photo Credit: Photo taken from Le Monde