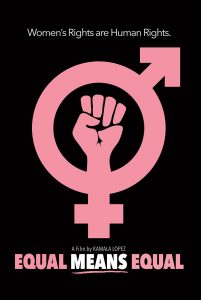 From the brilliant minds of writer/director Kamala Lopez and co-screenwriter Gini Sikes, Equal Means Equal exposes the American government for the not-so-subtle misogyny that hides within its legislation. Policy jargon is broken down into simple facts as Lopez navigates and exposes the very laws that are designed to discretely discriminate against women. Despite women making up for more than half of the population, we are still in a fight for basic equal rights. Filled with important arguments, interviews with journalists, actresses, congresswomen, U.N. representatives and more, Equal Means Equal exposes both the discrimination happening across the globe, and right here at home. Eye-opening, infuriating, this doc will make you rise to action, making it an absolute must-see! (LMB: 5/5)
Review by FF2 Associate Lindsy M. Bissonnette
Director Kamala Lopez dives deep into the fundamental problems of United States legislation by uncovering the problems with the very laws that are designed to protect us. Equal Means Equal focuses on several major problems women face; Wage Discrimination, International Women's Rights, Domestic Violence, Pregnancy Discrimination, Foster Care/Sex Trafficking, Female Incarceration, with each topic proving more distressing than the next.
The documentary focuses on many aspects of the ways women are trying to turn things around. One way in particular is the Equal Rights Amendment (ERA) which, if implemented, would state that the "equality of rights under the law shall not be denied or abridge by the United States or by any state on account of sex." Seems like basic rights, but many laws slyly discriminate women, without them realizing it until it is too late.
There is also a treaty discussed in the film called the Convention on the Elimination of All Forms of Discrimination Against Women (CEDAW). Adopted into the United Nations at the general assembly in 1979, CEDAW has been ratified by 187 of the 194 U.N. member nations. The seven that have not: Iran, Somalia, South Sudan, Sudan, Pacific Island of Tonga and Palua, and the United States of America.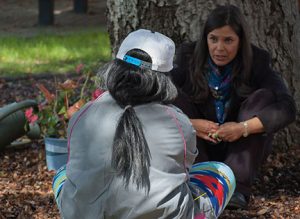 Equal Means Equal delivers a series of jaw-dropping and horrific realizations about the American judicial system. From the glass ceiling, or "brick wall" as it is described in the film, to the 14th amendment, audiences realize that the law does not promise freedom and justice for all. The pay gap has not closed, women's poverty rates are at an all time high, while shelters and budgets designed to help are being shut down across the country. It's enough to make one beg the question why? Equal Means Equal and Kamala Lopez boil it down to control. Women control the population, if you control the women, you control everything else.
Another issue this documentary tackles? Corporations are treated as individuals in court, making people "merchandise" Kamala Lopez says. The biggest reason for this: profit. Money makes the world go round. But even if women sue the companies that are illegally discriminating against them because of their gender, women have to prove intentional discrimination, which is essentially impossible. Meanwhile, across the country women are being discriminated against in the workplace when pregnant, and often refused maternity leave. But the laws, and many of the men who created them, say they do not discriminate against women, just pregnant women.
As one injustice after another is exposed, it becomes clear, women are at war…and we're losing. But don't take Kamala Lopez's word for it, this doc is filled with interviews from journalist/activist Gloria Steinem, to actress/activist Patricia Arquette, to Congresswomen Carolyn Maloney, Founder of the Center for Advancement of Public Policy Dr. Martha Burk, and dozens more including UN Directors, national women's organization founders and various program directors, commanding officers, journalists, forensic nurses, and professors.
Following stories ranging from working single mothers, to children in poverty, to the excruciating rape culture that has catapulted itself all over social media, this documentary is an absolute must-see. Kamala Lopez gathers all the information to bring these atrocities to light. If you are feeling a little helpless, the film offers advice: get involved in your local community or go online to equalmeansequal.com to show your support by helping to make history, and make women equal.
© Lindsy M. Bissonnette FF2 Media (9/6/16)
Top Photo: One of the documentaries many fantastic posters.
Middle Photo: Kamala Lopez interviews a young girl forced into prostitution.
Bottom Photo: Some of the topics discussed in the documentary.
Photo Credits: Sarah Gochrach (Los Angeles), Jaime Medrano Jr. (New York), Kristin Oliver, and Steve Shadrach (Washington D.C.)
Q: Does Equal Means Equal pass the Bechdel-Wallace Test?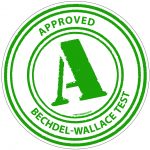 YES!
The film is filled with numerous interviews between Kamala Lopez and other women. They talk about all the topics mentioned above and more, as they delve into the problems within our own judicial system.