Bridget Jones's Baby is pretty much everything you could ever want it to be, and a little bit more. From the fantastic cast and their wonderful performances, to the soundtrack that will bring you back, this film is a must see. It is the perfect film to wrap up the Bridget Jones franchise, with every bit of the witty humor you have been missing over the years.
Directed by Sharon Maguire, and co-written by Helen Fielding and Emma Thompson, this film is the flick you have been waiting for, that men and women can watch together, and fully enjoy. (LMB: 4.5/5)
Review by FF2 Associate Lindsy M. Bissonnette
In this third installment of the Bridget Jones franchise, our beloved "Bridget Jones" (Renée Zellweger) has had quite the dry spell. She spent so much time focusing on her fantastic career that her love life has fallen by the wayside. With her "Mum" (Gemme Jones) constantly pressuring her to settle down and start a family, the anxiety of when, and if, she will find "the one" begins to creep into her otherwise purposeful and successful life.
After being tricked into attending a music festival by her dear friend/colleague "Miranda" (Sarah Solemani), Bridget drunkenly meets "Jack" (Patrick Dempsey), a charming, smooth, and handsome man. They have… relations… many times, and it finally seems that her luck with men is about to change.
Bridget and Miranda return home triumphant from their heavy partying at the music festival. And then, when Bridget and her long ago on-again-off-again–beloved "Mark Darcy" (Colin Firth)–keep meeting at funerals and christenings, they rekindle their tenderness for one another and have…. relations…. as well.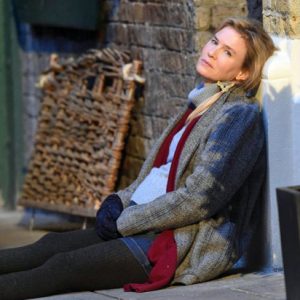 Finally, Bridget is feeling pretty confident, but when she starts inexplicably gaining weight a couple of weeks later and finds out she's pregnant, that confidence turns to anxiety. Who is the father?
Well, welcome to this hilarious film. Sit back and enjoy.
There are a million things that make this movie great. The nostalgia of revisiting this story, and finally seeing what will happen to our much-loved Bridget, but also the writing and cast are purely fantastic. Emma Thompson is uproarious as "Dr. Rawlings" (Bridget's obstetrician), and the folks in Bridget's gang are as sidesplitting and lovable as ever.
Director Sharon Maguire, and screenwriters Helen Fielding and Emma Thompson have pulled together a heartfelt and humorous film that empowers all to follow their ambitions, and never give up on finding that one person to spend the rest of your life with.
© Lindsy M. Bissonnette (9/15/16) FF2 Media

Top Photo: "Bridget Jones" (Renée Zellweger) alone and pregnant, grumpily drags a Christmas tree home by her lonesome….
Middle Photo: Then later locks herself out of her flat!
Bottom Photo: "Mark" (Colin Firth) and "Jack" (Patrick Dempsey) race against the clock to get Bridget into the hospital before the baby arrives.
Photo Credits: Gilles Keyte
Q: Does Bridget Jones's Baby pass the Bechdel-Wallace Test?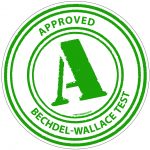 Yes!
This film has many fantastic female characters, and they talk–incessantly–about lots of things other than guys. Bridget and "Miranda" (Sarah Solemani) talk about work, sex, and the baby. Bridget and her new boss "Alice" (Kate O'Flynn) talk about her irregular performance at work. And, of course, Bridget and "Dr. Rawlings" (Emma Thompson) have several conversations about various aspects of her pregnancy. Meanwhile, Bridget's Mum (Gemma Jones) has new career aspirations too!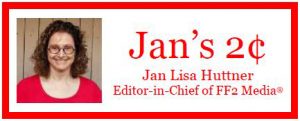 Lyndsy and I saw Bridget Jones's Baby together at a WOM Screening–Word of Mouth–at the AMC Empire 25 in Times Square. Side-by-side, we laughed our heads off and even sniffled a bit. Sharing the experience with a Gal Pal made it all the more enjoyable.
To tell you the truth, I wasn't taken with the first film Bridget Jones's Diary (2001). Although I loved both Reneé Zellweger and Colin Firth, I thought it worked a bit too hard to be an "update" of Pride and Prejudice rather than its own thing. I gave it a 3/4 rating, meaning good enough, but only barely. (click HERE for haiku) So I was very surprised by how much I liked the second film Bridget Jones: The Edge of Reason, to which I gave a 4.5/5 rating in 2004. (click HERE for haiku)
In one of the greatest scenes in cinema history, "Fanny Brice" (Barbra Streisand) gives "Flo Ziegfeld" (Walter Pidgeon) a comedy lesson. He storms into her dressing room in Funny Girl just after she brings the house down with her riff on the "His Love Makes Me Beautiful" number, but she stands her ground. "When it is my joke, then they are laughing with me, not at me." 
Just so. Again and again, Bridget Jones gets herself into impossible situations, and yet Mark Darcy loves her "just the way she is" (as he so famously proclaimed in Bridget Jones's Diary). The delight of Bridget Jones's Baby is seeing how they both cope now that new people (not just Jack, of course, but first and foremost this new baby) have been sucked into their seemingly bottomless comic vortex.
So I hope you will see Bridget Jones's Baby, and when you do, I hope you will enjoy it as much as Lindsy and I did. But afterwards, please, please do not give away the ending. Your friends want to laugh with Bridget, not at Bridget, so you owe it to them to let Bridget deliver the punchline.
My rating for Bridget Jones's Baby? 4.5/5 = the same as Lindsy's 🙂
© Jan Lisa Huttner (9/19/16) FF2 Media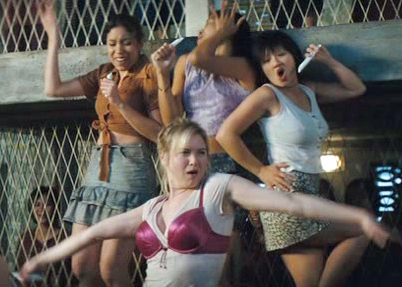 Final Photos in Jan's Two Cents
Top Photo: Hair care Bridget style in Bridget Jones's Diary. Photo Credit: Alex Bailey
Bottom Photo: Bridget finds herself locked in a Thai prison in Bridget Jones: The Edge of Reason. Watch her hilarious rendition of "Like a Virgin" on YouTube. "Then years of this?" Precisely 😉 Photo Credit: Laurie Sparham