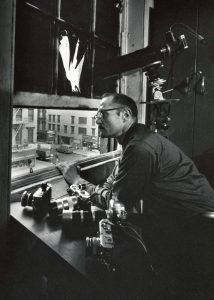 Full Title: The Jazz Loft according to W. Eugene Smith
It took twelve years of dedication to bring this phenomenal film to fruition, and every moment of the 87 minute runtime is pure perfection.
WNYC New York public radio personality Sara Fishko achieves behind-the-camera immortality in her first at bat as a filmmaker (both writer and director). In truth, the best title for this doc is really "Gene Smith's Jazz Loft according to Sara Fishko." (JLH: 4.5/5)
Review by FF2 Media Editor-in-Chief Jan Lisa Huttner
W. Eugene Smith? Gene Smith? Photographer? Not that I'm an expert in photography, but still, I know my way around the middle of the 20th Century and I never heard of this guy.
Then Sara Fishko brings me into Gene Smith's digs at 821 6th Ave in Manhattan (circa 1960), and again and again, I see prints of a photograph on the wall that floods my mind with sweet memories. The photo is called The Walk to Paradise Garden. Gene Smith shot it in 1946. Here is Gene's memory of the shoot for in a piece for Life magazine:
"Pat saw something in the clearing, he grasped Juanita by the hand and they hurried forward. While I followed my children into the undergrowth and the group of taller trees—how they were delighted at every little discovery!—and observed them, I suddenly realized that at this moment, in spite of everything, in spite of all the wars and all I had gone through that day, I wanted to sing a sonnet to life and to the courage to go on living it." 
In 1955, Edward Steichen assembled a collection of photographs for The Museum of Modern Art which became one of the most successful photo exhibits of all time. Soon after, these 503 images by 273 photographers working in 69 countries was published in book form as The Family of Man. That book was a treasured part of my childhood, and I am willing to bet that many other Boomers grew up with it too. The Walk to Paradise Garden was the final image in The Family of Man, immortalized forever on the very last page.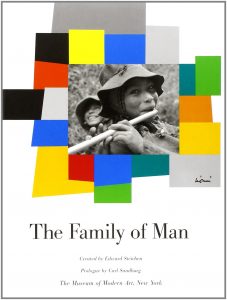 Now, of course, Sara Fishko has me in the palm of her hand. I want to know more about Gene Smith, and wow, does she have a story to tell.
No surprise, but much as he undoubtedly loved his three kids, Gene Smith was not much of a father (and even less of a husband). He was as tormented as he was talented, and although she never gives a clinical diagnosis, it's pretty clear that he suffered from what we would now call Bipolar Disorder (aka Manic Depressive Illness). In other words, sometimes Gene Smith was up, Up, UP, working on prints for days on end with no food and less sleep. Other days he was DOWN, Down, down, hanging around his loft listening to the musicians who streamed in and out on a continuous basis for the better part of a decade.
Whatever money he had, Smith invested in cameras, tape recorders, and supplies. He sat in his window overlooking Manhattan's "flower district" for hours on end, shooting "ordinary" street scenes of tremendous cumulative poignancy. He drilled through the floorboards and captured conversations on the fly as well as unparalleled musical moments. Suddenly there is Thelonius Monk working day-after-day with Hall Overton on what eventually becomes the famous session at Town Hall. 
Fishko has it all. In fact, the miracle is how she ever managed to take Smith's enormous legacy of images, sounds, and words, and distill all of them into a film so lucid and compelling. I honestly don't know how she did it, I'm just thrilled she did!
© Jan Lisa Huttner (9/24/16) FF2 Media
What to do after you have seen TJL? Visit Amazon and order:
The Thelonious Monk Orchestra at Town Hall
The Jazz Loft Project by Sam Stephenson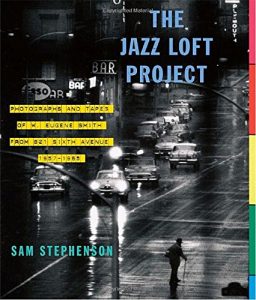 Q1: Does The Jazz Loft pass the Bechdel-Wallace Test?
Nope. No Way. There are very few women in The Jazz Loft and the women that do appear, talk only about Gene and the guys. They never talk to or about one another. Not such a surprise for a film set mainly in the late '50s… And so it goes.
Do we ever learn the name of the mother of the children The Walk to Paradise Garden, let alone how long they were married, what happened to her after he moved out, or any of that jazz? No, we do not. But this time it doesn't bother me. This time I know "this" isn't about any of "that."
Q2: So why not a 5?
Well, I do have one quibble. There are many wonderful shots of Gene Smith (see top), but Fishko never tells us who took them. Did Smith somehow manage to take photos of himself? If so, why? Was someone else in the loft shooting him while he was shooting street scenes from his window? If so, who? If I knew the answer, I would rest complete.
But hey, 4.5 is a damn high rating for a first time filmmaker… Right? Of course, right 🙂
Photos from the WNYC online press kit and Amazon.com.