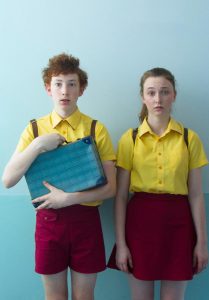 Girl Asleep, directed by Rosemary Myers, combines fantasy and reality into a quirky and whimsical coming-of-age story. This Australian film views the world through the eyes of an anxiety-riddled almost-15-year-old girl. While eccentric and interesting in concept, the film does not meet expectations. From low budget action scenes, to poor character development, and over stylized concepts, Girl Asleep never quite meets its full potential. (LMB: 2.5/5)
Review by FF2 Associate Lindsy M. Bissonnette
"Greta Driscoll" (Bethany Whitmore) is almost fifteen, and does not want to grow up. Between her dysfunctional family at home, and her struggle accepting adolescence, her imagination pumps into overdrive to create a fantastical place just beyond the white picket fence surrounding her new home. Her mother, "Janet" (Amber McMahon) and father, "Conrad" (Matthew Whittet) fight, and her older sister "Genevieve" (Imogen Archer) is completely uninterested in anything family related, leaving Greta alone and insecure.
Greta meets several people at her new school including dorky and lovable "Elliot" (Harrison Feldman) and three mean girls: "Jade" (Maiah Stewardson), "Saph" (Fiona Dawson), and "Amber" (Grace Dawson). When Janet invites the entire school to Greta's 15th birthday party, Greta is overwhelmed with anxiety, which transforms itself into creative imagination and fantastical dreams.
Unfortunately, Girl Asleep has more cons than pros. Greta is a part of a stereotypical family. The goofy dad  always making up his own jokes, a lush mom with a glass of wine in her hand, and the promiscuous older sister, "Genevieve" (Imogen Archer)—who spends every moment making out with her boyfriend "Adam" (Eamon Farren)—and, of course, mean girls at school who make Greta's life hell. More than that, the film starts with Greta's first day at her new school, but there is never any information about why she's moved. There is also some dialogue which suggests that Greta has had problems making friends in the past, but we never learn why, or specifically, what has happened. And finally, the film features an extremely embarrassing chase scene including a fake horse, which then in the next shot, is a real horse.
Girl Asleep jumps between real life and fantasy, with an overwhelming contrast in tone. At times it seems like a kid-friendly film, but unnecessary swearing, and faux-horror scenes create an identity crisis. Originally this story was performed as a theatre piece, and was transformed for the screen in its success. Unfortunately, the nuance that worked on stage does not work on camera. Between awkward tone shifts and plot points, director Rosemary Myers' film is hard to follow.
© Lindsy M. Bissonnette FF2 Media (10/3/16)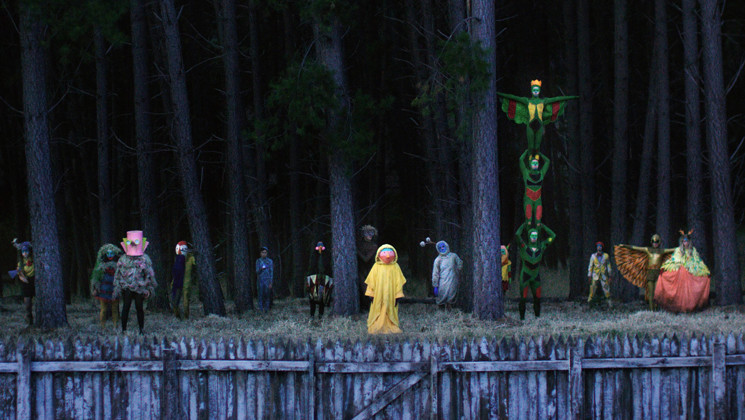 Top Photo: Elliot and Greta at school.
Middle Photo: An introduction to Girl Asleep.
Bottom Photo: Greta's parallel fantastical universe.
Photo Credits: Nat Rogers
Q: Does Girl Asleep pass the Bechdel-Wallace Test?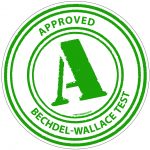 Yes.
In this film, Greta talks to her mom and sister about growing up and leaving childhood behind.