Adapted for the screen by Erin Cressida Wilson, The Girl on the Train—based on the international-bestseller by author Paula Hawkins—is slow moving at its onset, but once it get's going, the film catapults you into the mystery of a missing woman, and all of the whispers and lies that come along with her disappearance. A gripping thriller told from multiple perspectives, but ultimately focusing its lens on the drunken divorcee "Rachel" (Emily Blunt), The Girl on the Train does its job as a compelling mystery that will keep you guessing until the very end. (JEP: 3.5/5)
Review by Associate Editor Jessica E. Perry
"Rachel" (Emily Blunt) rides the commuter train from the suburbs into Manhattan and back everyday, enamored by the perfect couple she watches from the train and haunted by the picture perfect life she had in the home just a few houses down.
Living in said home, is her ex-husband "Tom" (Justin Theroux), and his mistress-now-wife "Anna" (Rebecca Ferguson) and their new baby. Rachel watches from the train, as Anna looks out on her backyard where the train runs though, smiling down at her beautiful baby. Rachel, tormented by the baby she and Tom were unable to have, turned to drinking in her time of personal struggle. Tom turned to an extremely willing Anna, and built the life for them that was almost Rachel's.
Living just a few houses up the street, is the perfect couple Rachel has tied her sanity to. She watches "Megan" (Haley Bennett), young and beautiful, loving and being loved by her picture perfect husband "Scott" (Luke Evans). From her seat on the train, from a distance, what Megan and Scott have is the epitome of perfection.
Rachel's life, on the other hand, is far from perfect. She rides the train alone each day, just her and her water bottle filled with booze. She leaves each morning and returns "home" each night to the single room she's unpacked her suitcase in at her friend "Cathy's" (Laura Prepon) apartment. Cathy tries her best to sober Rachel up, her drunkenness only leading her to leave slurred voicemails on Tom's phone and lurk, unwanted, outside of their house.
While the film ultimately declares Rachel its main character, we do get a little from Megan and Anna's perspectives as well, giving audiences bits and pieces of information about these two women that Rachel doesn't have. Megan is Anna and Tom's nanny. She's taken the position because her husband thinks it'll make her less restless—as she explains to her therapist "Dr. Kamal Abdic" (Edgar Ramirez)—but a haunting secret from her past makes caring for their child too much.
One afternoon, Megan abruptly quits claiming she's been offered a new job at a gallery, and insinuates that since Anna does not work, she can be without the the help for a while until she finds a replacement. Anna, on the other hand, is afraid to be alone in the house because of one afternoon when a drunk Rachel came inside the house and took her baby. Anna is fearful of Rachel, urging Tom to cut all ties with her, and yearning for the simpler times when she was doted on as "the other woman."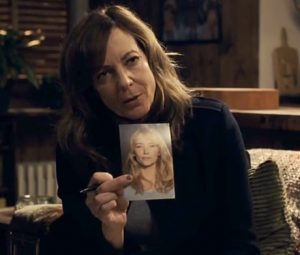 One day while riding the train, Rachel looks out upon Megan and Scott's house, just like each day before it. But this time, instead of finding her perfect couple, she sees Megan out on the balcony, wrapped in the arms of another man. Something inside Rachel snaps. How could this woman betray her husband in that way? How could she have willingly shattered perfection? All the feelings of her own husband's betrayal come rushing back, and Rachel turns to booze to block out the pain of it all.
That evening she exits the train, not at her own stop, but at the one before it that lets off at Tom and Anna, and Scott and Megan's neighborhood. Rachel stumbles from the train, her thoughts and memories of the night disjointed. A woman in a tunnel. A red jacket. Her own voice yelling at the retreating figure.
Rachel wakes the next morning, back at Cathy's apartment, covered in blood, scrapes, and bruises, unable to remember what happened the night before. When "Detective Riley" (Allison Janney) shows up at her apartment asking questions, Rachel doesn't have the answers. Megan has gone missing. And Rachel was seen drunkenly wandering the streets of Megan's neighborhood the same night as her disappearance. While Rachel doesn't have the answers about her own whereabouts or actions that night, she can tell Detective Riley that she saw Megan with another man when she was watching from the train.
Megan's disappearance gives Rachel purpose, something she's been missing in her life for a long time. Although perhaps misguided, Rachel is determined to help find Megan, befriending her husband Scott and sharing with him the information of Megan's other man. A bit troubled, perhaps Megan ran away? Perhaps she was taken?
As the narrative unfolds, the circumstances surrounding Megan's disappearance throw each character into question. Rachel struggles to piece together her own memories of the events of that night, making her an unreliable narrator, and a suspect in Megan's disappearance all the same.
Directed by Tate Taylor and adapted for the screen my Erin Cressida Wilson, The Girl on the Train takes a while to setup its characters, its circumstances, and its mystery. But once Megan's disappearance rocks the small New England town, the thriller begins, a gripping tale reminiscent of the 2014 hit Gone Girl. Although both films were based on New York Times Bestsellers, I have yet to read either book. Going into the theater blind as to the mystery and the players in The Girl on the Train, I am given the luxury to be impartial to the film as a film, and not the film as a comparison to the book on which it is based.
With that said, although The Girl on the Train boasts a strong female cast—including a small, albeit revelatory role by Lisa Kudrow as "Martha," Tom's ex-boss' wife—there was little character development for any of them. Emily Blunt's performance as Rachel was phenomenal, but her character was given little growth, and her only triumph is motivated by the unveiling of the true character of another, instead of by her own thoughts and actions. Megan and Anna are dealt with in largely the same way, each woman at a different stage of their lives in relationships and family. However, as a whole, Wilson has delivered a compelling screenplay, that I cannot say does or does not compare to the novel from which it is based, but does promise to be the next big blockbuster thriller.
©Jessica E. Perry FF2 Media (10/12/16)
Top Photo: "Anna" (Rebecca Ferguson) and her husband (Rachel's ex-husband) "Tom" (Justin Theroux) at home.
Middle Photo: "Detective Riley" (Allison Janney) shows Rachel Megan's photo, questioning her whereabouts on the night of Megan's disappearance.
Bottom Photo: "Rachel" (Emily Blunt) watches "Megan" (Haley Bennett) from the train.
Photo Credits: Barry Wetcher
Q: Does Girl on the Train pass the Bechdel-Wallace Test?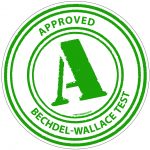 Yes!
Although almost all of the conversations between Rachel, Megan, and Anna revolve around men, Rachel has a few conversations with her roommate "Cathy" (Laura Prepon) that pass the test. Cathy expresses her concern about Rachel's drunken behavior, and Rachel expresses her gratitude to Cathy for letting her stay in the spare room in her apartment.
Additionally, although Lisa Kudrow's role is small, her character plays a big role in Rachel's life, one conversation turning her world upside down—or perhaps right side up.
Note: This review is from the perspective of someone who has NOT read the novel. For a review from the POV of someone who has read the novel, click HERE for Guest Critic Elyse Thaler's post.