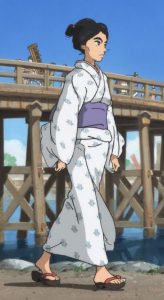 Directed by Keiichi Hara and written by Miho Maruo and Hanako Sugiura, Miss Hokusai is an animated dramatization of the life of iconic Japanese artist, Katsushika Hokusai. However, the film's true focus is on Hokusai's daughter, "O-Ei" (Erica Lindbeck), and her exploration of her own art and the conflicts she faced in her familial life. The film pulls from Japanese mythology, adding a fantastical element to the otherwise small story about art and family.  (JEP: 3.5/5)
Review by Associate Editor Jessica E. Perry
Miss Hokusai is stunning in it's animation, in that it utilizes the often forgotten 2D animation style. That, in and of itself, makes the film unique and compelling. But its small story, not uncommon in Japanese animated flicks, makes the film's focus as a whole unclear, unsure of what and whose story it is actually telling.
Set in 1814 in Edo, Japan (now known as Tokyo) , a young woman "O-Ei" (Erica Lindbeck) lives with her father, the acclaimed artist "Hokusai" (Richard Epcar). They don't clean or cook, focusing only on their art. And when a place becomes too cluttered and messy to do their work, they move. Bouncing from place to place for their painting, "two brushes and four chopsticks" are all they need.
O-Ei often paints commissioned works for her father when he grows tired or frustrated with a project, signing his name at its completion. Although her work goes uncredited, her painting technique is immensely powerful, her paintings often causing trouble for people in their busy city. 
Perhaps the most touching and profound sequences of the film are between O-Ei and her younger sister "O-Nao" (Courtney Chu). O-Nao was born blind, and their parents sent her away. While Hokusai refuses to visit his young daughter, O-Ei visits O-Nao regularly, taking her on adventures around their city, and watching in awe at the young girl's appreciation for the beauty of the world through sight, touch, and smell.
The painter Katsushika Hokusai is not a fictional character, but an acclaimed Japanese artist of the 19th century. His story has often been told, but his daughter O-Ei's story has not. Writers Miho Maruo and Hanako Sugiura place their focus on O-Ei's role in Hokusai's successful artistic career, while also giving audiences a look into her personal and professional life as a single young woman pursuing art while trying to take care of her sister.
While O-Ei's interactions with her sister are arguably the best parts of the film, this storyline seems so separated from what the screenwriters want to say about O-Ei's life as a painter. The resulting narrative often feels disjointed, audiences left to question what the film is ultimately trying to say. With that said, the animation is striking and the mythical elements from Japanese culture that permeate the story give the film a fantastical element, lending beauty to the paintings come to life of dragons and other mythological characters, making for a captivating viewing experience.
©Jessica E. Perry FF2 Media (10/15/16)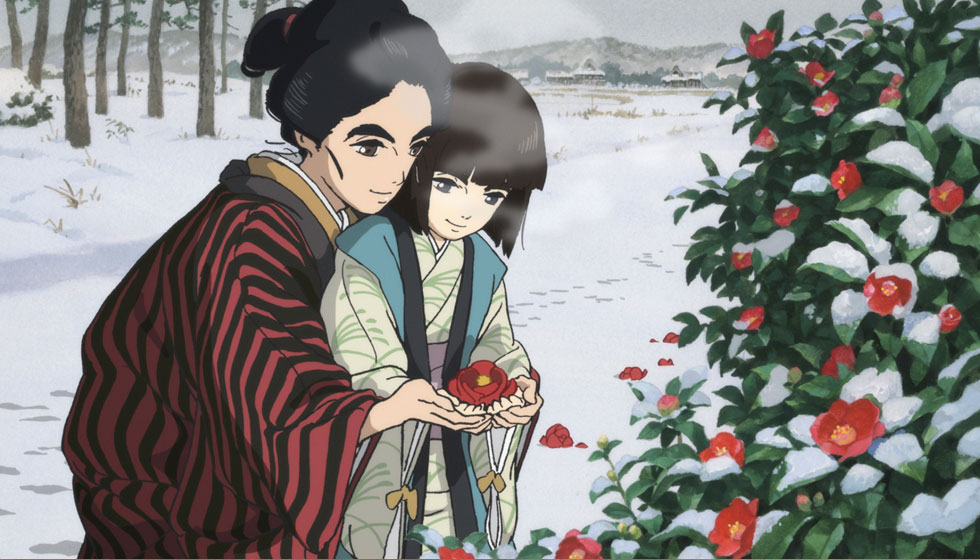 Top Photo: "O-Ei" (Erica Lindbeck) walks though the streets of Edo, Japan.
Middle Photo: "Hokusai" (Richard Epcar) completes a painting only to have it taken over by O-Ei after the current version is ruined.
Bottom Photo: O-Ei describes the beautiful red flower to her younger sister "O-Nao" (Courtney Chu).
Photo Credits: GKids
Q: Does Miss Hokusai pass the Bechdel-Wallace Test?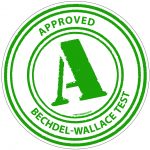 Yes, definitely!
O-Ei and her sister O-Nao share many conversations about the beauty of the world around them as they explore the wonders of their city.