The Uncondemned, written and directed by Michele Mitchell, takes an inside look at the first trial of rape as a war crime in history. The documentary follows the lives of lawyers and activists that charged Mayor Akeyesu with crimes against humanity, and shows interviews with the women who were brave enough to speak out against him.
With terrifying footage of the aftermath of war, The Uncondemned highlights the brave and heroic women who faced death threats and emotional turmoil so their stories would bring justice to those who had unjustly perished. (LMB: 4/5)
Review by FF2 Associate Lindsy M. Bissonnette
In 1997, a group of lawyers and activists banded together to prosecute rape as a crime against humanity for the first time in history. The documentary follows L.A. attorney Pierre Prosper who built the case against small-town mayor Jean-Paul Akayesu with the help of public defender Patricia Sellars. Together, with the help of several others, they prosecute rape, for the first time, as a war crime, even though it had been declared as such in 1919.
Human rights activist Binaifer Nowrojee worked in the women's rights division of Human Rights Watch (HWR) and requested to be sent to Rwanda to find testimonies of women who had been raped. While then-PhD-candidate Lisa Pruitt was sent to Rwanda to create a report defining rape as a war crime. And Sara Darehshori was sent to Kigali, Rwanda to investigate suspicions that Rwandans had committed war crimes and not been held accountable. One activist talks about the scarce office supplies, and others discuss the frustration of coming to a consensus on format, while arguing how to divid
e the last ream of copying paper.
The documentary is not for the faint of heart. Filled with lingering footage of war including the left-behind remains of 10,000 people, their tattered blood-stained clothes, broken glasses and shoes, all kept in a bullet hole-riddled building. The same building where their skulls and other bones are kept, as a mass grave, in haunting neatly organized rows with department-store precision. The documentary goes into detail to describe the specific horrors of war that women endured. One story that stands out is of a woman who was raped then then sexually assaulted with a sharpened cross. The attacker ripped the cross through her body from her genitals up to her skull.
Some women's testimonies were thrown out, labeled as "incoherent." To which the activists responded, What women would be able to coherently explain what had just happened to their bodies? Especially in a culture where women are not supposed to talk about their bodies. The defense's response was to cast the testimonies aside because everyone knows that rape happens during war times.
In 1996, while the penalties of genocide were being debated, men and women who intended to testify had their lives threatened. One woman who testified lost her husband and daughter on the same day. But once Akayesu was taken into custody and women began testifying, the Rwandan women all agreed to only relay what they had seen, not what they had heard. They were out for justice not revenge. As Victoire Mukambanda [Witness JJ] says in the documentary: "Keeping quiet kills you softly. That pain in your heart destroys you."
© Lindsy M. Bissonnette FF2 Media (10/23/16)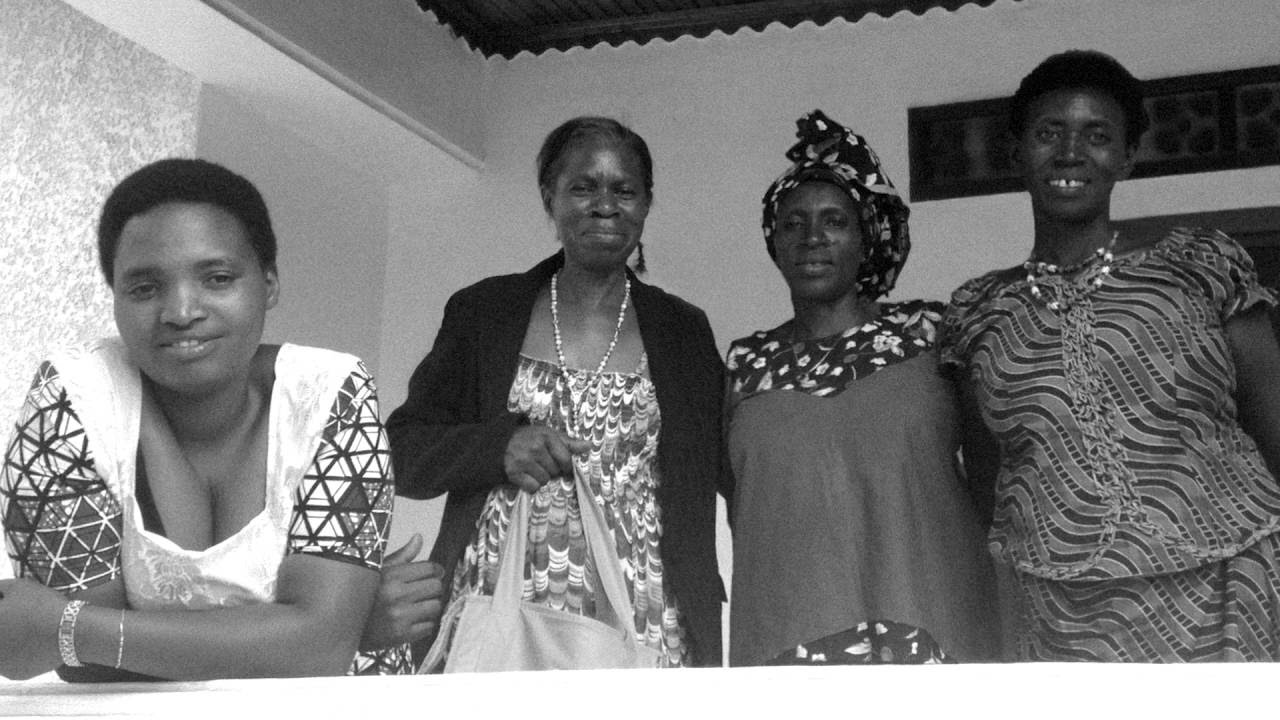 Top Photo: Jean-Paul Akayesu taken into custody.
Middle Photo: Victoire Mukambanda
Bottom Photo: The women who testified against Akayesu.
Photo Credits: Film at Eleven Media, LLC
Q: Does The Uncondemned pass the Bechdel-Wallace Test?
No.
There are no actual conversations between women. This is a talking-head documentary, and any conversations that take place are about Akayesu.