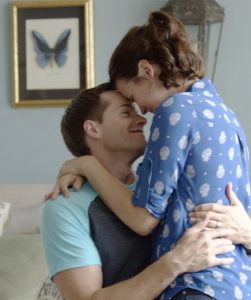 New Life, co-written by Erin Bethea and Candice Irion, attempts to capture the complicated relationship of two childhood sweethearts as they learn to deal with long distance, and the pay-off of sticking together through thick and thin. Unfortunately, with overly dramatic writing and unsupported melodramatic performances, the film has trouble relaying the beautiful nature of a relationship in which two people feel totally comfortable. New Life falls short when it comes to portraying life on screen. (LMB: 1/5)
Review by FF2 Contributor Lindsy M. Bissonnette
"Ava Kennedy" (Erin Bethea), a school teacher, and "William Morton" (James Marsters), an architect, have been best friends and sweethearts since they were children. When Ava goes to school two hours away and William gets a job as a limousine driver in addition to his architecture internship at his father's company, tensions rise as the couple struggles to find a way to spend time together. Eventually Ava graduates then moves back home, they get married, and have high hopes of starting a family, but their dreams come to a halt when Ava develops cancer, forcing William to take time away from his job to focus on Ava's health.
There are several unsettling problems with the film. The first being the way that it portrays women. The only women in the film are students, receptionists or teachers, leaving any feminist audience members frustrated from the start. Unfortunately, it does not get any better. Ava is written as a stereotypical woman, constantly complaining that William does not pay enough attention to her, or care enough about her, all the while barely putting in the effort she so desperately requires. Throughout the film she is constantly dependent on William while showing little to no strength or independence of her own.
Writers Erin Bethea and Candice Irion have good intentions in portraying the gentle love that we all hope to find. However, in an attempt to portray Ava and William's love life from beginning to end, the film crudely plows through nuance that makes any relationship special and instead charges full-speed to the cliché fights that every relationship goes through. In addition to these moments, Ava and William have the exact same fight several times throughout the film, most of which could have been edited out to save time. Overloaded with embarrassingly stereotypical dialogue, this hour-and-twenty-eight-minute film lasts a life time while also feeling rushed. New Life falls into the trap of the romantic movie: doing what has been done over and over again, without any new perspective.
© Lindsy M. Bissonnette FF2 Media (10/30/16)
Top Photo: William and Ava in a brief moment of happiness.
Middle Photo: Ava and William in New Life's poster.
Bottom Photo: William and Ava at home after a long day.
Photo Credits: Bret Robinson and Terry Shepard
Q: Does New Life pass the Bechdel-Wallace Test?
No.
There are very few scenes in this film where two women speak to each other, and when they do, it is always about a man.