During the 1990s, Dr. Robert Anda and Dr. Vincent Felitti discovered the connection between emotional childhood trauma and physical health risks. While not well received at the time, by some, it intrigued and informed the masses. Their  research study, the Adverse Childhood Experiences (ACE) asked people about their health and difficulties in their childhoods. Writer/Editor Jen Bradwell's meaty Resilience is an informative, fascinating documentary.  (SAT: 5/5)
Senior Contributor Stephanie A. Taylor
The film opens in 2015 in Columbus, Ohio at the Building Better Lives Conference. Dr. Anda speaks to a room full of professionals involved in the healthcare, education and social service fields about the connection between disease and behavior.  
In San Diego, Dr. Felitti has an obesity clinic, realizing that a lot of his patients have regained weight. He later discovers that 55 percent of his patients had been sexually abused as children. He wanted to know why, and started speaking with his patients about sexual abuse. A mutual connection introduced Dr. Anda and Dr. Felitti The ACE Study was born soon after. During the study, they asked about physical and sexual abuse, parental neglect and whether or not they had witnessed domestic violence. Using 17,000 middle class participants, they find that adverse childhood experiences are common and do not discriminate against race or class.  
The facts that pop up in large white font in front of brightly colored graphics are eye-catching, with animation to enhance the visuals and help viewers understand  what was happening.  
Dr. Victor Carrion, a psychiatrist at Stanford University, tells us about how anxiety can be both good and bad. For example, a little girl is running across the street where a truck almost hits her. Naturally, the girl jumps out of the way. This shows that it's good to have a certain amount of stress at times, but if you feel as if you're always going to get hit by a truck that serves as a problem. The animation illustrates  the effects of stress on a person.
Director James Redford's documentary was eye-opening. People aren't born with resilience, but have to build it up as they go along through life.
© Stephanie A. Taylor (11/16/16) FF2 Media
Top Photo: Animation on how stress affects the body.
Middle Photo: The Adverse Childhood Experiences (ACE) asked people about their health and difficulties in their childhoods.
Bottom Photo:  Dr. Anda at the Building Better Lives Conference in Columbus, OH
Photo Credits: KPJR Films
Does Resilience pass the Bechdel-Wallace Test?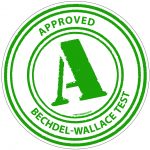 Yes, twice!
In one instance, Dr. Burke explains to a mother that stressful and traumatic events can affect the overall health of children shortly before she screens her with the ACE test.
Another scene involves Cynthia, a single mother of four. She cries as she tells the mothers support group, that she is involved in, about her fear toward her nine-year-old daughter who displayed angry and aggressive behavior.