Bad Santa 2 brings back the alcoholic con artist who masqueraded as a not-so-jolly old St. Nicholas in the 2003 original. Starring a wasted Billy Bob Thornton – implying both connotations of "wasted" – Shauna Jones and her co-writers will make audiences' stomachs churn with this overly vulgar heist flick. (BKP & GEP: 2/5)
Review by Managing Editor Brigid K. Presecky & Social Media Manager Georgiana E. Presecky
Using Christmas as an excuse for making R-rated rollicking party movies is becoming an unsettling but growing trend (see: 2015's The Night Before and upcoming romps Office Christmas Party and Why Him?). Bad Santa 2 is no different, though "party" might be the wrong word for this extremely depressing and downright boring take on what's supposed to be the most wonderful time of the year.
"Willie" (Thornton, who we spent most of the movie picturing in more deserving and complex roles) returns to his life of crime after several failed suicide attempts (which, apparently, are supposed to be funny?). He joins his old partner and his estranged jailbird mother (Bates, who delivers what are arguably the film's most disgusting lines) in stealing two million dollars from Giving City, a charity that supposedly helps the needy families of Chicago. Canned exteriors of the city at Christmastime were one of the film's few highlights.
Familiar crime-comedy tropes ensue, peppered with plenty of gratuitous sex jokes and swearing that might make me laugh in any other context, but are completely flat and overused here.
The original film's now-grown towhead
"Thurman" (Brett
Kelly) occasionally provides a relief from other stomach-churning attempts at humor, but the "on the spectrum" through-line quickly grows tired (If any viewer is looking for a curly-haired man-child lost in a big city, Elf is surely a better bet).
Thornton's performance is one long apology for the repetitive and cringe-worthy material, and his delivery provides the film's few glimmers of comedic hope. Christina Hendricks replaces Lauren Graham as the film's shell of a supporting female character, given little to do by screenwriters Shauna Cross and Johnny Rosenthal. If anything, this disturbing mess of a film shows the ranges Bates and Thornton can effortlessly reach.
A viewing of the original film is not necessary, however, if you ever run a K-Cup through a Keurig coffee maker twice, the first brew will undoubtedly be stronger and more enjoyable. While the original Bad Santa rides the wave of similarly lazy jokes about penises that are meant to be raunchy and fun, Director Mark Waters' sequel is just sinister and creepy in the context of three hardened criminals stealing from a charity.
Here's hoping those other new films that call themselves Christmas movies by making their drunk, boorish characters slap on Santa hats have a little more heart to go along with the tastelessness.
© Brigid K. Presecky & Georgiana E. Presecky (11/26/16) FF2 Media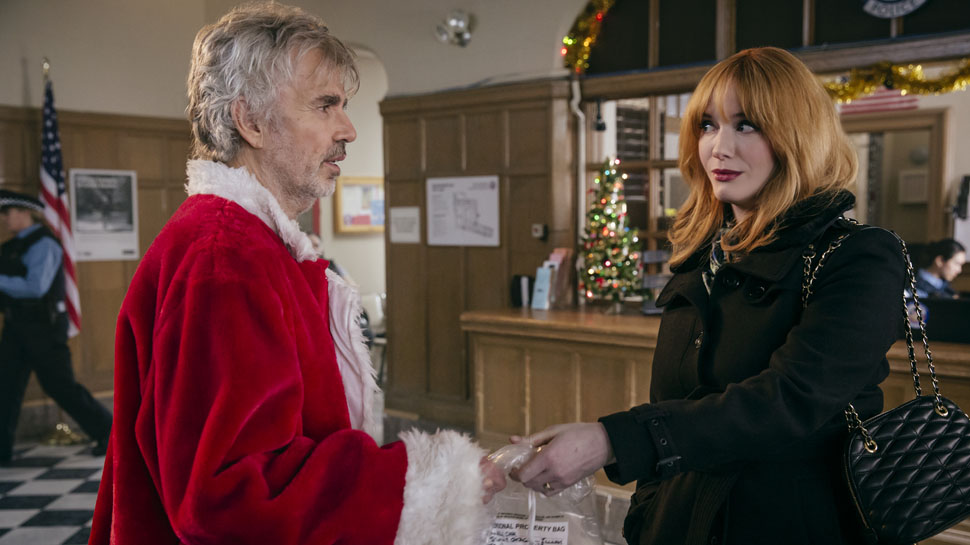 Top Photo: Billy Bob Thorton reprises his role as "Willie"
Middle Photo: Willie and "Thurman" (Brett Kelly) continue their odd friendship
Bottom Photo: Willie and new friend, charity worker "Diane" (Christina Hendricks)
Photo Credits: Jan Thijs 
Q: Does Bad Santa 2 pass the Bechdel-Wallace test?
Absolutely not.