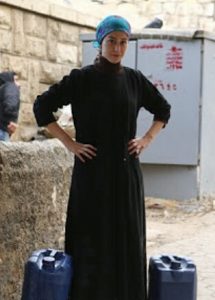 Narawa is a young woman living in a Cairo slum during the early days of the Arab Spring. When the film opens, her life is full of hope. Hosnei Mubarak has been deposed, and for the first time in their lives, ordinary people are feeling their collective power. They genuinely believe that their lives will get better in concrete ways, and Narawa is carried along in the flow of optimism and good cheer.
Kudos to writer/director Hala Khalil for crafting a film that perfectly captures the rhythms of Nawara's life while helping peel back the myths of "revolution" to uncover the true realities within. (JLH: 5/5)
Congratulations to the team behind NYC's first Arab Cinema Week! The schedule featured FIVE films directed by women filmmakers & FF2 is proud to announce that we saw every single one!
Top Photo: Narawa is used to carrying huge water containers back and forth.
Bottom Photo: Narawa with her grandmother.
Q: Does Narawa pass the Bechdel-Wallace Test?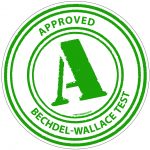 Absolutely!
Narawa's life is an endless series of professional chores (she works as a housekeeper for a wealthy, well-connected family) and personal commitments (primarily to her grandmother and the family of her fiance). She rarely has the luxury of talking to anyone "about a man."