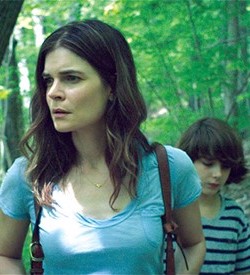 Claire in Motion, directed and written by Annie J. Howell and Lisa Robinson, tells the story of a woman, "Claire" (Betsy Brandt), whose husband disappears on a survivalist hike. The film centers around her journey to find out what has become of him and whether he will ever return home.  (EBT: 3/5)
Review by FF2 Contributor Elyse B. Thaler
The film opens with "Paul" (Chris Beetem) kissing his wife "Claire" (Betsy Brandt) goodbye as he embarks on his second survivalist hike, a hike so extreme that his only food will be from what he finds in nature. Claire and Paul both give off an aura of self-assurance in the beginning. They are both professors at the same university, which brings an idyllic twist to their marriage.
However, when Paul fails to return home, his wife and son "Connor" (Zev Haworth), grow alarmed by his absence. Brandt spends the rest of the film trying to understand what has come of her husband. She even goes as far as confiding in a young art student, "Allison" (Anna Margaret Hollyman), whom she discovers had some sort of mysterious relationship with Paul.
Throughout the family's search for the truth, Connor bonds with Allison in a way that is surprising and unsettling to his mother. When Claire looks at the young, hippy art student she does not see someone she would have thought her husband would be drawn to. But he was, making both Claire and the viewer question whether she ever really knew her husband at all.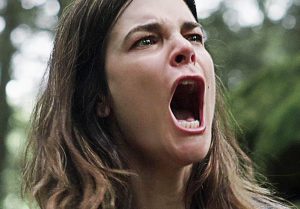 As things start to slowly unravel, it feels as though more questions arise than answers. Paul's relationship with Allison, whether it was romantic or simply a friendship, throws his relationship with his wife into question. Perhaps things were never as perfect as they once appeared?
The overall theme of the film is loneliness, and the filmmaking of Annie J. Howell and Lisa Robinson manages to encapsulate how that visually feels. The lack of musical score and shots of lived-in, yet lifeless parts of houses and offices remind the viewer of interrupted routines. This both creates a sense of eeriness and also becomes a visual form of hope: if his office is never cleaned out and reassigned, then maybe Paul will come home.
However, even in this story of extreme circumstance, it is hard, as a viewer, to care about the characters and their lives because there is so much left unsaid.  The filmmakers needed to give their audience another key into Claire or Paul's psyche, in order to explain and give weight to their circumstances. Brandt gives a lovely performance, but because very little is revealed about her character it is difficult to empathize with her. Without more information, all that is left are empty stereotypes that lack the depth to make the film move along and engage its audience.
Clearly, the motive of Howell and Robinson was to keep the audience wondering and leave them disconcerted; but by keeping so many secrets it made Brandt's character ("Claire") feel two-dimensional and hollow. This is a film that needs the audience to root for their protagonist. However, Claire is not a character that is easy to root for, not because she is a bad person, but because she is not very relatable. In the end, the beautiful shots of landscapes and forestry are all that keep your eyes on the screen. As for the story and plot, there really was not anything thrilling about this "dramatic thriller".
©Elyse Bunt Thaler FF2 Media (01/25/17)
Top Photo: Claire calling for Paul in the woods.
Middle Photo: Claire and Connor looking for Paul.
Bottom Photo: Claire contemplates giving up her search.
Photo Credits: Andreas Burgess
Q: Does Claire In Motion pass the Bechdel-Wallace Test?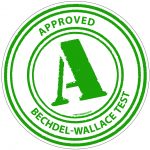 Technically, the answer is yes.
There are some scenes where conversations between two women do not involve Paul. Yet I would argue that even when his name does not come up, his importance to what is happening is implied. After all, the entire plot of the film is for Claire to find out what happened to her husband.