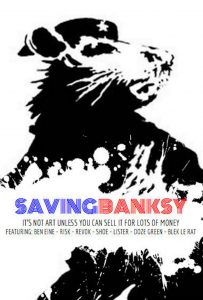 Take a few minutes to walk around any major city: New York, Los Angeles London, Paris, and one will notice the graffiti artwork that scales buildings, rides around on busses, and is scattered across public parks. For years (and still to this day), many people argue that this art form is actually vandalism. Some graffiti artists have been sent to jail for over 5 years for this. But in the past few years, graffiti art has become somewhat elevated, thanks to the all-time most famous graffiti artist, Banksy. Saving Banksy, produced by Eva Boros along with Brian Greif, and Kevin Zanger, follows one specific piece of Banksy as a generous man attempts to save it from being destroyed or sold at auction (RAK :5/5).
Review by FF2 Intern Rachel A. Kastner
This documentary opens up the unknown world of graffiti artists, or 'street artists.' Although Banksy's identity is unknown to the public, many other public street artists are very open about their artwork. The documentary is narrated in part by several street artists, including Ben Eine, Risk, Revok and Hera, whose work is all over the world. They each explain how they've developed their own style, how they've evaded (or not) the cops, and their opinion on Banksy.
In recent years, high-end art collectors have become interested in Banksy's politically-bent artwork. Many pieces have been removed, without Banksy's permission, and sold at auction houses for hundreds of thousands of dollars. Most of the artists interviewed believe this is wrong. They purposely put their artiwork out for the public; they know that it won't last forever. That is part of their game.
The story of Saving Banksy picks up when art collector and producer Brian Greif explains that there is one untouched huge Banksy piece in San Fransisco that he loves and wants to protect. His goal? To safely remove the painting and donate it to a museum, where it will be open to the public. We follow him as he pays out of pocket for the removal, upkeep and care of the painting (over 40K in cost!). Although hundreds of art collectors begin to give him offers of upwards of $500K, Brian is determined not to sell out. But he runs into trouble when museums aren't sure whether they're comfortable taking a painting of an artist who doesn't want their art in a museum.
Saving Banksy is a unique documentary with unprecedented access into the tiny space where the high end art collectors' world and street artists' world meet. With exclusive interviews, access to Banksy in this documentary is unlike anything else. It will also give you a great new appreciation for the art you see on the street.
"Imagine a city where graffiti wasn't illegal, a city where everybody could draw whatever they liked. Where every street was awash with a million colours and little phrases. Where standing at a bus stop was never boring. A city that felt like a party where everyone was invited, not just the estate agents and barons of big business. Imagine a city like that and stop leaning against the wall – it's wet." – Banksy
Top Photo: Saving Banksy Promotional Poster
Middle Photo: Crew moving the Banksy piece from the wall into a truck
Bottom Photo: Brian Greif with the Banksy painting that he saved.
Photo Credits: Colin Day
© Rachel A. Kastner FF2 Media (5/28/17)
Does Saving Banksy pass the Bechdel-Wallace Test?
No. There are very few conversations between two people in the film. The only true conversations that happen on camera are between Brian and a male art collector who wanted to buy the piece.