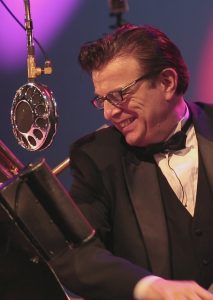 Written and directed by Dave Davidson and Amber Edwards, Vince Giordano: There's a Future in the Past brings us jazz musician Vince Giordano, the dedicated and eclectically gathered members of his band the Night Hawks, and the strange and magical corner of New York's jazz world they influence. Giordano's interest is in 1920s and 30s jazz, both preserving it and revitalizing it. Davidson and Edwards' documentary celebrates not only the music and mood of the Night Hawks, but also their roles as historians and artists, bringing back the particular joys of the decades from which they derive their music. (AEL: 3.5/5)
Review by FF2 Intern Amelie E. Lasker
To start, it's important to note that Vince Giordano and the Night Hawks are not the kind of jazz band you'd imagine playing New York City clubs. There are no improvised solos, though Vince makes it clear that his musicians are talented enough to create beautiful ones. Instead, they play from arrangements of pieces from the 1920s and 30s, discovered and collected, usually by Vince himself, in families' dusty collections or in the archives of old libraries. They study old records to get the pieces exactly right.
Onstage, they are not a small and cohesive group, but a mass of people and shining instruments. Vince requires his musicians to wear tuxedos when they perform, deliberately to create a sense of the now-antiquated, clean-cut musician. Their manner is grand and a little eclectic: sometimes during performances, Vince will pass out sheet music with a flourish, to make it clear that the whole group is sight reading, unrehearsed and still completely at ease.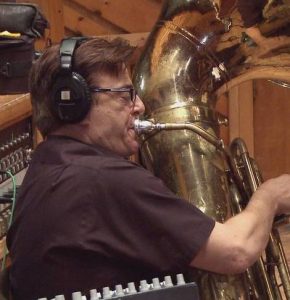 Much of the nostalgic style stems from Vince's own vision. As a young musician, he was not only a jazz enthusiast, but even something of a missionary, protecting the 1920s music he loved from oblivion. Vince tells stories of the music of Disney cartoons that made him love that era when other kids would dismiss it as "cartoon music." He tells of the time he was sixteen and took lessons with arranger Bill Challis, who told him stories about working with Gershwin and Bing Crosby in the recording studio. Vince recorded soundtracks for Woody Allen movies, and a number of other films and TV shows with the Night Hawks.
Vince's singular passion makes the massive band cohesive. The Night Hawks' reed player Mark Lopeman explains that Vince isn't just a front man, "he's the whole show." In many performances, Vince serenades the audience, singing the romantic and adorably lewd lyrics with his group supporting him.
Members of The Night Hawks are characters themselves. They approach the twice-a-week gig at their small jazz club with such dedication that they are clearly caught up in the same dream that has inspired Vince since his childhood. Many of them depend on other bands or musical work to make their living, but they talk about their work as projects rather than stresses. With the Night Hawks, they must be committed to a particular aesthetic and a particular style of music, with no room for improvisation. And yet each member keeps coming back.
Oftentimes, the musicians support their niche musical interest with such earnest conviction that it can seem pathetic, and neither the filmmakers nor Vince shy away from that impression. Often in performances, Vince remarks on how small the audience is, how modest their weekly venues, or how surprising it can be when anybody cares at all.
It becomes clear that the almost uncomfortable earnestness is an essential part of the transformation these musicians facilitate in the musical world. In a performance of Rhapsody in Blue in a grand music hall, they don't look motley or ridiculous in their tuxedos, but grand and radiant. Vince asks, "Why was the Rhapsody so successful?" He explains, "Here's this wonderful orchestra of superb musicians… and all of that material is suddenly swept together into a work of art by Gershwin."
Dan Levinson, reed player for the Night Hawks, explains that they are entering a golden age for these kinds of musicians of the past, where it's "not only popular, but fashionable to play this music." Jon-Erik Kellso, Night Hawks cornetist, talks about all the young people who come to dance in the speakeasy atmosphere, the free warmth of the Prohibition era.
Vince Giordano and the Night Hawks have become historians and performance artists, as well as musicians. Vince talks about the decade-specific details he'll bring to jazz clubs where they perform: candles, exhaust fans for bathrooms, and even toilet seats, and he sets them all up himself. Miz Elizabeth, lead singer of the jazz band the Hot Sardines, describes the experience of this music as cinematic. As she enthuses, I suddenly understand why Vince cares so much about preserving this kind of music as it was. As Miz Elizabeth puts it, if it's just right, it's complete "joy sauce."
© Amelie E. Lasker FF2 Media (1/12/17)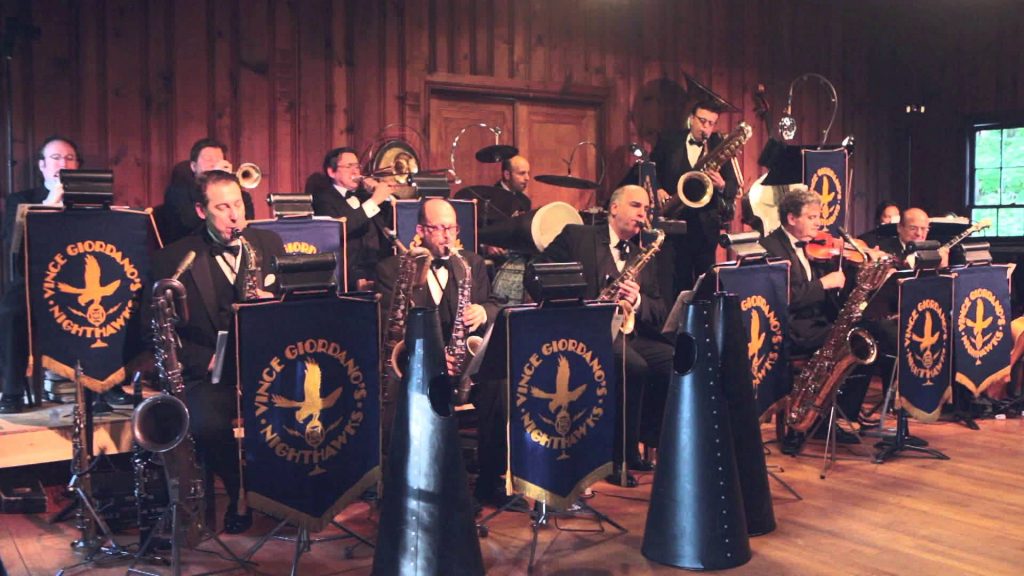 Top Photo: Vince plays in concert.
Middle Photo: Vince at a recording session.
Bottom Photo: The Night Hawks.
Photo Credits: First Run Features
Q: Does Vince Giordano: There's a Future in the Past pass the Bechdel-Wallace Test?
No, mostly because almost all of the musicians featured are male.