Great performances literally "save" a predicable plot. Once an adorable child star, Gavin has grown into a totally boring boor. After some hard partying, he is sentenced by the court to community service.
Kudos to actor Brett Dalton for really making me care about someone who finds himself anew in his old home town. (JLH: 3.5/5)
Review by FF2 Editor-in-Chief Jan Lisa Huttner
Since I am a self-defined "Good Jewish Girl from New Jersey," the idea of "redemption" does not come easily to me. So kudos to Brett Dalton for making me care about a guy who represents everything I despise.
At the start of The Resurrection of Gavin Stone, "Gavin" (Brett Dalton) is a total lout. Once a beloved child star, he is now "male privilege" incarnate. He is still handsome enough to have access, but he makes a mess of every opportunity.
Punishment finally comes in the form of a judge who sends him back to his father's house for a stint of community service. Gavin's mother is long dead, and his father Waylon" (Neil Flynn) is not at all eager to see him. But recognizing that his son has reached rock bottom, he opens the door and Gavin is "home."
Although he is supposed to work as a handyman, kindly "Pastor Richardson" (D.B. Sweeney) agrees to cast Gavin as Jesus in the annual Passion Play and there ya go. The screenplay by Andrea Gyertson Nasfell is totally predicable as is Dallas Jenkins' direction, but the cast is solid, most especially the local guys cast as apostles to Gavin's Jesus.
I could have done with out the "love story" (a cliched oil/water subplot with Anjelah Johnson-Reyes as the Pastor's daughter "Kelly"), but the finale — obvious though it may be from the start — is nevertheless well-earned. Gavin will get by with a little help from his friends. Amen to that!
For his next gig, I recommend that Brett Dalton play George W. Bush. Maybe then we will finally find out what GWB was really doing during his time in the Texas Air National Guard. And who knows GWB — older and wiser now — might even join Dalton at the Oscars as his date 😉
© Jan Lisa Huttner (1/21/17) FF2 Media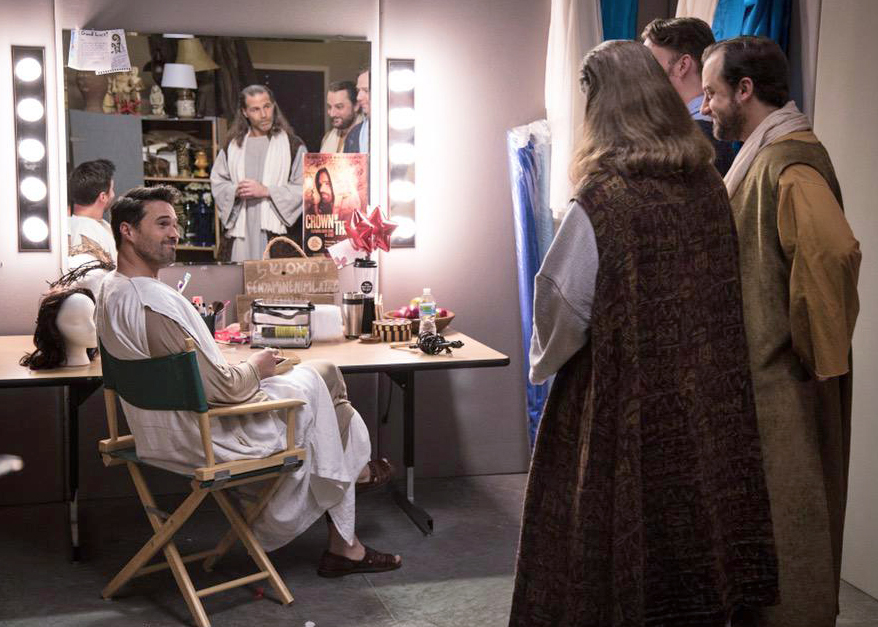 Top Photo: Brett Dalton as "Gavin Stone" begins his court-mandated community service in a church Ladies Room.
Bottom Photo: And then… Gavin is cast as Jesus in the annual Passion Play!
Q: Does The Resurrection of Gavin Stone pass the Bechdel-Wallace Test?
Not a chance in — um — Hell 😉