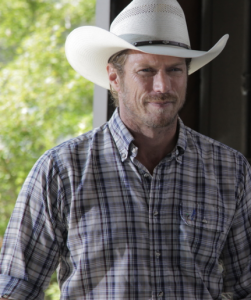 When widow Stella Davis is left with a sea of debt, she enlists the help of convicts to rehabilitate a herd of wild horses and bring life back to her ranch. Sharon Stone stars as the greedy activist opposite Dorian Brown in this feel-good, sometimes preachy Running Wild. (BKP: 3.5/5)
Review by Managing Editor Brigid K. Presecky
Genre labels can be easily applied feature films: action/adventure, romantic comedy, drama. With Wild, a cable television channel, rather than a genre, comes to mind: Hallmark. If you view first-time writer Christina Moore and Brian Rudnick's film through that lens, this morality lesson with a beautiful view will make you want to save a horse just to spite Sharon Stone.
When "Stella Davis" (Brown) hears there's been an accident via a man walking into her house and saying, "There's been an accident," (accompanied by an unnecessary flashback of a truck driving into a tree) she's left without a husband and a hefty debt for her horse ranch. To make matters worse, Stella and handsome ranch-hand, "Brannon Bratt" (Jason Lewis) happen upon wild, weak horses scavenging for food and water. "It's illegal [to help them]," Bratt warns. But Stella has been doing what people tell her to do all her life and she's tired of it.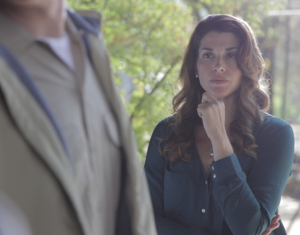 Now, her mission is to rehabilitate the wild horses and save her ranch, just as her strong female ancestors had done four generations prior.
Brannon has an idea: convicts. A busload of non-violent offenders walk off a bus and get to work, training the animals and, in turn, rehabilitating themselves. Tommy Flanagan heads the pack of redeemable convicts who form a strong bond with Stella over the course of 90 days. The obvious irony is actually beautiful; as these free horses are now confined, these confined people are now free.
The opposition comes into play in the form of Sharon Stone, playing a non-so-genuine activist for free horses, "Meredith Parish." Stella better set the wild horses free: or else (…. we aren't really sure). She plays a typical, but believable antagonist to Brown's strong, lovable leading role. 
Writer Christina Moore (who plays a small part as Parish's younger sister) layers Running Wild with multiple conflicts, from the initial death of Stella's husband and the rehabilitation of the animals to activists protests and Brannon's heartbreaking backstory. The film, shot in the beautiful landscape of Napa, California, almost feels like it was based off of a novel and condensed to fit a different medium. Maybe that's a positive attribute, when the audience can picture this story continuing, page after page. When they can imagine future stories in this world, the writer has done their job well.
For either the horse-loving community or those unfamiliar with ranch operations, this personal project is a heartwarming, if at times amateur, treat for the soul. A message about trying to help the helpless? Nothing wrong with that.
© Brigid K. Presecky (02/10/17) FF2 Media
Top Photo: Jason Lewis as ranch-hand "Brannon Bratt"
Middle Photo: Dorian Brown as widowed ranch owner "Stella Davis"
Bottom Photo: Writer Christina Moore and Sharon Stone as the Parish sisters
Photo Credits: ESX Entertainment/SONY Pictures Home Entertainment
Q: Does Running Wild pass the Bechdel-Wallace test?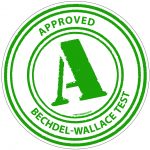 With flying colors!
A highlight of Moore's film is just how much the film passes the Bechdel-Wallace test. In the wake of her husband's death, Stella is left to save her ranch from financial implosion as well as saving wild horses and fending of threats. Brown is engaging from the start and a fitting leading lady opposite Sharon Stone.