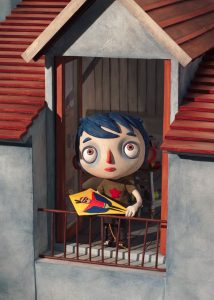 Perfectly told tale of a French boy who is sent to a group home after his mother dies. Screenplay by award-winning filmmaker Céline Sciamma, best-known for her 2014 film Bande de filles (called Girlhood in English although Girl Gang would be a better translation), is based on Gilles Paris' 2002 novel Autobiographie d'une Courgette. Animated with dazzling style and state of the art technique by Swiss director Claude Barras (making his feature film debut).
Although Switzerland nominated My Life as a Zucchini for the 2017 Best Picture Oscar, AMPAS "only" nominated it for Best Animated Film. I think it deserves both! (JLH: 5/5)
NOTE: Since the runtime for My Life as a Zucchini is only 70 minutes, it is being shown in the USA in conjunction with Barras's adorable 8 minute short The Genie in a Ravioli Can from 2006. Some American theatres are offering both the French version (shown with subtitles) and a dubbed version (in English). I am glad I chose the French version so that the accents match the affects, but I have no doubt that the dubbed version (voiced by well-known actors like Will Forte and Ellen Page) is great too.
WARNING: Stay in your seat when the credits begin to roll. There's a little treat at the very end 🙂
© Jan Lisa Huttner (2/25/17) FF2 Media
Top Photo: Altho his mother calls him "Zucchini," the boy's real name is "Icare." When the film opens, Icare lives alone with his mother. His father, who left them years ago, left no forwarding address…
Bottom Photo: Zucchini (the kid with the blue hair) finds a new family after his mother's death.
Q: Does My Life as a Zucchini pass the Bechdel-Wallace Test?
Only kinda sorta.
Some of the girls in the group home clearly have relationships with one another, but we don't ever see them have "conversations" per se. And the headmistress has a few interactions with Camille's aunt, but neither of these women every get names.