Written and d
irected by Gabrielle Burton, Kings, Queens and In-Betweens is an inside look at the drag performance scene in Columbus, Ohio. Burton's documentary attempts to shed light on gender as a social construct, and the difference between a drag performer's persona and the person underneath. (GEP: 3.5/5)
Review by Social Media Manager Georgiana E. Presecky
"Drag is an art form," one man tells Burton in the film's opening sequence, in which she asks several interviewees what drag means to them. The answers range from political statements to simply enjoying themselves on stage, but all point to one main idea: in this world, gender doesn't really matter.
Ohio might not be the first place you think of when the word "drag" is dropped, but Burton and her subjects are out to change that limited perspective by honing in on one of five drag venues in the city of Columbus. Seeking to educate viewers on why people participate in or attend drag shows for entertainment, Kings, Queens and In-Betweens follows the lives of these men and women, who have other trades and lives by day but enjoy the outlet of performing in drag at night.
The variety of interviewees makes the documentary compelling – the number of perspectives Burton provides makes this community all the more human. (My favorite drag performer interviewed was Sile Singleton, a Christian who said,
"God knows me in every way that I am. I think God's sitting up there scratching his head, wondering why folks are trippin'." It was nice to hear my own perspective echoed in a place I didn't expect – and a lot of Kings, Queens and In-Betweens is unexpected.)
If Burton's goal was to normalize a world that might make some uncomfortable, she succeeded – you would never know most of these seemingly "normal" people moonlight by dressing as the opposite sex, singing, dancing and telling jokes on stage. While a lot of the film's sequences are poor quality, the story doesn't really suffer – and I guess if you really want to see the show, buy a ticket.
Whether you're male, female, transgender, straight, gay or otherwise, we all feel different from the people around us at times. It might have nothing to do with gender – it might just be that we feel different than our peers because of what we've experienced or what we believe. Who wouldn't love to have an outlet – a place to feel like we belong, a place to feel confident and like we're making other people – and ourselves – happy? Your place might not be a drag club in Columbus OH, but my hope – and maybe Burton's – is that we all find one.
© Georgiana E. Presecky (3/7/17) FF2 Media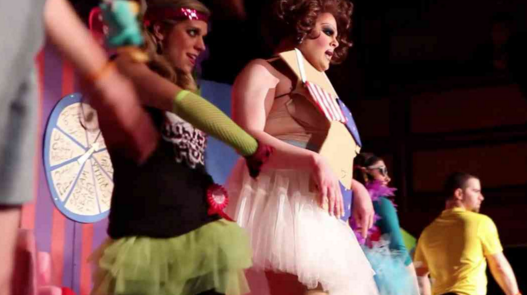 Top Photo: A prominently featured drag queen and king.
Middle Photo: The film addresses gender norms head-on.
Bottom Photo: One of the club's most popular drag queens.
Photo Credits: Five Sisters Productions
Q: Does Kings, Queens & In-Betweens pass the Bechdel-Wallace test?
The documentary is largely about people who don't conform to gender norms, so determining whether it is conducive to supporting "women" per se is somewhat moot.