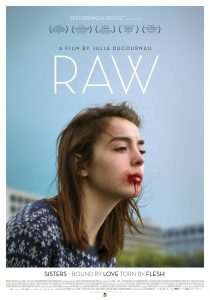 French director Julia Ducournau's latest is a slickly shot, deftly performed horror flick set at what this critic can only imagine is a very non-traditional veterinary school. Upon arrival at school, Justine (a lifelong vegetarian) must endure a week of hazing by upperclassmen, including her own sister, and along the way she discovers a taste for sex, drugs, and human flesh. (GPG: 4/5)
Review by FF2 Contributor Giorgi Plys-Garzotto with two cents at the bottom from Editor-in-Chief Jan Lisa Huttner
"Justine" (Garance Marillier) comes from a family of vegetarian veterinarians  — she has been a vegetarian all her life, and she is about to start her first year at veterinary school. She is so disgusted by meat that she spits it out when she finds it in her food, and she is so committed to becoming a vet that she skips out on parties to study. However, when the upperclassmen at her veterinary school, including her older sister "Alexia" (Ella Rumpf), begin to intensely haze the first-years in what is known as "rush week," she begins abandoning both her diet and her studies in favor of eating raw chicken kidneys on a dare and dancing all night at raves set up in various cafeterias and basements around the school.
The aforementioned chicken kidneys end up giving Justine (presumably named for the Marquis de Sade protagonist) a full-body rash, as well as an insatiable lust for blood. She tries to hide this from her roommate  — a gay man who has had a much easier time adjusting
to campus hazing and hookup culture than she has  — and succeeds in convincing him she has just stopped being a vegetarian. However, after a few misadventures, involving stealing from the cafeteria and the vet school's morgue, Justine's sister Alexia finds out about her new habit in one of the film's most spectacularly gory scenes. To Justine's shock and horror, Alexia then reveals that she has the same appetites, which she indulges in regularly.
Alexia and Justine's sister relationship is less than close; Alexia is sexy and popular, while Justine is a nerd who has to borrow dresses from Alexia because she doesn't own any of her own. Alexia tries to help Justine through the hazing rituals at first, but gives up on her after becoming disgusted with Justine's more bookish, reserved personality. Now that they can bond over their new diet, however, the sisters begin to grow closer, but the friction between them also worsens, leading up to a conclusion as satisfying as it is twisted.
All in all, Raw is delightfully bloody and weird, and visually gorgeous as well. If you have a weak stomach or delicate sensibilities, you may want to avoid this film, but otherwise it's the best of two worlds—an artsy foreign film on one hand, and a gorefest to rival Tarantino on the other. What more could you want?
© Giorgi Plys-Garzotto (3/14/17) FF2 Media
Top Photo: The theatrical poster for Raw.
Middle Photo: Justine has a snack in between classes.
Bottom Photo: Justine does some hands-on studying after hours.
Photo Credits: Petit Film
Q: Does Raw pass the Bechdel-Wallace Test?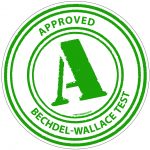 Yes!
Raw is centered around the relationship between Justine and her older sister Alexia, and they talk about Justine's meat cravings, Brazilian waxes, and their family dogs, among other things.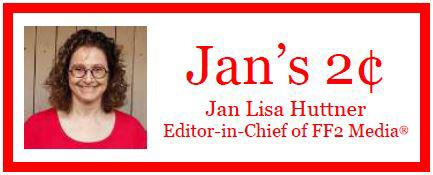 I have to admit that I found Raw rather hard to stomach (HaHaHa). Although I knew I was watching metaphors-made-flesh so to speak (for example, about the susceptibility of young women to eating disorders), the shock value seemed to be more important to the filmmakers than the exploration of any "ideas" per se. In other words, I found the plot decidedly "thin." (Oy, can't help myself.)
What motivates Justine? Why is she in veterinary school in the first place? Is she just a good girl who wants to please her parents or does she have ambitions of her own? Not sure. Since Justine is an ace at taking tests, she presumably had other options, but her backstory is never explored.
By the end, I could literally hear my mother in the Great Beyond kvetching in my ear: "Why is it always the mother's fault?"
As far as the Bechdel-Wallace Test, men hardly enter into it. Justine and Alexia are very competitive, but thankfully their sibling rivalry never falls to the level of fighting over guys. (JLH: 3/5)
© Jan Lisa Huttner (3/16/17) FF2 Media