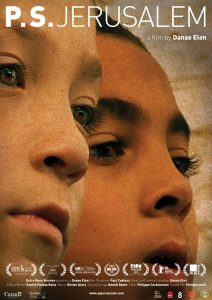 Filmmaker Danae Elon confronts the Israeli/Palestinian conflict of Jerusalem in a quiet, family driven, home movie style documentary. (EML: 2.5/5)
Review by FF2 Associate Eliana M. Levenson
Shot very much like a home movie, P.S. Jerusalem explores a leftist Jewish perspective on the Israeli/Palestinian relationships in the Israeli capital of Jerusalem. The daughter of an outspoken liberal Israeli journalist, director Danae Elon returns to her childhood home of Jerusalem to try and explore what the city has become. Her father, Amos Elon, has recently passed away, prompting her to desire a better understanding of what drove him to abandon Israel for the final years of his life.
Explored predominantly through the struggles Elon faces as a wife and mother, P.S. Jerusalem delivers a biting portrayal of Israeli/Palestinian relations within the holiest city in the world. As Elon deals with the unending questions of her young sons, the bitter resignation of her North African Jewish husband, and her own personal connection to the city, she uses her camera as a tool for processing the challenges she sees around her.
There's something painful about this documentary in its narrowness of perspective. Elon does not hide her personal political leanings, yet there is something disquieting about the flippant way she chooses to address certain injustices and ignore others. As a Jew, Elon does not show any sensitivity to the other side of a conflict choosing, instead, to exclusively focus her camera on instances of Jewish rage and injustice toward Palestinians. While her perspective is not invalid, nor unwelcome by those who must be willing to criticize Israel when wrong as much as praise it when correct, the one-sided nature of the film makes it an uncomfortable watch for even liberal Jews with a strong connection to Israel.
Perhaps most troubling, however, is the film's firsthand demonstration of how politics become an entrenched dogma from parent to child. Just as Elon learned from her father to perceive the conflict a certain way, the documentary clearly shows how Elon is passing along similar narrow minded perceptions to her own children. In one scene, Elon takes her son Tristan to a rally against Jewish settlers moving into a previous Palestinian neighborhood. Amongst the yelling of "Apartheid" and "Thief" at Jewish families, Israeli music begins to play loudly from the homes. While Elon acknowledges that she likes the music, her son Tristan disagrees, explaining that the music is meant to make them angry. In this moment, it becomes clear that Tristan is being impacted by his parents perceptions of the conflict.
At its core, P.S. Jerusalem attempts to put the massive Israeli/Palestinian conflict on a personal level, placing it literally in the lens of a mother and her navigation of it through her parenting. However, the film presents a clearly biased and unnuanced portrait of something that cannot rightly be explored in its complexity through the lens of educating a child. While Elon raises some important points and harsh realities that even supporters of Israel must address, her desire to present her personal political position makes for an unbalanced film.
P.S. Jerusalem has the effect of making you feel sick to your stomach, at times for the right reasons, but all too often for the wrong. Watching the film is a constant battle to sit silently, consistently presenting a perspective that makes you want to stand up from your seat and yell at the screen. Yet, the film does not open a dialog, it squashes it. So harsh is it in its narrow perspective, that it paints anybody who disagrees as dangerous, an opponent to peace. In Elon's quest to demonstrate tolerance, she presents the opposite by showing nothing more than oversimplified, far left perspective that places all the blame on her own people.
© Eliana M. Levenson (3/16/17) FF2 Media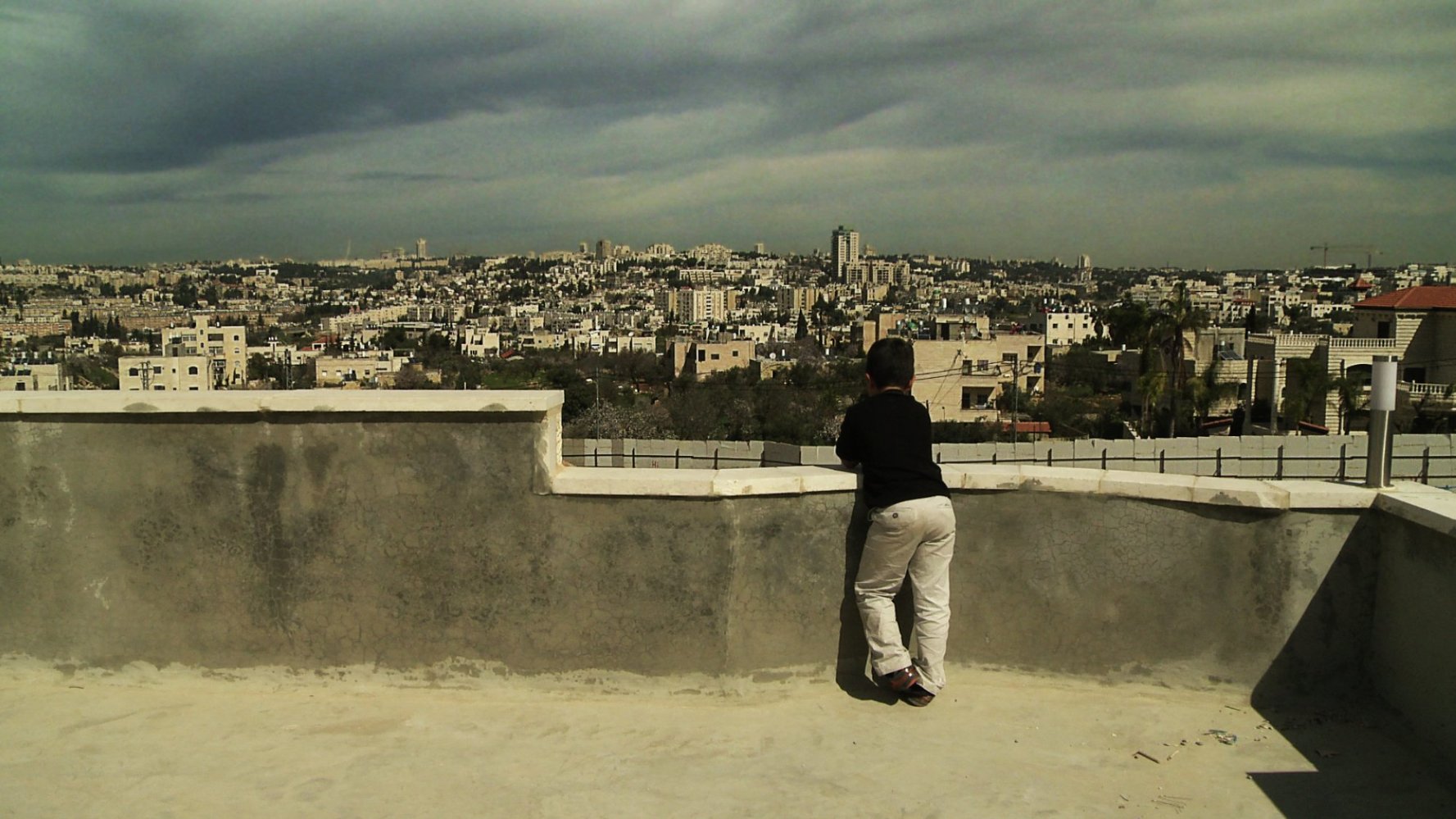 Top Photo: The film's poster, featuring Danae Elon's son Tristan, a central character of the film.
Bottom Photo: Tristan stands on a rooftop, overlooking the city of Jerusalem.
Photo Credits: Filmoption International
Q: Does PS Jerusalem  pass the Bechdel-Wallace Test?
Nope.
While the narrative is driven by a female filmmaker, she is never on camera and all of her conversations are between her and her primarily male family.