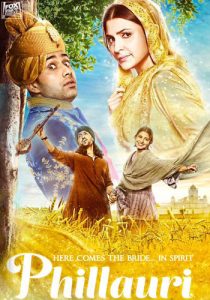 Phillauri, written by Anvita Dutt Guptan, is a film of two love stories that take place nearly a century apart. In present day, a young man named "Kanan" (Suraj Sharma), returns home to India to marry his high school sweetheart, "Anu" (Mehreen Pirzada).  Kanan's self-doubt starts to worry Anu that the wedding might not happen. Meanwhile, the audience is transported to a century prior as a scandalous singer and alleged poet, "Roop Lal Phillauri" (Diljit Dosanjh) attempts to win over the affections of a respectable doctor's sister, "Shashi: (Anushka Sharma). Magic is what binds these two stories together.  (EBT: 3.5/5)
Review by FF2 Contributor Elyse B. Thaler
"Kanan" (Suraj Sharma) has only agreed to marry "Anu" (Mehreen Pirzada) while they are both still so young due to pressure from their families. At only 26, his priority hasn't been family or marriage. Instead, for the past three years Kanan has lived in Canada in an effort to kick off his music career.
But culture and tradition prevail once Anu and her family begin hinting that she has waited long enough. After all, the pair has been dating since high school, so why wait any longer to get married? This is how we find Kanan in the beginning of the film, on a plane to fulfill his promise to Anu, no matter how reluctant he feels about his decision.
Kanan comes across as the sort of person who has trouble speaking his mind unless driven over the edge. Even though we see his metaphorical heels digging into the ground, he still manages to perform his duties during all of the special celebrations, with only minimal complaints. That is, until he finds out that the local priest needs him to marry a tree before he can marry Anu.
Apparently, the day of Kanan's birth bodes bad luck to any marriage he enters into, and the only way to fix this problem is to marry a tree in a special ceremony before marrying Anu. He is skeptical and anything but thrilled, but eventually goes through with the ceremony.
Suddenly, the film takes a fantastical turn when Kanan's marriage to the tree brings forth the surprising appearance of "Shashi" (Anushka Sharma), a century-old ghost who is now bound to Kanan until the time of his death. After recovering fr
om the initial shock of being haunted by a ghost, Kanan must continue to go through the motions in his marriage to Anu, while also searching for a way to get rid of Shashi. A task that is especially difficult, as he is the only one who can see the ghost.
We start to get a peak into the life that Shashi once lived. We watch as the local singer known for his scandalous and provocative songs, "Roop Lal Phillauri" (Diljit Dosanjh), sees Shashi for the first time at a town unveiling of a gramophone. From there, the story unfolds as Phillauri attempts to prove his worth to Shashi as they both gradually fall more and more in love with each other.
But what unfinished business has kept Shashi tied to the earth, and now bound to Kanan? Can Kanan help Shashi finish whatever it was that she had started?
Not all stories are meant to have some deep, soul-stirring message. Sometimes a story is just a simple fairy tale and love story that hypnotizes the audience through compelling characters and rich visuals. That is what Phillauri is, a nice love story that is reassuring in its predictability. It is the rich colors and use of music that is traditional of Indian film that keeps the audience engaged in the story.
However, the problem that can occur with the "story within a story" technique is that sometimes one story becomes more interesting than the other, as is what happens within this film. While watching the impending wedding of Kanan and Anu, you start to hope that we will soon go back to Shashi and Phillauri. This is due to the repetitiveness of Kanan and Anu's scenes. It becomes exhausting watching two young people both dreading the same fate of a marriage that might ultimately fail. You start to hope they call it quits or at least delay until they are both ready to take the next step.
As previously stated, this is not a film to go into hoping for depth. Phillauri is two, entwined love stories that may not feature the most developed and profound characters, but has a touch of humanity that brings smiles to viewers in light-hearted circumstances, and also lets them shed tears when moments feel true and honest. The genius in Anvita Dutt Guptan's screenplay is that stories like these are timeless, and their attraction is the sense of escapism one can find in them.
©Elyse Bunt Thaler FF2 Media (03/30/17)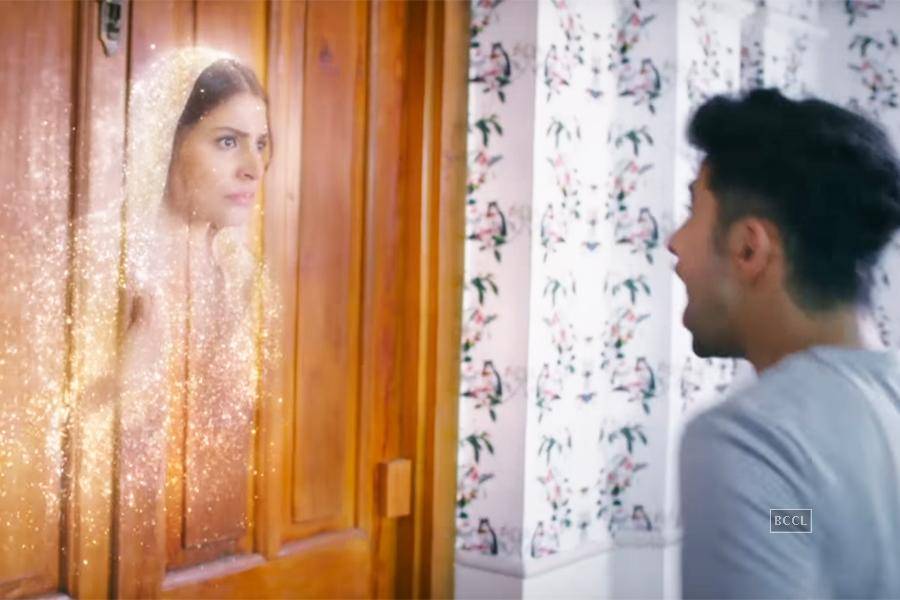 Top Photo: A promotional poster for Phillauri. 
Middle Photo: Shashi and Phillauri stealing a moment together.
Bottom Photo: Kanan's shock as he discovers that Shashi, a real ghost, is now haunting him.
Photo Credits: Fox STAR Studios
Q: Does Phillauri pass the Bechdel-Wallace Test?
No.
The entire narrative is about love and marriage and heavily leans in favor of the opinions and actions of the male characters.