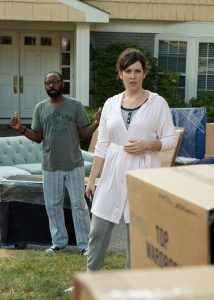 Written by Annie J. Howell and directed by Rob Meyer, Little Boxes follows an interracial family as they move from the diverse and bustling city of New York, to a small town in Washington State. The film highlights their struggles, both familial and racial, while serving as a sort of coming of age transition for their son "Clark" (Armani Jackson). (JEP: 4/5)
Review by Executive Editor Jessica E. Perry
"Gina" (Melanie Lynskey) is uprooting her family, from their comfortable and familiar home in New York City, to a small town in Washington State where she's landed a new job teaching at a university, effectively putting herself on the tenure track. Her husband, "Mack" (Nelsan Ellis), is extremely supportive of his wife, but is also wary of what the move means for their interracial family.
Gina, Mack, and their son "Clark" (Armani Jackson) say goodbye to their friends in New York, pack up the small apartment they've always called home, and make their way to the other side of the country. Their new home is a small town where the population is predominantly white, and although their neighbors mean well, the new addition of a biracial family to the neighborhood is clearly somewhat of a shock for the people of the town; out of place in the land of white picket fences.
Mack, an author, is struggling to write his next novel. With Gina consumed by the demands of her new job, and Clark making friends with two neighborhood girls, "Ambrosia" (Oona Laurence) and "Julie" (Miranda McKeon), Nelsan becomes consumed with tracking down their missing furniture and uncovering the mold that lies hidden in the walls of their new home. But through it all, and through the struggles of small town perception, Mack remains a great father and strong advocate for his son, as Clark approaches teenage hood and navigates all that comes with it; including his first crush on a girl and fitting in in a new town.
Coming from an interracial family myself, I found Little Boxes to be honest and grounded in its portrayal of both the complexities, and even struggles, that can present themselves from both internal and external forces, while also highlighting that when it comes down to it, a family is a family, no matter the color of your skin. Moreover, that all families, black, white, and interracial face the same challenges, and are also all capable of painting those different then their own as "other:"
Clark sneaks out of the house in anger after Ambrosia "breaks up" with him for being biracial and not "all black" as she had thought. Her mother, "Joan" (Christine Taylor), confronts Clark's parents, accusing him of being the perpetrator who threw a rock through the window of her family's home. Mack is enraged that Joan has seemingly profiled his son. While Gina looks down upon Ambrosia's family as less educated then her own, insinuating that Joan, as a single mother, is not able to provide her children with the example she and Mack have set for Clark. Each party holds a form of racial and/or classist prejudice over the other, coming from that place in anger, instead of trying to understand one another.
Although this is one sequence in the film, it is especially relevant today in what it has to say. However, while race is undoubtedly a focus of the narrative, it is also extraneous to the story's familial core. A family is a family, no matter what. Screenwriter Annie J. Howell must be applauded for the subtly of Little Boxes, a film with such a small story, that is still able to say so much.
©Jessica E. Perry (4/18/17) FF2 Media
Top Photo: Melanie Lynskey as "Gina."
Middle Photo: Gina, Mack, and Clark sit together eating breakfast the day after Mack discovered mold behind the wallpaper.
Bottom Photo: Trapped outside their house due to the mold, the movers are forced to deliver their boxes only as far as the front yard.
Photo Credits: FilmBuff
Q: Does Little Boxes pass the Bechdel-Wallace Test?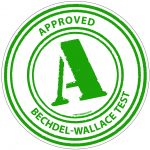 Yes!
Gina talks with colleagues "Helena" (Janeane Garofalo), "Maya" (Nadia Dajani), and "Sarita" (Veanne Cox) about her eye for art, the ins and outs of the university program, and the rules of saving face in a small town.