Paint it Black is a tour de force showcasing the brilliant work of three women: director Amber Tamblyn, and actresses Alia Shawkat and Janet McTeer. With Tamblyn's visionary guidance, Shawkat and McTeer give performances that will by turns make you laugh, cringe, and shudder. I highly recommend this emotional thriller about men with mommy issues, and the women who love them. (GPG: 5/5)
Review by FF2 Contributor Giorgi Plys-Garzotto
When her wealthy boyfriend "Michael" (Rhys Wakefield) kills himself, "Josie" (Alia Shawkat), a struggling actress, is plunged into mourning. Her loss is made worse by the vengeful attentions of Michael's overbearing mother "Meredith" (Janet McTeer), who blames her for Michael's death and the rift that had grown up between her and Michael in the years leading up to it. As Josie already knows, and as we the audience come to realize, Michael, like many "sensitive" artistic men, had a Freudian streak a mile wide, and now Josie must deal with Meredith's emotional fallout in the wake of his death.
After attacking Josie at Michael's funeral, Meredith begins alternately lashing out at Josie to get revenge (she has Josie evicted from her apartment, and takes all Michael's possessions back so she has nothing left of him) and inviting Josie into her luxurious life in an attempt to connect with the only other person who really knew her son. The result is a cloying and hair-raisingly intimate story of grief and emotional violence, painted in neon colors with flashing lights and enacted partially through expressionistic daydream sequences that bring a breathtakingly fresh and interesting visual style to a compelling script and virtuosic performances.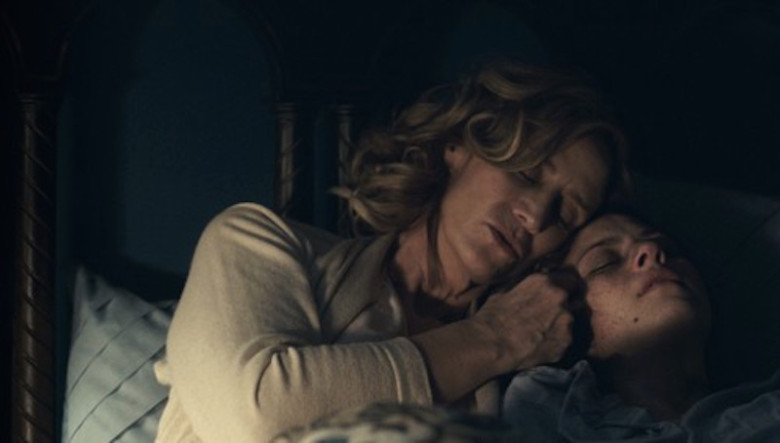 Gillian Flynn said that "female violence is a specific brand of ferocity. It's invasive…women entwine." When watching Paint It Black, the viewer is brought into close contact with the "horrific bit of pageantry" that is a toxic relationship between women. The two women's growing intimacy is precisely the most disturbing element of their conflict, and the ways Meredith takes hold of Josie's heartstrings and immediately begins to twist and tangle them makes for a bit of psychological horror just as affecting as other Freudian dramas like Psycho or Rosemary's Baby.
I found Paint It Black ultimately uplifting, as the ending provides a sense of hope that people tormented by the previous generation can find a healthier way to live. The fact that the film can lay bare such repulsive aspects of human relationships but remain optimistic about our capacity to heal and grow from such experiences is perhaps its most impressive success.
© Giorgi Plys-Garzotto (5/20/17) FF2 Media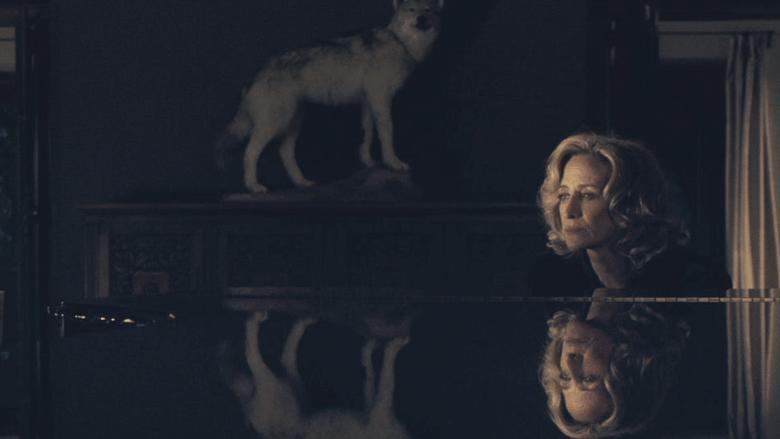 Top photo: Alia Shawkat's "Josie" consumed by grief.
Middle photo: Josie and Meredith find dubious solace in each other after Michael's death.
Bottom photo: Meredith alone in her huge house.
Photo credit: Olive Productions
Q: Does Paint It Black pass the Bechdel test?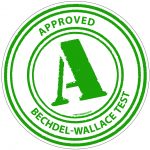 Yes!
Meredith and Josie mainly talk about Michael, but they often stray into talk of their pasts, Meredith's career as a concert pianist, and more personal reasons why they hate each other.
Josie also has a BFF who keeps trying to tell her to worry about herself, especially around Meredith.