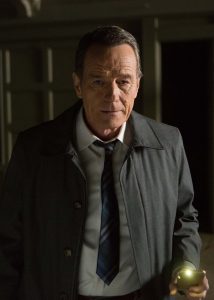 Brilliant new film by Robin Swicord brutally exposes two conjoined-twin nightmares: male privilege & the male gaze. What timing! Thank You, Movie Gods! (JLH: 4/5)
Review by FF2 Media Editor-in-Chief Jan Lisa Huttner
The Movie Gods are as capricious and mercurial as their counterparts on Mount Olympus in Greece. Usually they feed us junk, but everyone once in awhile, they hold something in reserve and throw it at us at just the right moment for maximum effect.
In 2008, E.L. Doctorow — a Jewish-American author who won almost every important award possible except a Nobel Prize and then died in 2015 age the age of 84 — published an little nightmare of a story in the New Yorker which was inspired by something Nathaniel Hawthorne wrote over a century before that.
In the "Director's Statement" that filmmaker Robin Swicord prepared for the Wakefield EPK (electronic press kit), Swicord says that when he learned of her interest: "[Edgar] offered his story rights gratis, deferring compensation until we were heading to production." That was obviously several years ago.
I only learned these background details after I saw the Wakefield critics screening last Monday night (5/15), but I am not surprised. I have been doing this "film critic" thing for over a decade now, so I know how long it takes for most women filmmakers to see their work on the Big Screen.
How miraculous, then, for Wakefield to arrive at precisely the right moment, as if Captain Jean-Luc Picard himself had personally intervened with the command: "Make It So!"
I think if I had read Doctorow's original story when it was first published in the New Yorker in January '08 — that is, at the tail end of the GWB administration — I would have considered it an irrelevant trifle by an aging, albeit much-loved author But seeing this film cold (with absolutely no background knowledge of how it would unfold) was like being trapped in one of President Donald Trump's fever dreams. How could Doctorow possibly have been so prescient?
© Jan Lisa Huttner (5/19/17) FF2 Media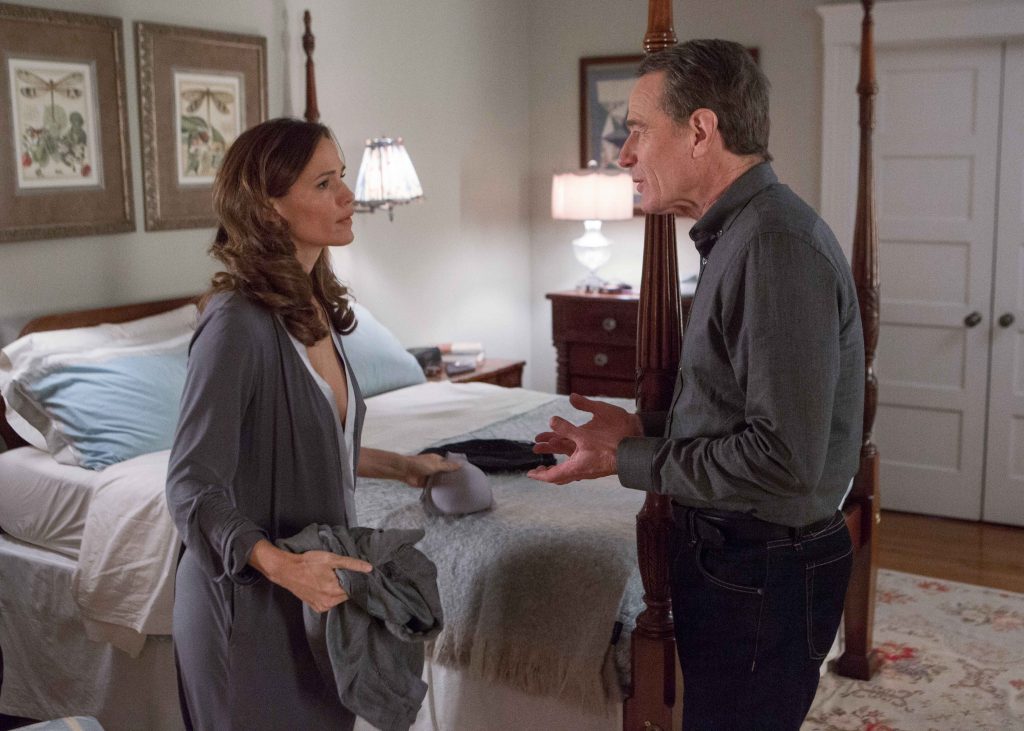 Top Photo: Bryan Cranston as "Howard Wakefield" in Act One.
Botttom Photo: Bryan Cranston with Jennifer Garner as "Diana Wakefield" in Flashback scene.
Photo Credits: Stills from Robin Swicord's Wakefield. Photo by Gilles Mingasson. Courtesy of IFC Films.
Q: Does Wakefield pass the Bechdel-Wallace Test?
Absolutely not!
The entire film is told completely from Howard's POV. No other character get to speak and in scenes in which Howard is spying on Diana and her mother, one can presume the conversation is all about about Howard.
There are also scenes in which Howard is spying on Diana while she is interacting with their twin daughters, but since we do not hear any of them speak… well, so it goes!