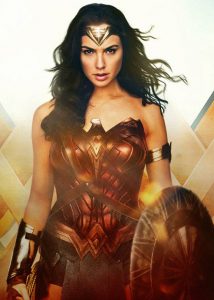 Our NYC Team — FF2 Editor-in-Chief Jan Lisa Huttner plus FF2 Associate Lindsy Bissonnette, FF2 Senior Contributor Lisa Inanucci, FF2 Contributor Giorgi Plys-Garzotto & FF2 Associates Katusha Jin & Rachel Kastner — weigh in on this weekend's box office hit Wonder Woman 🙂
Lindsy's Rating: 5/5
Wonder Woman directed by the brilliant Patty Jenkins is an absolute must see. Incredibly powerful, poignant and all around kick-ass, this is the origin story of Diana Prince, our beloved Wonder Woman. It's taken 76 years for this origin story to FINALLY happen, and it's been worth the wait. I saw it on Thursday at a preview (70 mm!), and again on Saturday (digital, but still beautiful quality) and the second time around was just as empowering as the first. Gal Gadot is the perfect Diana Prince and her supporting cast members are all brilliant as well. My favorite scenes are the Amazon training scenes while on Themiscyra. I've never seen another superhero film that had that many women training to fight, while also not being sexualized or objectified. This film is fierce, and also really funny. Kudos to Patty, and the entire cast and crew. (LMB: 5/5)
Jan's Rating: 4/5
First I must start with the "True Confession" that superhero films ladden with special effects rank near the bottom of my personal list of favorite genres…. But once that's said, I will agree that Wonder Woman was a totally exhilarating ride. And if I didn't love every minute of it, well, I certainly did love many of them.
As you might guess, most of my favorite parts came in Act One. Director Patty Jenkins does a splendid job of introducing the magical island of Themyscira (them-IS-kair-ə). Everything about it looks and feels right. Connie Nielsen is gloriously regal as Queen Hippolyta, Robin Wright is kick-ass perfection as her warrior/sister Antiope, and 8 year old Lilly Aspell is an adorably spunky young Diana. 
Then Aspell transforms before our eyes into the marvel that is Miss Israel 2004 aka Gal Gadot. Yowza! And oh by the way, I loved Chris Pine as Cinderella's Prince in Into the Woods and I thought he did just fine here as soldier/spy Steve Trevor.
Once Diana and Steve leave Themyscira, Wonder Woman becomes a relatively predicable action film, but watching Gal Gadot is both thrilling and inspiring. She brings out the very best in every woman watching and she is an ideal role model for girls everywhere. (JLH: 4/5)
Lisa's Rating: 4/5
The story? Well done. The cinematography? Fantastic, especially the blockbuster last scene. My only problem comes with a storyline is that requires Wonder Woman to have the love of a man to find her final power. Not the love for her mom or for the children who died, but the love of a man. From a pure feminist standpoint, I could have done without that (even though the romantic storyline was great). I just wish Diana had found her final power based on more than just Steve's love and death. But beyond that? Wonder Woman is phenomenal. (LMI: 4/5)
Giorgi's Rating: 4/5
My favorite part of Wonder Woman was Robin Wright's performance as Amazonian general Antiope, who serves as Diana's mentor and whose Obi-Wan Kenobi style death gets Diana emotionally invested in answering the call to adventure presented to her by Steve Trevor (Chris Pine). Wright, currently best known as Clare Underwood in House of Cards, has been a favorite actor of mine since The Princess Bride, and to see her follow Carrie Fisher in the princess-to-general career path was almost better than finally getting to see a female superhero in a film's leading role.
Most of the characters in Wonder Woman, both on Themiscyra and off, are underdeveloped in my opinion–their rather one-note personalities often seem to serve more as set dressing for the different countries and time periods the movie encompasses than as actual people. Wright is a standout exception! (GPG: 4/5)
Katusha's Rating: 4.5/5
Compared to that of other action films ($226 million for Logan, and $224m for The Fate of the Furious), Patty Jenkin's Wonder Woman's domestic box office total of $227m demonstrates the marketability of female protagonists in films. Starring the idealistic and headstrong heroine "Diana Prince" (Gal Gadot), the film strays from the clichéd DC standard style of cynical and gritty darkness, but instead follows the hopeful coming-of-age tale of warrior princess Diana, where she battles her inner conscience relating to the duality of good and evil in man.
A noteworthy scene in the film is an early moment where Prince observes American spy "Steve Trevor" (Chris Pine), whom she had rescued, take a bath. Rather than following the prototypical scene sexualizing the female character with a vulnerable naked moment, the film flips the script by having Diana, as the one fully clothed, eying Trevor's naked body. I enjoyed the way the film makes subtle but concrete social statements. It shows the male-dominated World War I era London broken with aggressive warmongering from politicians and business man and juxtaposes it with the sufferings of the common man. Social injustices for womankind are highlighted, where hushed sexist comments made by pompous, overly – 'important' figures are emphasized and focused upon.
I personally enjoyed Wonder Woman very much. It was undoubtedly the powerhouse film of the summer, with artistic qualities and themes packaged with superhero blockbuster elements.
Rachel's Rating: 5/5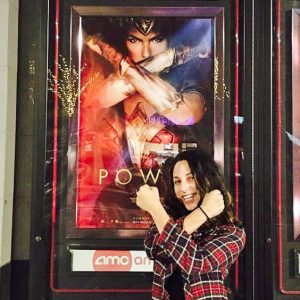 I didn't realize the impact that a female superhero movie would have on me. I think many viewers didn't. But upon exiting the theater after seeing Wonder Woman this week, I felt stronger.  Gal Gadot is a fearless, strong and beautiful role model. All the kudos in the world to Patty Jenkins, who persisted and brought this character to life after over 70 years of existence in the superhero comics, in an extremely meaningful film. Many people have been waiting for Wonder Woman's origin story for decades. This is exactly why representation matters, and I encourage everyone to get out and see it, to talk about it with your friends, and to keep cheering it on as it shatters box office records.
Not only do I feel extremely proud and inspired by the female superhero film – it's good. The film is great. It just feels like a really fantastic superhero movie. We are drawn into the movie world immediately. In particular, the battle scenes are awesome. I'm so glad to have been a part of the incredible opening Wonder Woman had and can't wait to see the slew of female superheroes to come. (RAK: 5/5)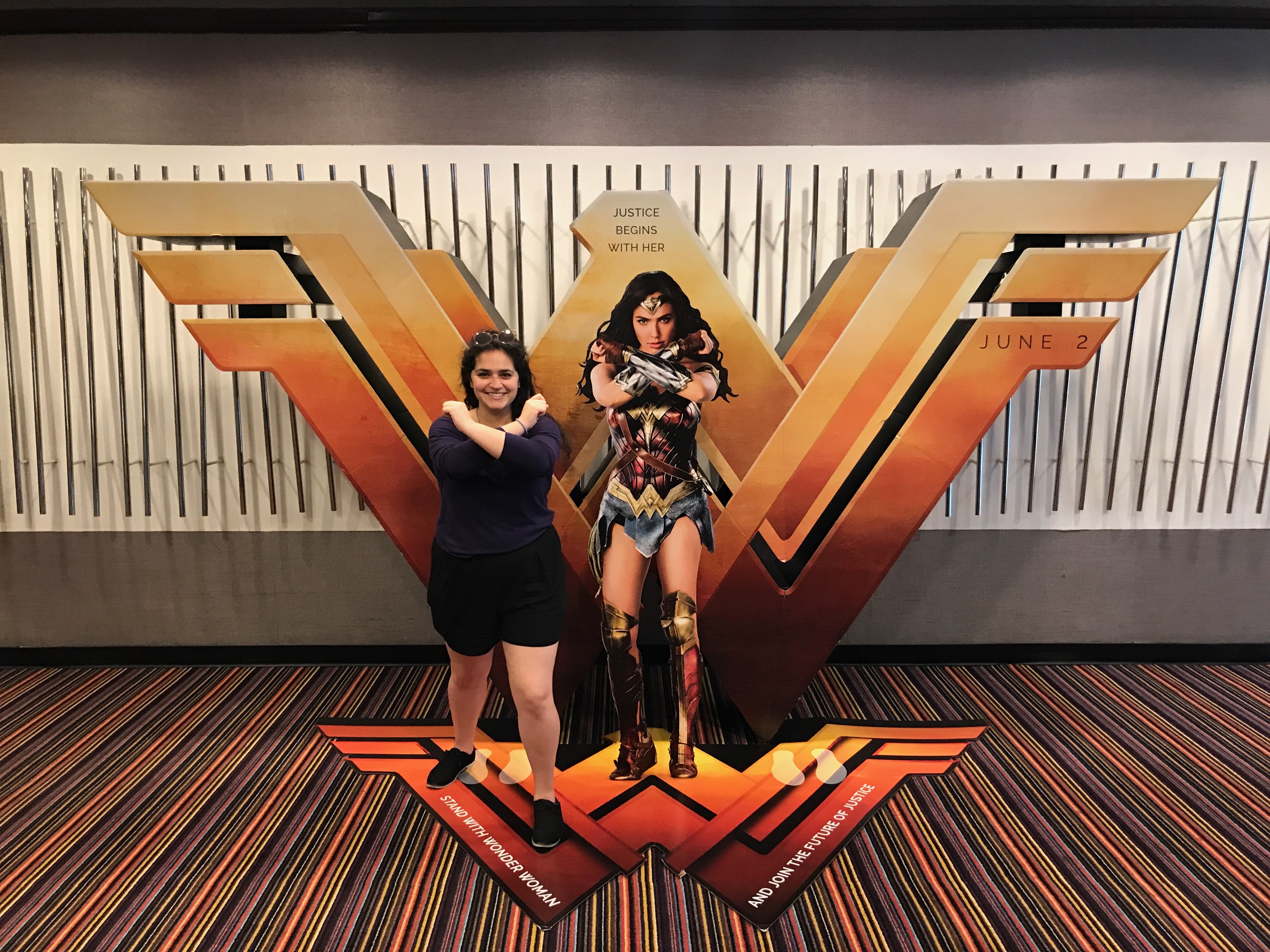 Top Photo: Gal Gadot as Diana aka Wonder Woman. Yowza 🙂
First Middle Photo (Right): Jan Lisa Huttner
Second Middle Photo (Left): Rachel Kastner
Bottom Photo: Lindsy Bissonnette