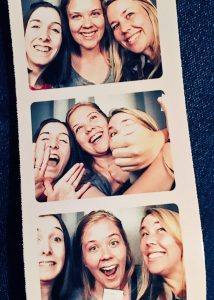 Our Chicago Team — FF2 Managing Editor Brigid Presecky, FF2 Senior Contributor Pamela Powell, FF2 Senior Contributor Stephanie A. Taylor, FF2 Social Media Manager Georgiana Presecky — weigh in on this weekend's box office hit Wonder Woman 🙂
Georgi's Rating: 5/5 🙂
Gal Gadot is the epitome of strength in director Patty Jenkins' outstanding Wonder Woman. Both the titular character and her Amazon alter ego are strong women with decent hearts, who believe in mankind whether they deserve it or not. Set against the historical backdrop of World War I, the stakes of Alan Heinberg's script are supremely real, which makes the entire 141 minutes feel heightened. The audience's investment in the action is bolstered by the film's exciting pace, frequent humor, self-awareness and the excellent supporting role of Chris Pine as Major Steve Trevor.
With The Hunger Games' President Snow seemingly coming to life before our eyes, we need more than just a rebellious Katniss Everdeen to show us the light. Sure, she was a hero, but Wonder Woman provides a more timely message of hope and love when literally nothing else seems to be working. We need a superhero. Not one who relies on vitriol or revenge or some other ambiguous plot device to accomplish her mission, but genuine compassion and commitment to good.
Modern audiences might not deserve this promising message delivered in an endlessly-entertaining package, but I believe they need it. Now more than ever. (GEP: 5/5)
Pam's Rating: 4.5/5 🙂
Allan Heinberg's screenplay of Wonder Woman under Patty Jenkins' direction blows every other super hero movie out of the water as skillfully as our heroine plucked the WWII crash victim Steve Trevor (Chris Pine) out of the depths of the ocean.
The film starts off strong and keeps the pace with an interesting story-line and characters with personalities throughout most of the film.  The socially relevant statements as well as humorously acknowledging the ridiculous inequalities of the day can also be found, but the script never makes this too heavy for the audience.  Gadot and Pine are perfectly paired as they innocently and politely try to understand one another's worlds.  But what truly stands out in this film is the fact that the women in the film are almost all strong, independent, intelligent, and fit.
Wonder Woman is a refreshing highlight within the muck and mire of all the rest of the reboots and remakes of super hero films.  It certainly lives up to its hype and just may be an example for little girls to want to be just like Wonder Woman.  I think we could all use that example in our lives!
Stephanie's Rating: 5/5 🙂
Director, Patty Jenkins, has a wonderful piece filled with action, drama and romance. Wonder Woman is a woman (and film) that definitely roars. Determined at a young age,  "Diana" (Gal Gadot) trains profusely to be an Amazon. Set in the WWII era, she rescues pilot "Steve Trevor" (Chris Pine) after his plane crashes. Shortly after, they're off on a voyage that will change their lives. Gadot certainly does a remarkable job by making the character believable. She is a fierce, strong and courageous woman who does not let anyone limit her abilities or possibilities.
Brigid's Rating: 5/5 🙂
Director Patty Jenkins deserves high-praise. But as Wonder Woman audiences will learn, it's not about what people deserve, but what they believe. And I believe Jenkins understood the theme, heart and spirit of a comic book character from 1941.
Gal Gadot and Chris Pine add a dynamic layer of humor and romance weaved throughout an entertaining, action-packed adventure. The wonder women in front of and behind the camera make this the most enjoyable superhero tentpole film in the last decade, without a doubt leaving its mark and paving the way for female filmmakers. (BKP: 5/5)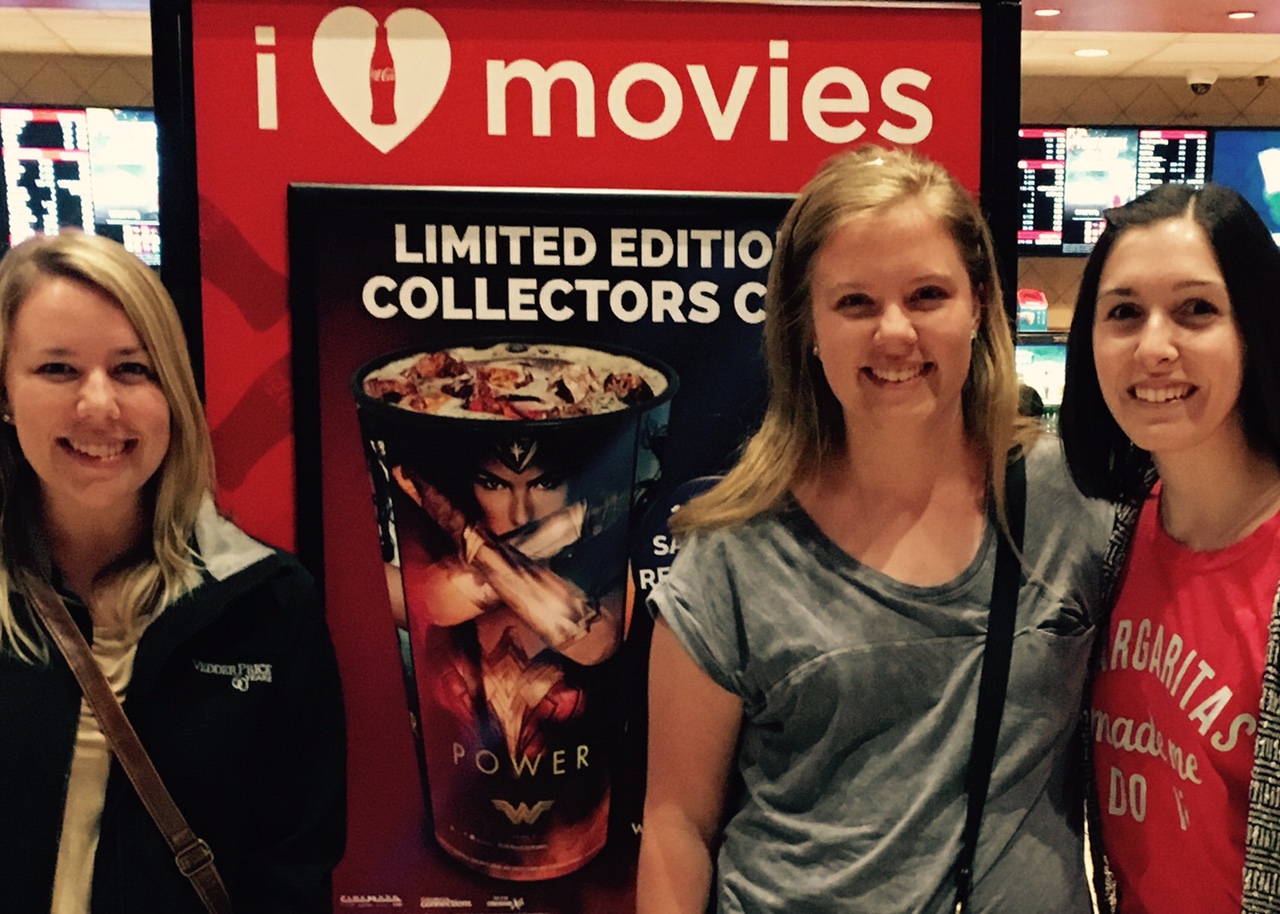 Photos The Presecky Sisters (Brigid & Georgi) cavort with their friend Laura Fox.
Q: Does WonderWoman pass the Bechdel-Wallace Test?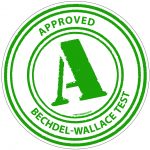 Absolutely 🙂