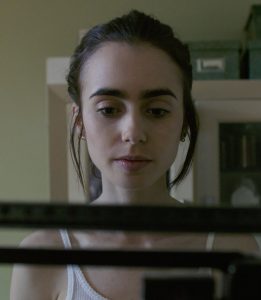 Marti Noxon's Netflix dark comedy finds Lily Collins in an unconventional group home for addicts, as the 20-year-old fights the grip of anorexia. In the same vein as the "YA" genre so massively popular in novels, theaters and streaming services, To the Bone caters to a youthful, angst-filled audience battling demons of their own. (BKP: 3.5/5)
Review by Managing Editor Brigid K. Presecky
Viewers get a sense of who Ellen (Collins) is from the opening scene: a smart, tortured soul who doesn't belong in an eating disorder treatment center – or so she thinks. But with the threatening encouragement of her straight-laced stepfamily (Carrie Preston and Liana Liberato), she agrees to get help at an inpatient program run by Dr. William Beckham (Keanu Reeves).
A college dropout who tries and fails to overcome anorexia, Ellen fits in with the six other patients grappling with the same issues. It's here where the story flourishes, depicting eating disorders with chilling reality. The calories in a piece of chicken, the binging, the purging and the secret stashes; all the torment surrounding these issues is front and center.
Ellen adjusts to life in the program, befriending five other girls and British ballet dancer, Luke (Alex Sharp) who becomes her biggest cheerleader. Surprisingly, the most understanding and grounded characters featured throughout the film are men – Luke and Dr. Beckham, who throws around cliches like, "It doesn't matter how many times you fall down, it matters how many times you get up," unintentionally sounding amateurish for a high-profile doctor.
While the depiction of eating disorders seems strikingly accurate, Ellen's relationship with her mother Judy (Lili Taylor, coming off an impressive season of American Crime) is a weak point. Anyone struggling with a self-harming disorder has a deep-seated reason for doing so, but here, it's made into a too-obvious cause-and-effect relationship. 
Viewers may relate to the mother and daughter conflict, but the bizarre moments (like Judy feeding Ellen out of a bottle) discredits the realistic foundation built in the first two acts.
Despite its shortcomings, Lily Collins steals the show as the film's lead, subtly transitioning into a shell of person with each scene. Her physical transformation is breathtaking in the worst way possible; a protruding spine and rib cage and an arm no wider than a silver dollar. Yet, Collins conveys every emotion through her eyes, a part of the body that can't physically be whittled down into nothing. Liberato, in a miniscule role as Ellen's stepsister Kelly, embodies the role of a person who is being hurt, not doing the hurting. Instead, she is the friend on the sidelines with nothing to do but beg the person she loves to get help. Liberato nails the blink-and-you-miss-her character, providing heart and humor with the limited screen time she's given.
The entire supporting cast, from Parks and Recreation's Retta as well as the talented Leslie Bibb, embody realistic people who balance out the melodrama and deliver a powerful message with ease. For any viewer struggling with an eating disorder (or any disorder, for that matter), To the Bone will provide inspiration that is only one click away.
© Brigid K. Presecky (7/15/17) FF2 Media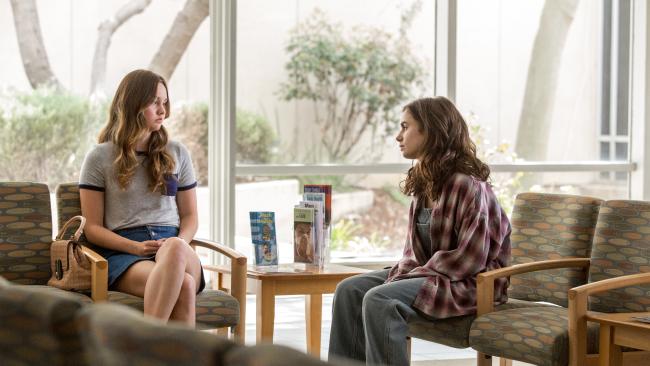 Top Photo: Ellen weighs in
Middle Photo: Ellen visits Dr. William Beckham (Keanu Reeves) to help her with anorexia
Bottom Photo: Ellen and her stepsister, Kelly (Liana Liberato) before a family meeting
Photo Credits: Netflix
Q: Does To the Bone pass the Bechdel-Wallace Test?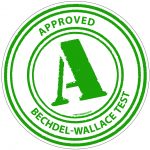 Yes!
Not only does Ellen (Lily Collins) have scenes with her mother, stepmother and stepsister, she also bonds with the young women who are in the in-patient program. Although the men in the film are depicted as being stronger, wiser and more grounded than the women, it passes the Bechdel-Wallace test with flying colors.