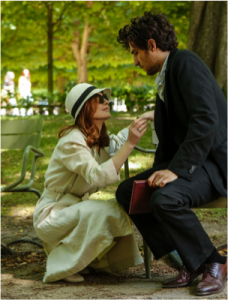 Luc Bondy and Marie-Louise Bischofberger co-direct False Confessions — in French Les Fausses Confidences — starring Isabelle Huppert and Louis Garrel. The husband-and-wife duo create a movie that plays around with the psychology of love in its characters set in a surreal world. Originating from the stage play Marivaux, Bondy collaborated with writer Geoffrey Layton to bring this story from the stage to the screen. (KIZJ: 3.5/5)
Review by FF2 Intern Katusha Jin
"Araminte" (Isabelle Huppert) is a wealthy widow who lives in an elegant but mysterious residential complex in twenty-first century Paris. As she performs her morning exercise routine with her Taichi master, a suspiciously attractive young man appears in the hallway of her home. It turns out the beautiful man is "Dorante" (Louis Garrel), a recommended candidate for the position of Araminte's accountant. This spikes all sorts of whispers and gossip to spread around the house. The news of this handsome visitor reaches the ears of Araminte's mother, "Madame Argante" (Bulle Ogier), who makes a dramatic effort to dissuade her daughter from hiring Dorante. Madame Argante's ulterior motive is that she wants her daughter to marry "Comte Dorimont" (Jean-Pierre Malo), a well-to-do older man, and worries Dorante could be a distraction. However, this is all in vain as Araminte finds it difficult to reject Dorante's innocent charming self.
It is soon revealed that Dorante does, in fact, have his own secret intentions. The young man is completely and utterly in love with Araminte, to the point of obsession. Complications arise as Dorante's uncle purposely misleads "Marton" (Manon Combes), Araminte's confidante, to believe his nephew is attracted to her. Lies upon lies build up and confuse the kind natured Marton who truly begins to fall for Dorante. All this makes for a very confused household with layers of he-say-she-say.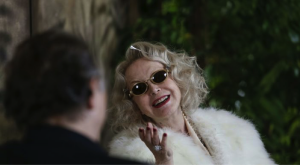 False Confessions looks at love from an internal perspective and explores it through the psychology of the emotion. Bondy and Bischofberger take away any distractions from the outside world and keep us in this staged castle for most of the film. The house looks extravagant, yet has shoes scattered everywhere. Any scenes that include the outside world are blown out and overexposed, leading to a loss of detail in the light areas of the picture. The production design, by Luciano Tovoli, and the music, by Bruno Coulais, do well to ensure that something feels obviously "off" about the place.
The cast performs in a dramatic manner, which brings out the work's theatrical quality. A special mention goes to Huppert who convincingly brings to life an eccentric lady, who falls in love with the idea of someone being smitten with her. The light-hearted tone of the piece is very amusing and the unusual style of its presentation is refreshing. Bischofberger and Bondy do a commendable job creating Bondy's final feature – a story about how love can change a person and consume his thoughts, and what an individual does in the name of love.
© Katusha Jin (7/14/17) FF2 Media
Top Photo: "Araminte" (Isabelle Huppert) and "Dorante" (Louis Garrel) in a park.
Middle Photo: "Madame Argante" (Bulle Ogier) entertaining a guest.
Bottom Photo: "Marton" (Manon Combes) eager to introduce Dorante to Madame Argante.
Photo Credits: Big World Pictures
Does False Confessions pass the Bechdel-Wallace test?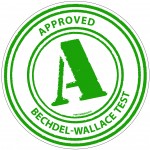 Yes, but this is a close call.
Towards the end of the movie, Marton asks Araminte if she should leave. Marton is also very apologetic towards Araminte and fears losing her trust. However, it should be mentioned that most of the film's dialogue revolves around Dorante.