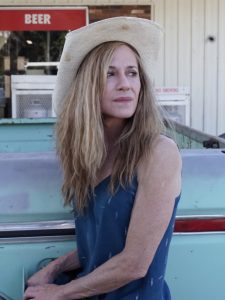 Writer and director Katherine Dieckmann creates a beautiful lead role for actress Holly Hunter in Strange Weather. And filled with female roles both on and off-screen, the directing, writing, acting, producing, music, and editing were all done by female artists and filmmakers. The film centers on the growth of a Southern woman, "Darcy Baylor" (Holly Hunter), who goes on a road trip with fellow Southerner, "Carrie Coon" (Byrd Ritt), in search for answers about her son's death. (KIZJ: 3.5/5)
Review by FF2 Associate Katusha Jin
"Darcy Baylor" (Holly Hunter) works as an Administration Assistant at a small college in Mississippi. For years, she has been plagued by questions about her son's death. Having always thought of herself as a wonderful mother, she cannot comprehend why her son had to die at such a young age. One night, "Carrie Coon" (Byrd Ritt), Darcy's best friend, tells her about an acquaintance who has offered to help fund the last few credits she needs to earn her college degree. Soon after, she finds out that said acquaintance is, in fact, her son's friend, "Mark Wright" (Shane Jacobsen). More importantly, Darcy discovers that Mark founded a family hot dog restaurant chain that follows the same business plan her son, "Walker Baylor" (Ransom Ashley), made during school.
These findings provoke Darcy to delve
deeper into the mystery of how this business plan ended up with Mark, and if he played a role in Walker's death. After interviewing Walker's old friends, she embarks on a trip to New Orleans to confront Mark. Joined by her close friend Carrie, the two women travel down a road that awakens past memories and opens up old wounds. The journey teaches Darcy that even though she thought she knew her son well, there were still sides of him that she did not know at all. Humans often hide parts of themselves they don't want others to see, in the shadows.
Hunter fully embodies a grieving mother through the nuances of her subtle, yet powerful performance. Her growth from denial to gradual acceptance and understanding of Walker's death is echoed clearly in her delivery. The lighting is consistent in its tone and often uses shadows to hide elements in the frame. Dieckmann creates a very memorable shot where Darcy has her hands placed in front of her with one hand in the light, while the other is in the shadows. Using shots like these, the director is able to show Darcy's fragility and confusion. Although the script had its emotionally impactful moments, such as the final confrontation towards the end, the script was too wordy and many lines could have been cut. Nevertheless, Dieckmann's movie takes us back to a classic style that is now a rarity on our screens.
© Katusha Jin (7/27/17) FF2 Media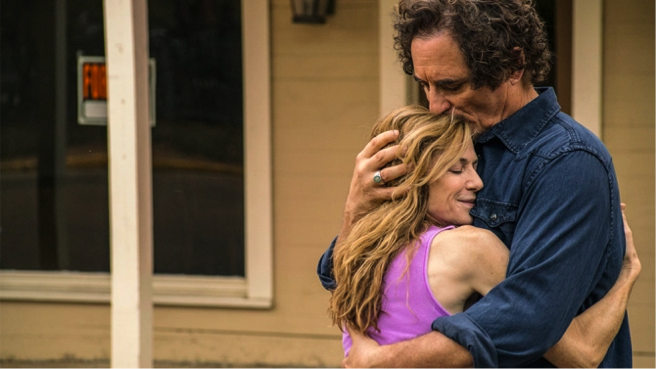 Top Photo: Darcy standing outside her truck.
Middle Photo: Darcy on her truck during her road trip.
Bottom Photo: Darcy runs into the arms of "Clayton Watson" (Kim Coates), a man who loves her.
Photo Credits: Great Point Media
Does Strange Weather pass the Bechdel-Wallace test?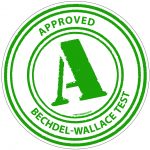 Yes.
Many scenes with conversation are between Darcy and her best friend, Carrie. The two are also co-workers and neighbors, which gives them plenty of screen time to discuss other topics, such as Darcy's college degree and job.
SaveSave