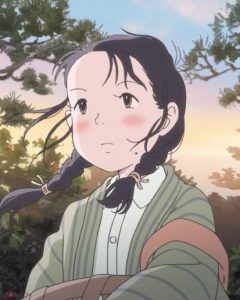 In late 1930s Japan, a young woman comes of age amidst the turmoil of WWII while learning how to provide for her new husband's family. Based on Fumiyo Kono's critically acclaimed manga of the same name, writer Chie Uratani and director Sunao Katabuchi bring In This Corner of the World (Kono sekai no katasumi ni) to the screen with breathtaking animation and a compelling story of one family's resilience. (RMM: 4.5/5)
Review by FF2 Intern Roza M. Melkumyan
In the early 1930s, a child named "Suzu" (Rena "Non" Nounen) lives in the seaside town of Eba in Hiroshima City. Caring and imaginative, Suzu loves to draw the landscapes around her and weaves fantastical tales through her art for
her little sister "Sumi" (Megumi Han). However, her top priorities are finishing her education and helping her family's business of nori (edible seaweed) cultivation.
One day in 1945, the now 18-year-old Suzu receives a marriage proposal from a young man named "Shusaku" (Yoshimasa Hosoya). Though he is a stranger, she accepts the proposal with the knowledge that it is the responsible decision. Suzu soon moves into Shusaku's family home in Kure, which is a large naval port city. She becomes acquainted with her new husband, who works at the naval ministry, and her kind parents-in-law.
Just as Suzu is settling into her new home, Shusaku's recently widowed sister "Keiko" (Minori Omi) and her daughter "Harumi" (Natsuki Inaba) come to visit. In the beginning, Suzu finds her new workload to be rather challenging as she is given more responsibilities than she had in her old household. As a wife and daughter-in-law, Suzu must take on most of the cooking, cleaning, laundry work, and shopping for the family. Added to her stress is the knowledge that Keiko doesn't like her very much, and Suzu finds herself becoming easily flustered when she is around.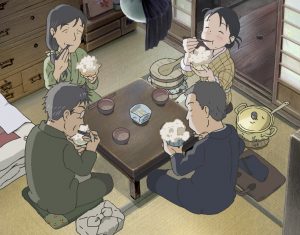 Despite these challenges, Suzu, ever the optimist, tackles her work with a smile. When food rations begin to deplete as the war continues, she tries cooking with new recipes that make do with what she has. She even uses wild, edible plants growing in the area as ingredients. Feeling encouraged, Suzu buys herself a new notebook and pencil so that she can begin drawing again. When Keiko decides to move back into her family home permanently, Suzu spends more time with her niece Harumi.
However, as the years go on so too does the war. By 1947, the scarcity of food is the least of the family's worries as enemy air raids batter the city of Kure almost daily. Though Suzu has come to feel comfortable in her new lifestyle, both her patience and kindness are put to the test as the war rages on around her. With bombs come death and pain, and Suzu experiences these hardships firsthand. It is up to her to keep the family together during each trial they face, and she does so with great love and caring.
A true beauty, In This Corner of the World boasts breathtaking yet simplistic imagery that is reminiscent of a watercolor painting. Even more importantly, the film tells a WWII perspective that audiences may not hear very often. Though fictional, Suzu's story is grounded in the truth of the real Japanese civilians who were left broken by war. Through her, a message can be gleaned: war hurts people on all sides. Though her tale is truly heartbreaking, Suzu does not let her losses and her suffering stop her from working towards a happy life.
Under Sunao Katabuchi's direction and with Chie Uratani's writing, In This Corner of the World shines with a simple, poignant brilliance captured through the compelling story of Suzu and the people of Japan. The film's animation is done impeccably well to give audiences a striking visual of this particular corner of the world both before and after being touched by war. A real masterpiece, this film does not disappoint!
© Roza M. Melkumyan (8/15/17) FF2 Media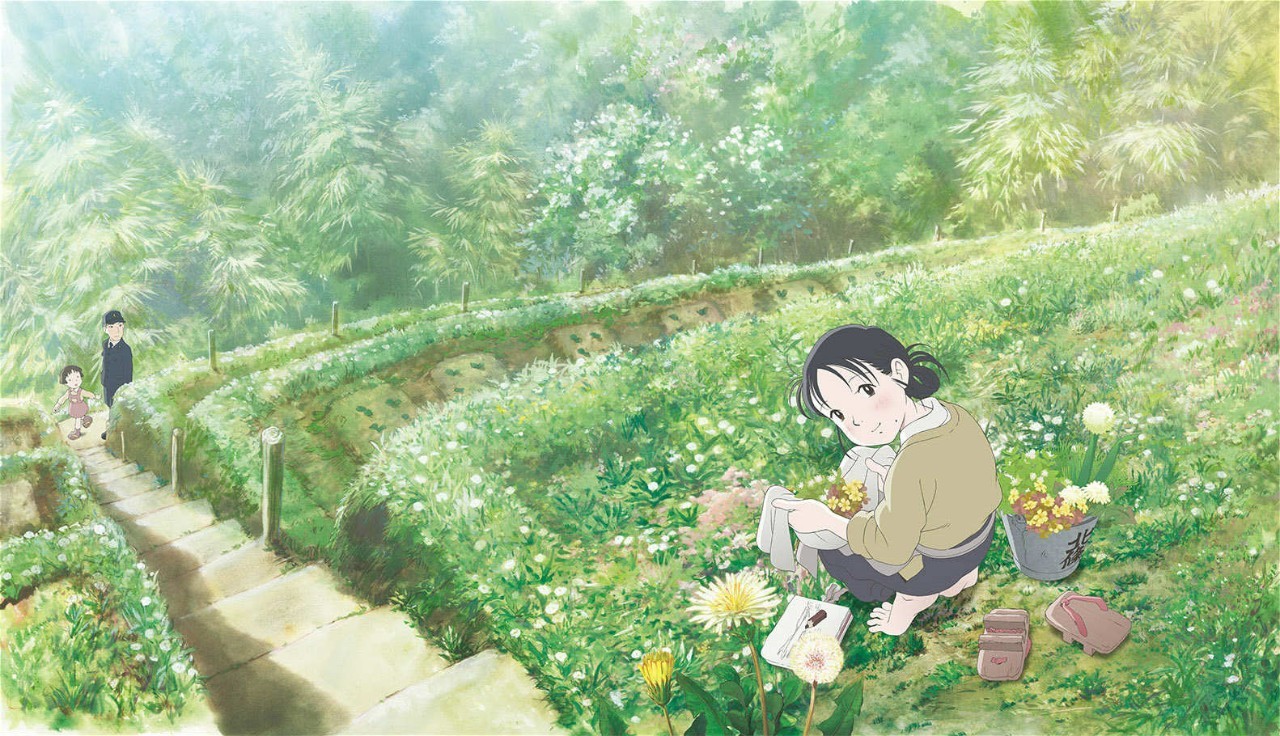 Top Photo: Suzu looks at the ocean.
Middle Photo: Suzu and her new family share a meal.
Bottom Photo: Suzu sits and sketches.
Photo Credits: FUNimation Entertainment and Shout! Factory
Q: Does In This Corner of the World pass the Bechdel-Wallace Test?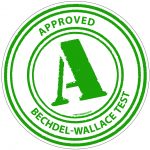 Yes!
The women in this film talk to one another a great deal about their families, the war, and the work that must be done despite the tough times.