Janicza Bravo's obscure comedy follows middle-aged Isaac Lachmann (Brett Gelman) whose acting career and love life are at a standstill. What can be categorized as a satire/parody on life, love and family, Lemon balances a fine line of brilliant and bizarre. (BKP: 3.5/5)
Review by Managing Editor Brigid K. Presecky
Isaac's life is falling apart. He's physically awkward, he's socially awkward and his 10-year relationship with his blind girlfriend (Judy Greer) is unraveling. As he approaches age 40, he realizes how unremarkable his life has turned out. We follow Isaac through his day-to-day in Los Angeles, interacting with his oddball actor acquaintances and argumentative Jewish family during a Seder meal.
The pure mockery of humanity's worst is what makes his story so very entertaining. If the image of Martin Starr and Shiri Appleby singing, "A Million Matzo Balls" doesn't make you laugh, then this might not be the film for you. "There were matzo balls in the bedroom, there were matzo balls in the hall, there were matzo balls in the living room, stacked up against the wall!"
Although the weirdness is heightened, it's nonetheless entertaining thanks to the familiarity of the cast. From Gillian Jacobs and Jeff Garlin to Rhea Perlman and Megan Mullally, each actor brings a sense of classical conditioning. Their performances have made audiences laugh for years and it's no different here.
When Isaac says he dreamt of being a knife thrower in the circus, Cera takes a drag of his cigarette and says, "That life is not as romantic as it seems." Isaac picks up a kitchen knife and pretends to throw it, repeatedly. Alex stares blankly and mumbles, "Hey, do you mind not doing that?" Cera is playing a completely new character, yet delivers his classic tone that hasn't tired in the years since Arrested Development, Juno and Superbad.
Aside from the stellar performances from the film's lead and supporting cast, the story itself can resonate with anyone feeling like a failure. After Isaac's breakup with a comical Judy Greer, he falls for his makeup artist (played by Nia Long). Serious viewers may want to focus on the message of race and relationships, but the humor outweighs the social issues. Rather, it depicts the human spirit and the problematic circumstances we deal with: careers, courtships and enduring the long lasting family dinners.
For viewers looking to branch out from the sea of franchises and sequels, quirky Lemon is available on on Video on Demand and select cities.
© Brigid K. Presecky (8/25/17) FF2 Media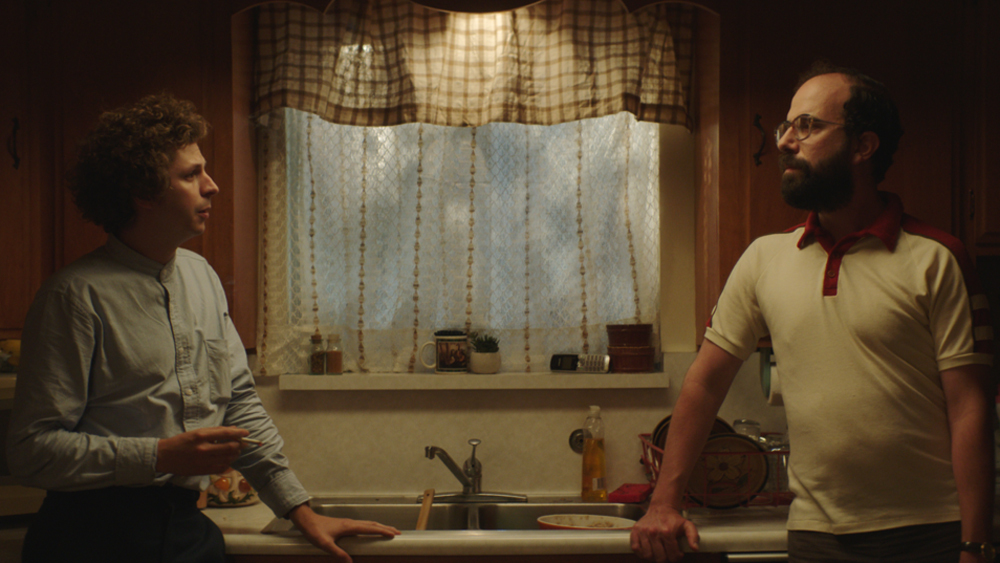 Top Photo: Brett Gelman as "Isaac" in Lemon (2017)
Middle Photo: Shiri Appleby as "Ruthie" in Lemon (2017)
Bottom Photo: Michael Cera as "Alex" and Brett Gelman as "Isaac" in Lemon (2017)
Photo Credits: Jason McCormick/Magnolia Pictures
Q: Does Lemon pass the Bechdel-Wallace Test?
Unfortunately, no.