Director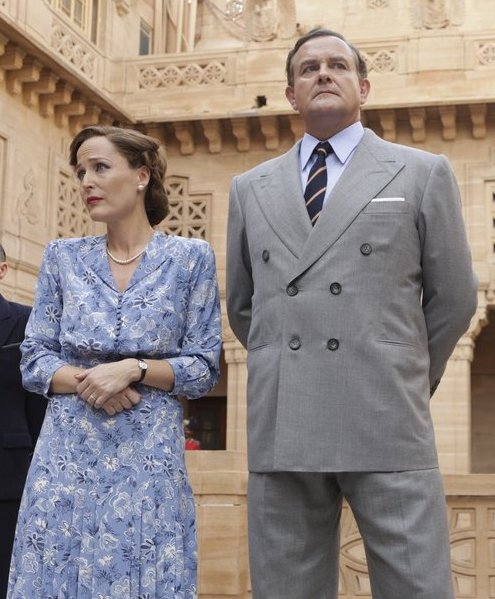 and screenwriter Gurinder Chadha reimagines the term of the last Viceroy of British India who is hired in hopes of a smooth transferal of power from the British government to the Indian people. Though well-intentioned, the Viceroy's actions contribute to the bloodshed that ensues as families are torn apart and a pair of star-crossed lovers struggle to stay together. A real eye-opener, Viceroy's House sheds light on a pivotal moment in history that did both immense good and harm in the decades to follow. (RMM: 3.5/5)
Review by FF2 Intern Roza M. Melkumyan
In 1947, "Lord Louis Mountbatten" (Hugh Bonneville) arrives with his wife, "Lady Edwina Mountbatten" (Gillian Anderson), and daughter, "Lady Pamela Hicks" (Lily Travers), in India. Appointed the final Viceroy of British India, he has been charged with the task of smoothly transferring power from the British government to the Indian people, who will create their own system of government in an independent India. With this goal in mind, Mountbatten is determined to remain in power for only a short time so that India can be assured of the independence to come.
"Jeet Kumar" (Manish Dayal) is an energetic young Hindu man who has just been appointed Mountbatten's new valet. "Aalia Noor" (Huma Qureshi) is a caring young Muslim woman who has joined the staff as a scribe to support her blind father, "Ali Rahim Noor" (Om Puri). The pair cross paths one day on the house grounds, and Jeet is besides himself with joy to see the woman he fell in love with two years ago. He assures her that though they've been apart, Jeet is still in love with her. However, betrothed to another, Aalia will not entertain the idea that the two could be together especially in a country where hostility between their two religions grow more intense every day.
In order to gain a firmer grasp on the political situation in India, Mountbatten meets with Muslim political leader "Muhammad Ali Jinnah" (Denzil Smith) who advocates for the creation of a separate Muslim nation called Pakistan. Jinnah feels that this is the only way to give the Muslim minority in India the freedom to practice their religion. After speaking to Hindu political leader "Jawaharlal Nehru" (Tanveer Ghani), who advocates fiercely for a united India, Mountbatten decides that the best solution for reducing hostilities between religious groups is to keep India united as one nation.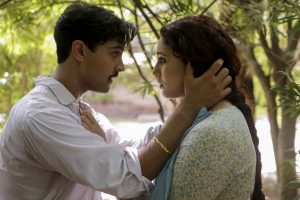 While government officials and political leaders discuss matters of Indian independence, tensions between Muslims and Hindus rise. Jeet, Aalia, and other staff members at Viceroy's House worry for the safety of their family members back home. Upon hearing the news of the violent outbreaks, Mountbatten meets with both Nehru and the British "General Lionel Hastings Ismay" (Michael Gambon). After much discussion, they decide that the best way to reduce the bloodshed is to partition India. Soon after, with Jinnah, they begin talks on where to draw the border between India and Pakistan, a decision that will both physically and emotionally separate members of both faiths from each other.
Director Gurinder Chadha gives a voice to the people of India in Viceroy's House as she takes on the challenge of narrating complex and controversial government actions in history and the complications surrounding it. Though one can, at times, get lost in the various political actions and hidden motives depicted in the film, Chadha and writers Moira Buffini and Paul Mayeda Berges clearly tell this piece of history. Despite a few on-screen conversations that lack flow in their writing, such as Aalia's initial conversation with her friend "Sunita" (Sarah-Jane Dias), the creative team succeeds in both educating its audience and tugging on their heartstrings.
Viceroy's House demonstrates how the partition of a nation into two isn't as easy as drawing a borderline on a map. Instead, it prompts the biggest mass-migration history has ever seen. Chadha does not only tell history, but reminds us of our humanity and the imperfection that comes with it. Political leaders must decide what is best for a nation turned into two, while two people in love must fight to be together amidst the prejudice and hostility between their respective faiths. The growing pains of two nations spell both heartbreak and resilience in Viceroy's House, an important film that isn't to be missed!
© Roza M. Melkumyan (9/1/17) FF2 Media
Read Lesley Coffin's interview with director Gurinder Chadha here!
Top Photo: Lady Edwina and Lord Mountbatten arrive at their new home.
Middle Photo: Jeet makes a promise to Aalia.
Bottom Photo: The residents and staff of Viceroy's House pose for a photo.
Photo Credits: IFC Films
Q: Does Viceroy's House pass the Bechdel-Wallace Test? 
Yes!
Lady Edwina and Pamela discuss the good that they can do while they are living in India.