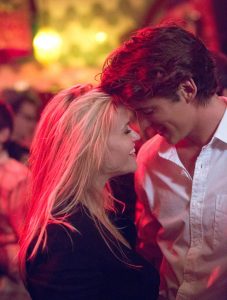 Home Again, written and directed by Hallie Meyers-Shyer, is an endearing romantic comedy about "Alice Kinney's" (Reese Witherspoon) journey to become whole again after separating from her husband, moving herself and her two children back to her childhood home in Los Angeles, and turning forty. However, things really start to change when, after a wild night out celebrating her birthday, Alice brings home three, much younger men. Alice and the three unexpected houseguests become unlikely roommates and help one another as the guys work hard to get their film produced and Alice struggles to find balance as she begins her new life. (EBT: 3.5/5)
Review by FF2 Contributor Elyse B. Thaler
"Alice Kinney" (Reese Witherspoon) appears to be hanging on by a thread. While turning forty is complicated enough, it is soon clear that her upcoming birthday is the least of her problems. Alice has recently uprooted her two daughters, "Isabel" and "Rosie" (Lola Flanery, Eden Grace Redfield), from their home in New York to Alice's childhood home in Los Angeles, after separating with her husband, "Austen" (Michael Sheen).
Surprisingly these events, instead of leading the film down a tunnel of depression, only make Alice's need for rebuilding that much more urgent. She begins this process by treating herself to a girl's night out in celebration of her milestone birthday.
While out, Alice attracts the attention of "Harry" (Pico Alexander), a young, aspiring director who is new to the city.  His flirtations get him and his two companions, "George" and "Teddy" (Jon Rudnitsky, Nat Wolff) invited back to Alice's home.
As the night winds down and the party guests pass out, it appears that Harry will be getting more than just a nightcap. But before things become too heated between him and Alice, suddenly all of the night's alcohol catches up with him and Alice finds herself playing the role of caregiver and mom to the man who is only a little more than half her age.
The next morning, the guys must quickly shake off their hangovers as Alice's two daughters come bursting into the house after a night spent with their grandmother, "Lilian Stewart" (Candice Bergen). Once the initial shock of seeing the remnants of an after party wears off, Lilian starts talking to the guys and is moved by their story. Only a few weeks into living in Los Angeles, the guys are at a crossroads. They potentially have a producer onboard to help make their already successful short film into hit feature. However, after a recent eviction from their motel and no money to find a new living situation, Harry, George, and Teddy are unsure how to proceed.
Lilian quickly becomes the guys' biggest champion in convincing Alice to let them stay in her house while they get back on their feet. Alice reluctantly agrees.
What follows is the perfect picture of an imperfect family figuring out how to be "normal" again. Alice attempts to start a new career in interior design, her oldest daughter, Isobel, enters her script into her school's writing competition, while Harry, Teddy, and George do everything they can to get their movie made.
At the same time, sexual tensions between Alice and Harry continue to rise until Austen suddenly appears on the scene. He is clearly there to win Alice back and save the day for his family. The question is, will Alice let him, and more importantly, does Alice even need him?
Romantic comedies all tend to fit a similar mold, and while on the surface Home Again initially feels a lot like every other rom-com, it actually provides its audience with a few refreshing twists to the old formula.
First of all, the film does not wait until the end to make it clear that Alice's journey is more about finding herself and her own purpose, as opposed to simply finding a man. What makes this an even more refreshing tone is that Alice is not in her twenties or even her thirties, she's forty years old and makes forty look sexy, exciting, and fun, a rare combination in film.
Lastly, Home Again challenges the family dynamic by redefining "family" as being more complex than just a father, mother, and children. Harry, Teddy, and George bring love and support to Alice and her daughters' lives. Scenes that show them cooking and eating together only further the idea that family does not always need to be blood related to be real and truthful.
While it is clear that director and writer, Hallie Meyers-Shyer took inspiration from her own mother, Nancy Meyers (writer and director of the 2006 romantic comedy, The Holiday and producer of Home Again), she still managed to create a fresh film that truly hopes to capture the tenacity of a woman in her forties in a way that Hollywood rarely allows. That, along with cheeky humor and characters worth rooting for, makes Home Again a romantic comedy that stands out from all the others.
©Elyse Bunt Thaler  (09/09/17) FF2 Media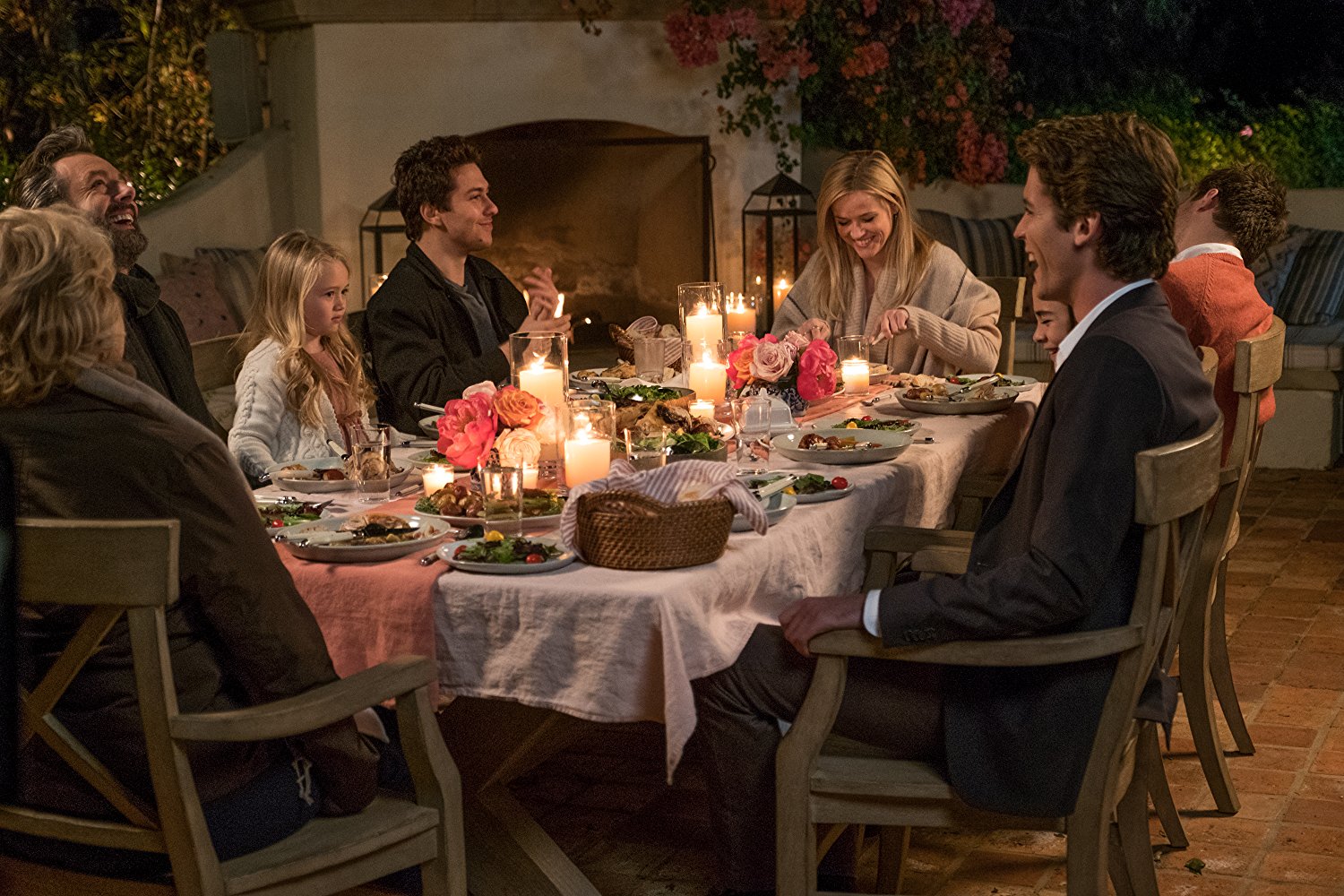 Top Photo: Alice meets Harry for the first time.
Middle Photo: Austen joins Alice and the family for breakfast.
Bottom Photo: Alice surrounded by family.
Photo Credits: Karen Ballard
Q: Does Home Again pass the Bechdel-Wallace Test?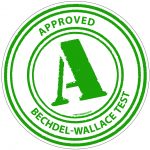 Yes.
One of the first scenes has Alice talking to her daughters about their fears and reservations of starting life in a new school. From there, many conversations occur between Alice and other female characters as she discusses her own ambitions.