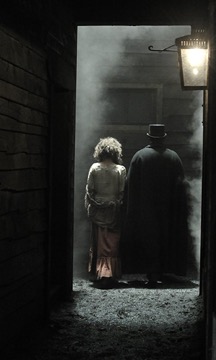 Scotland Yard is grasping at straws after a series of seemingly disconnected murders sweep the streets of London. As the public swarms to the murder sites at the sight of blood, investigators are left with almost no clues as to who the murderer might be. Written by Jane Goldman, The Limehouse Golem, based on the novel Dan Leno and the Limehouse Golem by Peter Ackroyd, is a fantastic tale of love, revenge, and murder. (LMB: 4.5/5)
Review by FF2 Associate Lindsy M. Bissonnette
When retired actress "Lizzie" (Olivia Cooke) is accused of poisoning her husband, playwright "John Cree" (Sam Reid), she's put on trial for murder, and if she is found guilty, she will hang. Meanwhile, a series of murders have taken place all over London with no connections between them as far as investigators can tell. In an attempt to save their favorite detective from failing to find the murderer at large, Scotland Yard puts "John Kildare" (Bill Nighy) on the case as a scapegoat in order to save face.
As Lizzie's trial continues, the court learns about her troubled past, and so do we– through a series of intense flashbacks. From her emotional and sexual abuse as a child, to a life of poverty, her life has been anything but easy. After a particularly graphic explanation of her sexual assault, Mr. Kildare takes pity on her and begins visiting her in jail to hear her side of the story. He begins to realize that the men on his suspect list have also played large roles in Lizzie's life, and hopes that she may be able to provide some insight and help him solve the case.
Meanwhile, John and "George Flood" (Daniel Mays), a police officer assigned to his case, begin digging deeper into the scarce clues left behind by the murderer, who has named himself the Limehouse Golem (and if you're wondering if this is a reference to the Yiddish word, yes it is!). Unfortunately, as they uncover more information, more questions arise often leading them back to where they started.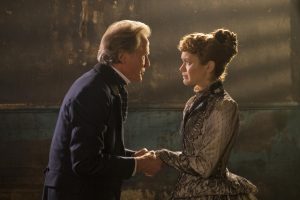 While John and George continue to follow leads in hopes that one of them will lead them to the Golem, John continues his visits with Lizzie. They discuss "Dan Leno" (Douglas Booth), the well-known actor who was Lizzie's mentor when she first started working in the theatre who, in many ways, saved her life. They also talk about her semi-abusive relationship with her husband, John, and the jealousy that fellow actress "Aveline Ortega" (María Valverde) feels during their courtship.
As we learn more about Lizzie's involvement in Dan's theater, we also learn of her growing love of performance. During her debut, we see her immediate passion for the crowd and her hunger for applause. She begins to take on bigger roles and learns many tricks of the trade from Dan, much to Aveline's chagrin. While Aveline begins to take on a lesser role, Lizzie is in her prime. We see her as a bright, intelligent, and happy young woman, as long as she's on stage or working on a role. It isn't until John's jealousy overcomes him, and he finally asks her to retire, that she begins to shrink into the mature, grimacing woman we see in the prison.
Thrilling and dark, The Limehouse Golem is a film you do not want to miss. Writer Jane Goldman brings out a fantastic team of characters, each with their own nuance and finesse, and director Juan Carlos Medina has created an atmosphere evocative of the stage itself. From performance, to costume and set design, the film is enticing and will have you on the edge of your seat at every plot twist and turn, and its theatrical elements are grand to say the least. The film gives a glimpse of what a theater experience may have been like during this time period in London, and shows the ways in which the classes are represented in the arts: "in the hall of fame, some names are carved in stone, others in ice."  I highly recommend seeing this film in the theatres! The large screen and public experience will give you full effect of this fantastic film.
© Lindsy M. Bissonnette FF2 Media (9/8/17)
Top Photo: The Limehouse Golem plans it's first kill.
Middle Photo: John meets Lizzie in prison.
Bottom Photo: Lizzie and the cast share a pint.
Photo Credits: Nicola Dove
Q: Does The Limehouse Golem pass the Bechdel-Wallace Test?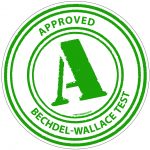 Yes.
There is a scene between Lizzie and her mother where they discuss her work. And there are a couple scenes between Lizzie and Aveline where they discuss their performances.
This film stood out to me for many reasons. The fantastic atmosphere and complete production value, the performances, and theatrical elements, but more than that the fantastic feminist quality of The Limehouse Golem is what makes it stand out. Elegantly devious, the plot's many twists and turns have theatrical flourish that even some stage performances lack.
The flashbacks are told from the same perspective, that of the Golem's, but with different actors each time, showing the possible suspects, in dreamlike and demonic sequences to evoke a sense of terror. Dark and cunning, this film reveals "who the real clowns are," which would be anyone that mistakes a woman for weak simply because of her gender. Leno's catchphrase, "here we are again" is the thesis of this film, a story that comes full circle and slowly let's the audience in on the inside jokes, and refuses to give away clues until you're just around the corner from the verdict.
With beautiful cinematography and stylish flare, The Limehouse Golem is a rustic take of how one woman rises above all expectations in a world that insists she stay in her place, and know her place. The hints at the differences between the classes, and grunge and grime shown of the have-nots, Lizzie struggles to make her way to the top, and is constantly underestimated, which gives her the underdog advantage. Even with her dying breath, be sure not to mistake anything as coincidence. Every single misfortune is actually a well thought-out, well conceived revenge—even after her execution.
If you don't think this film is all about women, you aren't watching closely. This film is about one woman's refusal to remain within the confines of her own gender and social class, in a society that immediately pegs her as incompetent and incapable. With her theatrical background, she learns a hunger for an audience and for a crowd, which causes her to make her performances larger and larger, and each time with more danger.