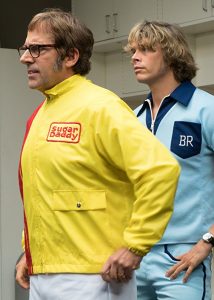 Emma Stone and Steve Carell "battle" it out as co-directors Valerie Faris and Jonathan Dayton recreate the epic 1973 tennis match between Billie Jean King and Bobby Riggs. With an impressive, extensive cast list, Battle of the Sexes is a timely story of the fight for gender equality. (BKP: 4/5)
Review by Managing Editor Brigid K. Presecky
Even if the 1970s were before your time, screenwriter Simon Beaufoy's film takes you there seamlessly with the hairstyles, costumes and set decoration – and the central theme of blatant sexism. Stone morphs into King and Carell, Riggs – both so convincingly that you might forget they played father and daughter in the charming 2011 dramedy Crazy, Stupid, Love.
Here, they're rivals with King being named the number one tennis player and Riggs, a washed-up player and gambling addict. Beaufoy and his co-directors (previous credits include Little Miss Sunshine and Ruby Sparks) make it clear from the very start that inequality is prevalent in tennis, with female players earning one eighth of their male counterparts' salaries. But the "male chauvinist pig" that is Riggs proposes a challenge to King's "hairy-legged feminist," in which they play a tennis match for $100,000. Leading up to their epic showdown, however, is a personal look at King's struggle with her sexuality as she, although married to Larry (poor, understanding Larry), she falls for her female hairdresser.
Both Stone and Carell have a range that starts from uproariously funny and finishes painfully raw, leaning more towards the latter here in unsurprisingly compelling embodiments of these tennis icons. The physicality of roles so different from the portrayers themselves is a feat unto itself, really. As does the set design and world created to capture the time and tone of the early 1970s.
When King's husband Larry realizes her burgeoning love affair with her hair stylist, his reaction is surprising but never quite elaborated on. With a lengthy running time, you're left with wanting more. Unfortunately, not more of the film, per se, but more so a lightning bolt of action to jolt viewers awake from a dull duel. Although the pace is much slower than the back-and-forth of the tennis matches, the constant parade of familiar actors fill in the dull gaps: Sarah Silverman, Bill Pullman, Alan Cumming, Fred Armisen, Natalie Morales (and others you will surely recognize and cock your head to figure out where you know them from). But the overflow of talent scrunched into one story leaves you wanting more time with everyone else but King and Riggs themselves.
© Brigid Presecky (9/23/17) FF2 Media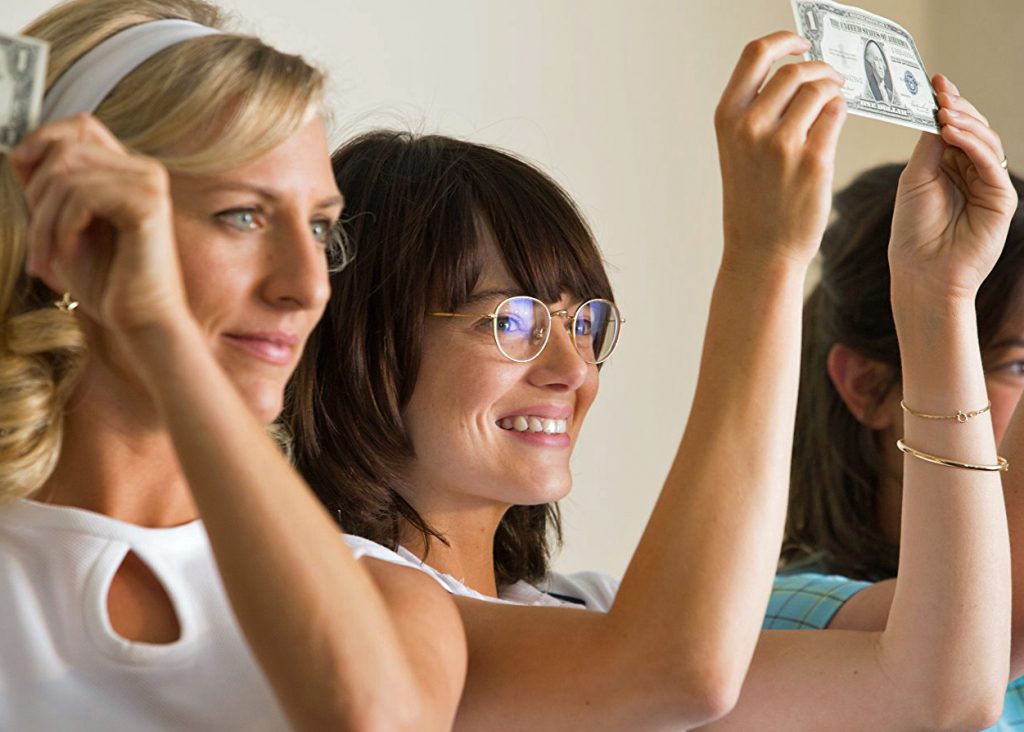 Photo Credits
Top Photo: Steve Carell as "Bobby Riggs" wears the logo of his oblivious sponsor 🙁
Bottom Photo: Emma Stone as "Billie Jean King" fights for equal rights including pay equity 🙂
Photos by Melinda Sue Gordon © 2016 Twentieth Century Fox Film Corporation
Q: Does Battle of the Sexes pass the Bechdel-Wallace Test?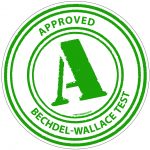 Absolutely and for multiple reasons 🙂
Comments by FF2 Media Editor-in-Chief Jan Lisa Huttner
It is second nature for movie audiences to focus on stars, and since Emma Stone just won an Oscar last February for her candy-colored performance in La La Land, her new role as tennis star Billie Jean King is sure to be the focus of the most media interest.
So here is my advice: Do not go into the theatre looking for the "Billie Jean King BioPic" starring Emma Stone, because if you do, you might well be disappointed.
Battle of the Sexes is not a Billie Jean King BioPic. Battle of the Sexes is an acute snapshot of a fascinating moment in USA history with eerie relevance to today.
Set in 1973, Battle of the Sexes takes place in an era when a aging sports figure well past his prime could fascinate the media by issuing outlandish challenges to highly-qualified women, all the time wearing a t-shirt loudly proclaiming himsef as a "male chauvinist pig." And how did other men react to his behavior? They cheered him on in exclusive male-only clubs and proudly betted on him in public.His major sponsor was the candy company "Sugar Daddy." Think about it? A candy company "Sugar Daddy" but its logo on a self-described MCP and that was considered perfectly fine. OMG
Kudos to co-directors Valerie Faris and Jonathan Dayton for their brilliant evocation of this microcosmic nightmare and to screenwriter Simon Beaufoy who won an Oscar for his Slumdog Millionaire screenplay. (JLH: 4.5/5)
Valerie Faris and Jonathan Dayton are best-known as the co-directors of the much-loved film Little Miss Sunshine from 2006. Click here to read my interview with this phenomenal couple — partners in love and live!
"Jon: Even though we don't wear our genders on our sleeves, you can't deny that life experience as a man or a woman doesn't inform the creative choices that you make… Val: It's funny; I think we don't really fall into those more classic male/female roles, but I'm sure if somebody observed us…" Dayton/Faris '06 
© Jan Lisa Huttner (9/23/17) FF2 Media