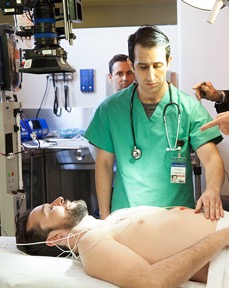 Written by Anneke Campbell (with Will Lamborn and writer/director Jeremy Kagan), Shot is a split-screen story of gun violence. One man's chest is blown apart while another man wrestles with guilt that tests his faith. (LMB: 3.5/5)
Review by FF2 Contributing Editor Lindsy M. Bissonnette
"Mark Newman" (Noah Wyle) is a struggling sound designer who doesn't miss a beat…literally. After a particularly unsuccessful work day he heads to dinner with his wife "Phoebe" (Sharon Leal), where they discuss their many marital problems and the potential of a divorce. Meanwhile, across town, "Miguel" (Jorge Lendeborg Jr.) is bullied at school for his "feminine" persona, and is exhausted from working to help support his family.
In an effort to keep Miguel from being picked on, his cousin offers him an unregistered gun, which he has stashed in the engine of a broken down car in an abandoned lot. Miguel first shies away from the idea of carrying a firearm, but eventually musters the courage to take it from his cousin. At that very moment, Mark and Phoebe are leaving the restaurant and heading home when it happens—a gunshot.
Mark falls to the ground in slow motion as the sounds around him begin to distort. Miguel panics once he realizes the gun has gone off, and he and his cousin scramble to run away. Through a series of split-screens, we see the grueling play-by-play of Mark's slow journey to the hospital and Miguel's panic to figure out what he should do next. As dozens of doctors and nurses scan and search Mark for potential internal damages, Phoebe quietly cries in the bathroom.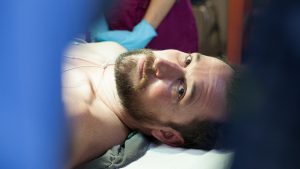 Meanwhile Miguel, knowing he has shot someone but with no clue about what happened to the victim, is riddled with guilt. After visiting his Priest, Miguel thinks he should tell the cops what happened, putting his mother in a panic. Will Mark and Phoebe reconcile? Will Miguel find peace? You'll have to watch to find out!
Shot has a lot of elements that really work, but several aspects of the film make it less successful. Once Mark is shot, to give the audience a sense of time, the screen is split between his travel in the ambulance and through the hospital and Miguel's remorse post-trigger. While this cinematic idea gives the audiences an agonizing sense of how slow time passes for Mark, it becomes awkward and disjointed when Miguel's story happens at the same time but at a completely different pace.
Also, the split screen is created with a blurred line instead of a straight, colored one, and changes shapes and angles throughout the scenes, which makes it visually confusing and unclear. The choice to have Mark's story told through every excruciating moment is a strong one and builds tension in the audience members. The panic, the horror, and the pain that he endures is shown from every angle –including his own perspective visually—and gives us a true sense of the time it takes for medical personnel to assess damage both on the concrete and in the hospital. Anneke Campbell, Jeremy Kagan, and Will Lamborn have created a gun violence awareness narrative unlike any other, and it is definitely worth the watch and if you can see it on the big screen, I recommend it!
© Lindsy M. Bissonnette (9/22/17) FF2 Media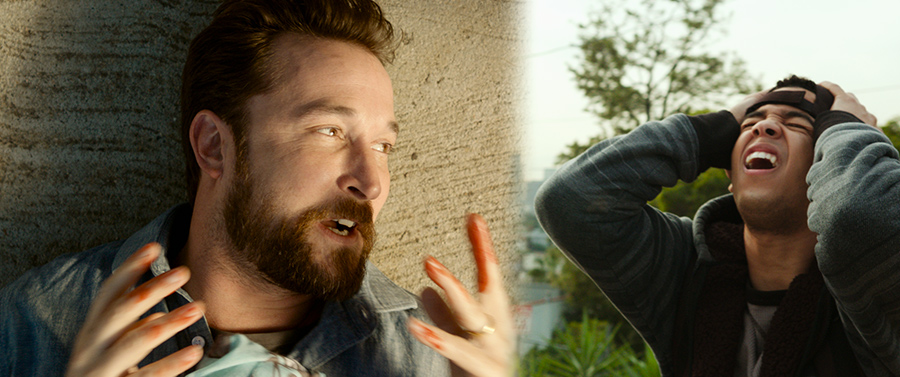 Top Photo: Mark's internal organs are checked at the hospital.
Middle Photo: At the hospital, Mark undergoes agonizing testing.
Bottom Photo: Example of the split screen during Shot, Mark on the sidewalk, and Miguel in remorse after the gunshot.
Photo Credits: Karen Steyr Randolph
Q: Does Shot pass the Bechdel-Wallace Test?
No.
The cast for Shot is very small, and there are only two main women (Phoebe, and Miguel's mother). The two do not interact.