In Woodshock, written and directed by Kate and Laura Mulleavy, "Theresa" (Kirsten Dunst) deals with the recent death of her ill mother. Her grief has a darker side to it: she helped her mother in suicide using some of the very materials she sells in her day job at a dispensary. Woodshock is a quiet psychological thriller, and it creates more mysteries for us than it resolves. (AEL: 4.5/5)
Review by FF2 Intern Amelie E. Lasker
Woodshock unfolds oddly. The film's main character "Theresa" (Kirsten Dunst) is clearly going through a difficult time: in the first three minutes, she rolls a joint for her very ill mother. We quickly realize that the joint is not just a palliative, but that it will assist her mother in suicide.
From that initial quiet scene, in which mother's and daughter's blonde hair is indistinguishable, the film's tone is undoubtedly claustrophobic and tense, although it's not readily apparent where exactly those feelings come from. The other people close to Theresa come in and out of focus, sometimes openly frustrated with their situation or with Theresa, but usually gentle and opaquely introspective.
Theresa's job at a dispensary hardly provides relief from her isolation. In Woodshock, it seems there is never daytime. "Kieth" (Pilou Asbaek), the dispensary's owner, is jovial, but the impression he gives wavers between something threatening and something threatened by Theresa as she becomes more unhinged.
Boyfriend "Nick" (Joe Cole) is an illustratively vague character. He wants at least the feeling of a simple family life, where he can support Theresa so she doesn't have to worry about anything. Although Theresa tries to buy into that illusion, it seems too far from reality, and she and Nick never quite understand each other.
Naturally Theresa feels traumatized by her mother's death, but the extent of her response cannot be attributed to these feelings of guilt alone. Her grief is not quiet, relieved, or peaceful, but instead it becomes isolating and horrible.
The writers and directors, sister pair Kate and Laura Mulleavy, have never made a film before¾actually, they're the founders of the fashion label Rodarte. Their unique creative background might account for some of the film's strangeness. Woodshock requires close attention from the audience, and I'd guess it would also reveal a lot more to me if I saw it again. For that, a movie is always worthwhile.
© Amelie E. Lasker (12/27/17) FF2 Media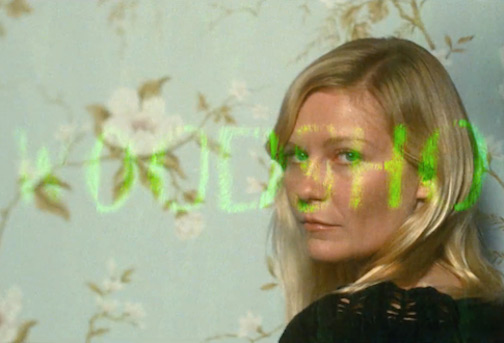 Top Photo: Kirsten Dunst as "Theresa."
Middle Photo: Kirsten Dunst as "Theresa."
Bottom Photo: Kirsten Dunst as "Theresa."
Photo Credits: A24.
Q: Does Woodshock pass the Bechdel-Wallace Test?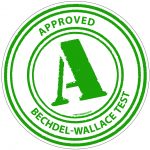 Yes, but it's complicated.
Theresa is featured in almost every scene, but the only other female character, her mother (played by Susan Traylor), is unnamed. Because what happens between Theresa and her mother is so essential to her psychology, and because one of the film's recurring themes is that Theresa resembles her mother, even her mother's distinct identity is confused. It's difficult to know whether two characters are actually having a conversation.