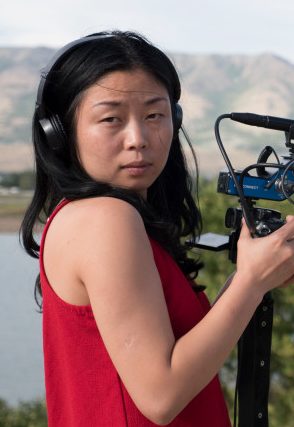 When documentarian Nanfu Wang meets a boy named Dylan at a hostel, she becomes fascinated by his rootless lifestyle, and decides to live on the streets with him for a few weeks to see what it's like. While beautifully shot, the glaring omission of white privilege in I Am Another You's treatment of street life is intellectually dishonest. (GPG: 2.5/5)
Review by FF2 Contributor Giorgi Plys-Garzotto
As filmmaker Nanfu Wang follows her new friend Dylan around Florida, he explains to the camera that he's all about living in the moment. He doesn't like to carry too many things around with him as he travels, and he'd rather be homeless than be obligated to work all day for rent money.
Nanfu's mission with this film seems to be showing her journey with Dylan, and how her perspective on him changed as she traveled with him and realized his free-spiritedness was really a lack of responsibility, which is inflicting a lot of pain on his family and putting a burden on the people who Dylan begs from. This is a tale of how one young woman became disillusioned with a smooth-talking, charming guy's vision of the good life. However, she missed something huge about Dylan's approach to life that makes her attempts to expose the inconsistencies in his lifestyle ineffective.
One moment in particular, around half an hour into I Am Another You, shows why Dylan's freewheeling lifestyle is so feasible for him. They come across a bunch of other homeless people at one point—homeless people who are looking a lot worse off than Dylan, and who probably wouldn't choose living on the streets over working. There's a really important difference between Dylan and all these other homeless people, and while Nanfu doesn't acknowledge it, anyone with eyes can see it—the difference is that Dylan is white, and the other homeless people are not. 
I had kind of caught onto this long before the moment I just described. It had made me question the supposed ease with which Dylan got people to trust him in their cars, in their homes, with their extra food. I knew this was why Dylan was allowed to hang out in public places, even sleeping there, without being chased off by the police. I knew this was why no one had ever called the police on Dylan when they saw him begging.
One moment in particular stood out to me: one night, when they're hiding in a park that's closed for the night, Nanfu asks Dylan what happens if they get caught. Dylans says something to the effect of: "Oh, we'll just say we're really sorry and leave. It'll be fine." Only a white person would be that nonchalant about dealing with the police, because the approach Dylan described would only work for a white person.
While the film ends with an empathetic look at mental illness that I appreciated, I couldn't forgive Nanfu's silence on the racial context of Dylan's lifestyle, an omission which I would call downright irresponsible.
© Giorgi Plys-Garzotto (9/30/17) FF2 Media
Photo Credit: Hard Working Movies.
Top Photo: Nanfu Wang, the filmmaker.
Middle Photo: Dylan, with Nanfu shown in his sunglasses.
Bottom Photo: Dylan, sleeping in a parking lot.
Q: Does I Am Another You pass the Bechdel-Wallace test?
No. There is an extremely moving sequence in which Dylan's mother agrees to speak with Nanfu Wang on camera, however, but they only talk about Dylan and not about how his behavior has impacted her own life. Therefore, by definition, this sequence is about two women talking about a man. Case closed.