Directed by Miranda Bailey, The Pathological Optimist is a documentary on the fascinating and disturbing case of Andrew Wakefield, the British researcher responsible for the anti-vaccination movement. (AEL: 3.5/5)
Review by FF2 Intern Amelie Lasker
Andrew Wakefield is the British researcher responsible for the panic about the link between vaccines and autism. In the notorious "Lancet paper," originally published in 1998, Wakefield and the paper's other contributors wrote that more research was necessary to explore a possible link between the MMR vaccine and the development of autism in children. The claim has since been discredited by authorities on the subject, but it has not been forgotten.
It's important to note that the Lancet researchers did not actually find a link between MMR and autism, but only suggested that further inquiry into that possible link might be necessary. Neither did they actually argue that the vaccines themselves were the cause: as Wakefield admits himself, he was not arguing against the vaccine, but only against those three vaccines (measles, mumps, and rubella) being administered together.
Somewhere in the time since the article's publication, however, Wakefield's stance has changed. He has now built a substantial following of parents of children with autism fighting against vaccines. Wakefield also practices as a doctor and makes a profit offering medicine to combat remnants of the vaccines still in children and "contributing" to their autism. He was struck off the UK medical register after he refused to rescind the Lancet paper's false claims, but that didn't stop him. Wakefield and his family moved to the US, where he continued to practice medicine and to host events supporting the anti-vaccine movement. As one researcher points out, this paper, and Wakefield's continuingly vehement support of people's interpretation of it, has led to children dying.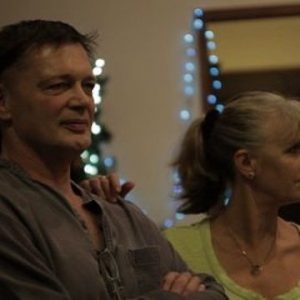 Wakefield and his alternative treatment for autism hit a nerve for many people. Parents whose children have been diagnosed with autism, and who have been dissatisfied with the options doctors provide for them, find hope only in Wakefield. He is, after all, providing two essential palliatives to the grief they feel over their children's situation: he assigns "blame" for the development of autism, and he offers an apparently simple medicine that he says will abate the problem.
It's Wakefield's personality that has really allowed him to carry this movement. Wakefield's language is a familiar one in recent personality politics: his is a language of "winning," of "taking the offense," of alternatives to inconvenient or difficult facts.
At one of his rallies, Wakefield talks with a few mothers who support him. He tells them he doesn't feel particularly responsible for the anti-vaccine panic, because it's the parents who "created" him. While for the film's viewers, the observation feels like an admission of guilt, for the mothers listening to him, it's only self-deprecating. They assure him that he's the only person who would be brave enough to hold his position. The compliment is painfully ironic.
The Pathological Optimist is difficult and even disturbing to watch, because so much of it consists of the Wakefield family and their insistence that a whole world of indeterminate enemies is against their altruistic project. Still, director Miranda Bailey is telling an important story in showing the ways in which these types of personalities exert their influence. More generally, the film shows the ways in which false claims catch on and get perpetuated.
© Amelie E. Lasker (11/14/17) FF2 Media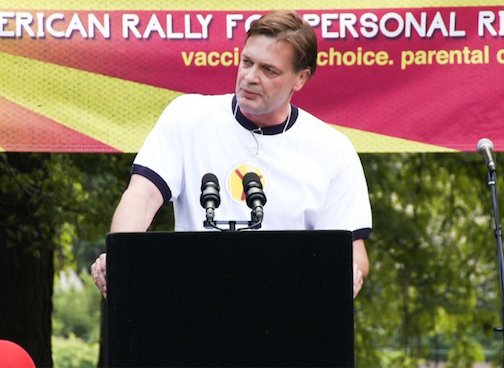 Top Photo: Andrew Wakefield.
Middle Photo: Andrew Wakefield.
Bottom Photo: Andrew Wakefield.
Photo Credits: Gravitas Ventures and The Film Arcade
Q: Does The Pathological Optimist pass the Bechdel-Wallace Test?
No.