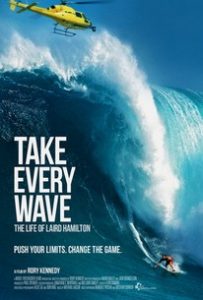 Rory Kennedy's documentary Take Every Wave: The Life of Laird Hamilton, presents an intimate look into world-renowned big-wave surfer, Laird Hamilton. From birth to present day, the documentary explores Laird's journey to conquer huge waves that have never been mastered before. (EBT: 5/5)
Review by FF2 Contributor Elyse B. Thaler
Take Every Wave: The Life of Laird Hamilton explores the infamous daredevil, Laird Hamilton, in an attempt to unlock the secret behind Laird's insatiable appetite for the ocean and the dangerous waves it creates.
Laird's story begins with unbelievable home videos showing him as a baby and young boy. The son of a free-spirited mother, Joann, and stepson of a well known surfer, Bill Hamilton, it is not at all surprising that Laird would eventually grow up to be one of the most talked about surfers of our time.
A high school drop out, Laird quickly realized his destiny was not in any job that kept him away from the waves. Through the years, he briefly modeled and was even cast in the 1987 movie, North Shore, as "Lance Burkhart". However, all of these jobs were clearly just a means to afford him the lifestyle to dedicate himself to his true passion of surfing.
Yet, Laird was not satisfied with surfing the waves everyone else was surfing. He wanted to conquer the waves all the others feared or deemed impossible. With the invention of the Jet Ski, Laird and his intimate group of fellow surfers discovered that if the Jet Ski towed them towards the swell, they had the potential to surf the entire wave without wiping out. A discovery which changed the game in big-wave surfing.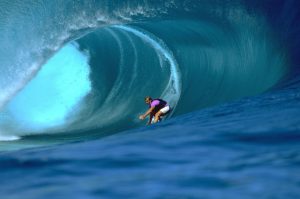 Not only does the documentary provide a glimpse into Laird's surfing life, but it also shows him as a father and husband. He has been married to Gabrielle Reece, professional volleyball player and model, since 1997.
Director Rory Kennedy does a beautiful job of putting together parts of Laird Hamilton's life in such a way that illustrates his passion for the sport of surfing, while not ignoring his reputation as an egomaniac and other character flaws that plague him. The various shots and footage display the art behind surfing that even those with no previous knowledge of the sport cannot help but to appreciate.
There are moments within the documentary when the entire screen is taken up by a big blue wave; Laird's muscular body highlighted against the blue backdrop of the ocean. The quick and calculated movements of his feet make him look as though he is dancing on top of the water. These are the moments that take your breath away.
Wound together with jaw-dropping imagery and sincere interviews, Kennedy presents a history in Laird that will ring true to any person who has ever felt passion around a certain purpose. The way Laird fearlessly runs towards the wave that everyone else swims away from will leave you inspired to swim towards your own metaphorical wave. May we all constantly and consistently pursue our dreams the way Laird Hamilton pursues his.
©Elyse Bunt Thaler  (10/07/17) FF2 Media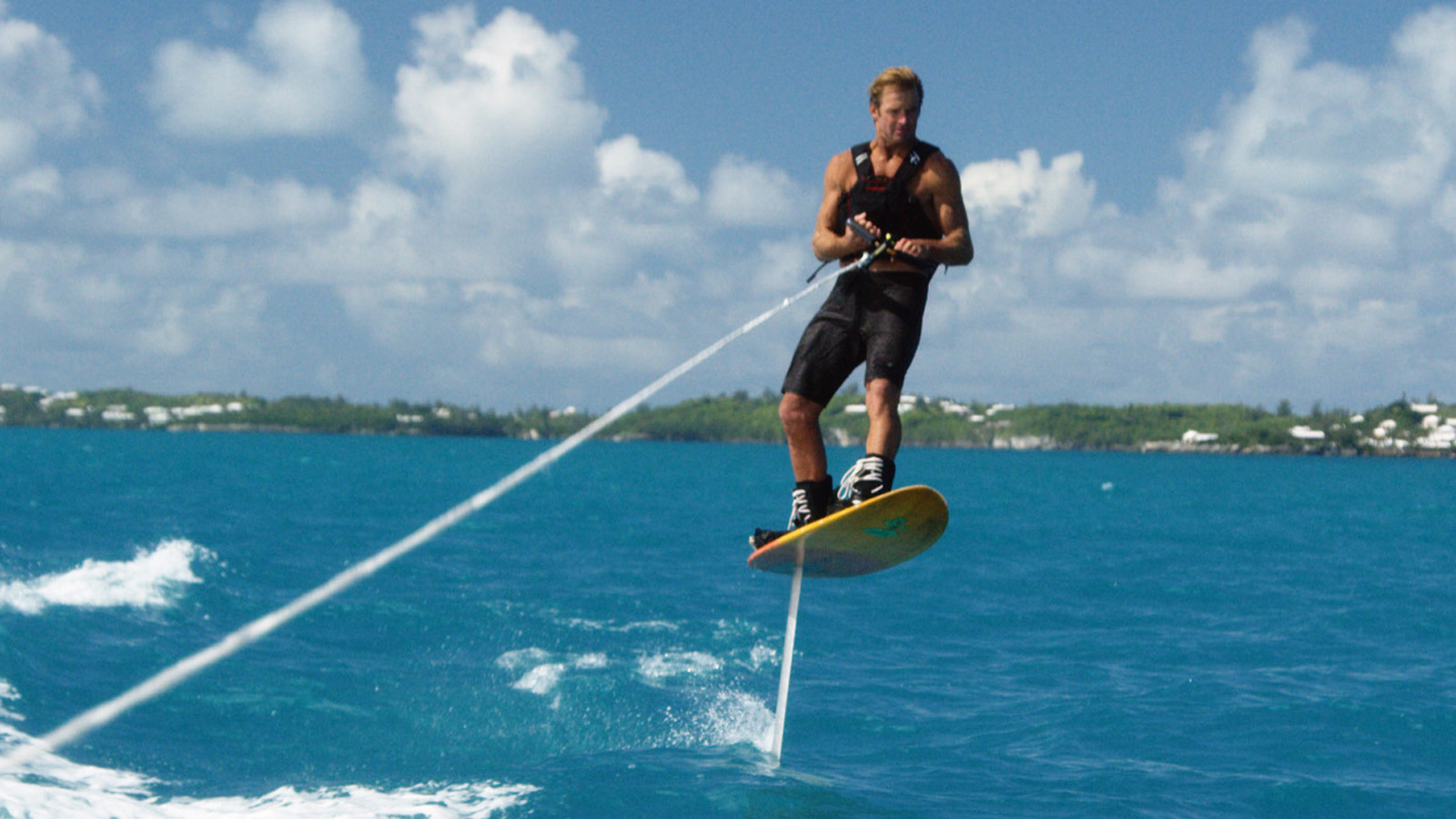 Top Photo:  The film's poster. Laird surfing a big wave with a helicopter keeping an eye out for trouble.
Middle Photo: Laird flying through the tunnel of a big wave.
Bottom Photo: Laird catching some air on a board of his own design.
Photo credits: Alice Gu and Don King
Q: Does Take Every Wave: The Life of Laird Hamilton pass the Bechdel-Wallace Test?
No.
Laird's circle of surfer buddies solely consists of men. Other than interviews with his wife, Gabrielle Reece, women are not present in this story.