The pain behind the laughter is revealed in excruciating detail in Take My Nose…Please! A documentary about plastic surgery, the people who give it, and the women who get it. Director Joan Kron digs deep in this close-to-home doc about the good, bad, and the ugly moments of living in the limelight. Regardless of your understanding and involvement in show business, this is not to be missed! (LMB: 4.5/5)
Review by FF2 Contributing Editor Lindsy M. Bissonnette
In show biz it's all about looks. It's how you sell who you are, how people see you, and what you can deliver, but it all starts with one thing: the way you look. Director Joan Kron takes us behind the scenes –and behind the funny faces—of comedy icons and aficionados like Julie Halston, Lisa Lampanelli, and Emily Askin, with appearances, via old footage, of stars like Fanny Brice, Phyllis Diller, Totie Fields, and of course, Joan Rivers.
The story starts with beloved actress/comedian Jackie Hoffman, and Pittsburg-located improv actor Emily Askin. Different ages, different skin tones, different backgrounds, but one thing in common…well two. Their love of performing, and their dislike of the way their noses look. These two expressive and powerful women let us peek behind their masks at their insecurities, their deep secrets, and their sometimes hatred of the way that they look.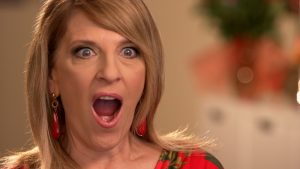 First we examine their faces, specifically their noses, from all angles with the help of photographers, fancy lights and simple backgrounds. Emily and Jackie, as well as the rest of the cast, speak to the camera about the things they hate about their faces and what they would change. Throughout the course of the documentary, they both have big decisions to make: to cut or not to cut. And you'll have to watch the documentary to find out exactly what Emily and Jackie decide to do.
While the documentary focuses on a few women, it's hard to not feel rubbed raw while watching these successful and powerful women dissect each and every flaw they have. The glaring glow of perfection splattered on every billboard, magazine, and television screen makes it difficult not to recognize ones own flaws. With social media and the ongoing selfie-obsession its hard to not pick at one's own flaws. They become glaringly obvious to the point where its difficult to not hate one's own body.
Take My Nose…Please! is beautifully raw, real, and truthful. In a world obsessed about image and perfection, bless these women for taking us with them on this incredibly personal journey. Director Joan Kron is brutally honest in her reveal of the way we really see ourselves. This film is not one to be missed!
© Lindsy M. Bissonnette FF2 Media (10/9/17)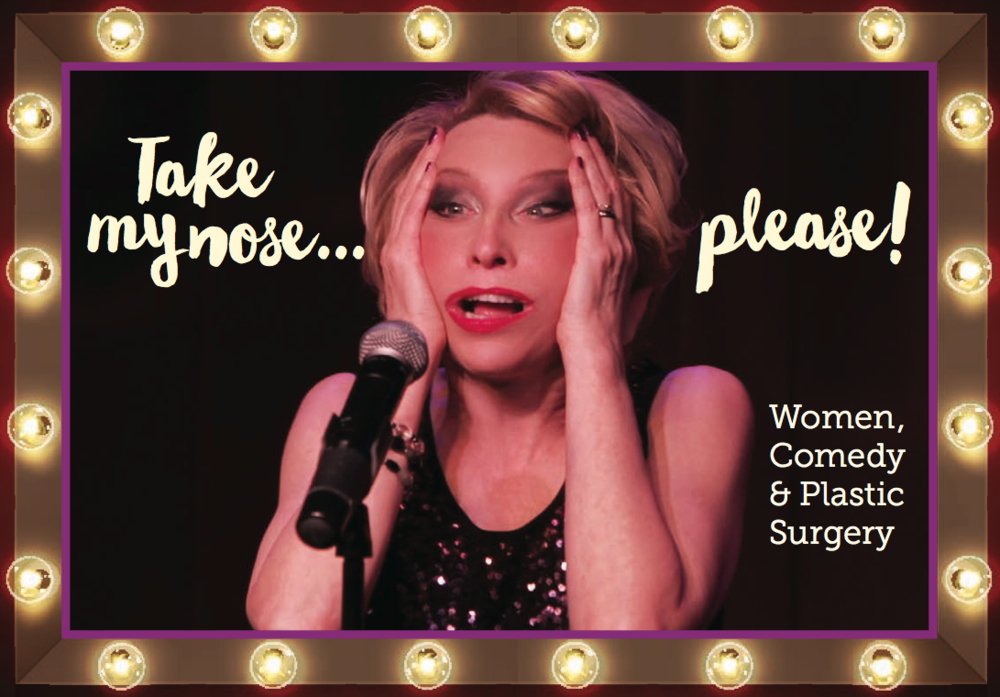 Top Photo: Emily Askin
Middle Photo: Lisa Lampanelli
Middle Photo 2: Jackie Hoffman performing at Joe's Pub.
Bottom Photo: Julie Halston performing standup.
Photo Credits: Parvenue Ventures
Q: Does Take My Nose…Please! pass the Bechdel-Wallace Test?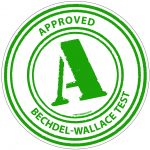 YES.
There are several conversations between director Joan Kron and her subjects where they discuss everything from their noses, to their careers.