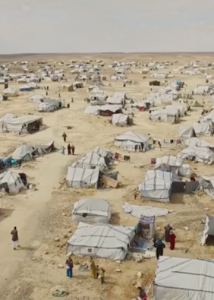 Written by Chin-Chin Yap, Tim Finch, and Boris Cheshirkov and directed by Ai Weiwei, Human Flow gives a view, expansive yet painfully intimate, of the suffering that comes with the global refugee crisis. (AEL: 5/5)
Review by FF2 Intern Amelie Lasker
In 1936, journalist James Agee was given an assignment by Fortune magazine as part of a series that documented people who were affected by the Great Depression. Agee spent a summer living with three families of tenant farmers in Alabama. The article that came out of this experience didn't suit Fortune's vision, so Agee published it on his own, as a book entitled Let Us Now Praise Famous Men.
Roving and intricate in style, Agee's book is, to me, something like a meditation on empathy. He writes in the foreword: "This is a book only by necessity. More seriously, it is an effort in human actuality, in which the reader is no less centrally involved than the authors and those of whom they tell." Agee did not hide his disgust with the journalists of his day, who tended to portray the lives of people affected by the Depression in a way that aestheticized, or even condescended to, their suffering. For Agee, empathy was a continuous process, and in order to keep it up, the reader could not just consume the stories and then forget about them. Empathy had to be an "effort."
Written by Chin-Chin Yap, Tim Finch, and Boris Cheshirkov and directed by Ai Weiwei, Human Flow struck me as a new and audacious attempt at making this effort of empathy. The filmmakers seek out people who are waiting to find a place to settle, people who have been made "stateless" by difficult situations at home. They are displaced by poverty, war, famine, climate change, and religious and political persecution.
Often, the refugees end up stuck: in Greece, in Jordan, in the "world's largest prison" of Gaza, in African deserts made almost uninhabitable by climate change. Officials of the United Nations High Commission for Refugees, who give interviews throughout the documentary, tend to emphasize the sheer number of refugees coming through any given camp or checkpoint. European countries who promise refuge often close their doors when the numbers get too high. Refugees can, and often do, end up waiting for decades to return home.
The film's scope is strangely large, and I had trouble at times keeping up with it as it moved between complicated stories. The filmmakers exalt the humanity of refugees, but they seem to be trying to tell the stories of all refugees at once, to the extent that they become inevitably anonymous. The refugee camps are often filmed from drones overhead, so that they look like anthills. Long shots show immigration officials moving people, as if in herds, onto and off of airplanes and buses. Human Flow is almost two and a half hours long, and apart from one segment in which people begin to return to their homes in Afghanistan, Ai Weiwei offers us no vision of a concretely optimistic future.
However, Human Flow makes a powerful point. As Agee emphasizes, any passive onlooker must become involved in order for empathy to work. The camera in Human Flow lingers on people as they walk, hold their young children, tell their stories, and often cry, and it becomes incredibly difficult for the audience not to address their reactions to it. Empathy on this scale, I've realized, is only an ideal, but the documentarians of Human Flow make an impressive attempt at reaching it.
© Amelie E. Lasker (10/20/17) FF2 Media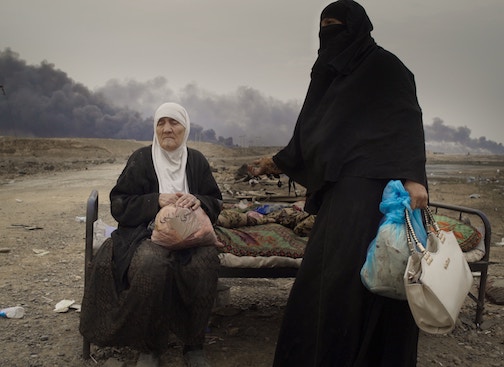 Top Photo: A refugee camp, shown in one of Ai Weiwei's many masterful drone shots.
Middle Photo: A more permanent refugee camp in Berlin.
Bottom Photo: Two women made refugees in Iraq.
Photo Credits: Amazon Studios
Q: Does Human Flow pass the Bechdel-Wallace Test?
No.
While many women, both refugees and members of the High Commission for Refugees, are featured, because of the interview style, no two women share a conversation on screen.